Trace the Line

A definitive story of 2020 through the eyes of two young artists — a Black man and a White woman — living in a state that has been ground zero for both.
Film Independent's Fiscal Sponsorship program opens the door to nonprofit funding for independent filmmakers and media artists. Donate today and help bring Trace The Line to life.
Logline
A poet and a visual artist grapple to understand the world around them while practicing physical-distancing during the tumultuous year of 2020.
Synopsis
Trace the Line, part verité, part direct cinema, depicts the lives of two American artists during the tumultuous year of 2020.
Asa, an African American Poet, wrestles with the purpose of his life as a young Black man in a contentious nation. Eva, a visual Artist, is confronted with her privilege in a society she no longer understands. Both Artists struggle with the onset of the pandemic, political upheaval, and social unrest.
With the nation becoming increasingly polarized, Asa and Eva independently confront who they are. As the tension in the nation increases, their art deepens in the midst of the uncertainty.
Through art, Trace the Line draws attention to our common connections and how these connections can forge a new path for us all.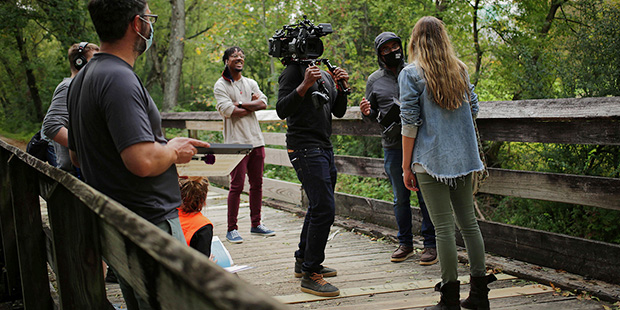 Meet the Filmmakers
Alejandro Miranda Cruz – Director
Director Alejandro Miranda Cruz began as a child actor, first appearing in national commercials before making his film debut in Clubhouse Detectives. He later Co-Starred in The Lost World: Jurassic Park, and Walker Texas Ranger. In 1997, Alex won an ALMA award for his performance in the PBS TV Mini-Series, Foto-Novelas. After this, Alejandro went to film school to pursue transformative work behind the camera. Since 2013, he has been developing a style of filmmaking focused on depicting dignity. Alejandro began directing commercials, product videos, and documentaries for an Advertising Agency in the Midwest. For his advertising work, he has received critical acclaim from the Telly Awards, the American Advertising Awards, and the UK based Creativepool. Alejandro's first short film, Fantasy in D Minor (2018), premiered at the San Luis Obispo International Film Festival, won Best International Short Film at Oxford, featured in the Short Film Corner at Cannes, and presented at a special screening for the Jecheon Film Festival in Korea. Since 2018, Alejandro has specifically worked to transform how communities of color are depicted on-screen and to build diversity in the film industry in front and behind the camera with his methodology, Cinema Dignité.
Noel Miranda – Producer
Producer Noel Miranda is the Co-Founder of Bravebird, a woman and minority-owned video production agency that brings dignity through visuals. Noel produces and writes for Bravebird and is also developing a Cinema Dignité mentorship program for new voices in film. Noel comes from a community relations and non-profit background, working with Coca-Cola, University of Wisconsin-Madison, and Centro Hispano, a Latino advocacy organization. Her passion is to bring dignity and diversity to the entertainment industry.
Greg Hatton – Cinematographer
Based in Los Angeles and Kaneohe, Hawaii, Greg is a self-taught cinematographer and photographer. He followed these passions into Hollywood where he continues to work with and learn from some of the industry's great cinematographers such as Johnny Simmons, ASC, Gill Hubbs, ASC, and renowned photographers Frank Jackson and Douglas Kirkland. With experience on film sets spanning the last seven years, Greg is a Local 600 member and has been a part of camera crews for live events, network episodic, feature films, short films, commercials and music videos.
Matthew Charles – Cast
Lead Actor Matthew Charles is a transracially adopted black man. His artwork is devoted to the exploration of the nuances of Revolution. This concept finds its home at the intersection of blackness and Christian mysticism – both aimed at dismantling power structures and longing to cultivate love within and without. Matthew is an experienced teacher, working internationally in countries like South Africa, Tanzania, and Germany. When Matthew isn't teaching, you can find him competing in poetry slams or promoting his debut poetry collection.
Brooke Leland – Cast
Lead Actress Brooke Leland is a graduate of Fine Arts from University of Wisconsin-Madison with an emphasis on printmaking. Brooke's drawings, paintings, and prints use natural forms and the practice of scientific study to describe environmental, emotional, social and spiritual issues. Her artwork is born from the love of the natural world, paying special attention to the way organisms interact and impact each other. Brooke's artwork investigates connections between our loved ones, the earth, and ourselves.
Contact
For inquiries, please contact fiscalsponsorship@filmindependent.org.