Truckstop

East Indians in the American West. An often-not-mentioned story of belonging.
Project type: Narrative Short
Project status: Development
Director: Molly Karna
Producer: Julia Elizabeth Evans
Co-Producer: Rob Rice
Associate Producer: Tanishq Babel
Cinematographer: Elisabetta "Fox" Piantoni

Email: juliaeli@usc.edu
Instagram: @truckstopfilm

Help independent filmmakers tell their stories.
Make a donation to Truckstop today.
Film Independent's Fiscal Sponsorship program opens the door to nonprofit funding for independent filmmakers and media artists. Donate today and help bring Truckstop to life.
Logline
A restless young immigrant, working at an isolated Punjabi truckstop in the California desert, must decide whether she truly wants out.
Synopsis
Jasleen is a restless 22-year-old, working in the short-staffed kitchen of a desert truckstop. Mindlessly, she chops, stirs, cleans. On this day, she burns herself. When Sunny's eighteen-wheeler pulls up, Jasleen makes sure his offer to drive her to New York still stands. The two are good friends — both in their twenties, both from the same area of Punjab, India, both looking for opportunity beyond Central California.
The next day, the truckstop's manager Indu hires a local named Brittany who is the same age as Jasleen. Jasleen's Aunt Maasi watches Brittany pick roti dough out of her nails and laments that Indu should've waited to hire someone Punjabi. Guilty that Maasi doesn't know her plans, Jasleen suggests Maasi keep an open mind. That night, Jasleen assembles clothes, documents, cash. Her cash is missing, and Maasi accuses her niece of abandoning the family they support in India.
At work the next day, a customer shoves hot food on Jasleen. Brittany intervenes and takes Jasleen to her favorite spot: an abandoned waterpark. Perched atop a graffitted waterslide, Jasleen asks Brittany why she works at the truckstop. Brittany confides – she supports her mother. Jasleen asks why she doesn't do that somewhere else, somewhere better; Brittany explains that she did, but elsewhere was never any better.
The next morning, Jasleen discovers Maasi has left her cash out. At the truckstop, she gets in the truck with Sunny, handing him tea and paratha. But, when the truck pulls out, we see Jasleen choose to stay.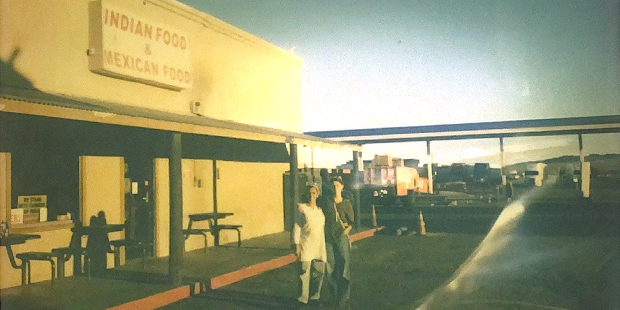 Meet the Filmmakers
Molly Karna – Director
Molly Karna is a queer, Indian-American writer and director based in Los Angeles who is currently completing her second year in the M.F.A. in Film and Television Production at the USC School of Cinematic Arts. Molly's time at SCA has led to the production of multiple short films, including Big and Small, a hybrid fiction-nonfiction short experimental film, and Demi, her film about a demisexual sex doll in COVID-19 lockdown, which helped her earn a USC Lambda Scholarship. Prior to USC, Molly worked in both the English and Hindi film industries. In 2018, she directed Arrangement, a short about the relationship between an Indian-American woman and a white woman, which premiered at the New York Indian Film Festival in 2018 and won Best Debut Short Film Award at the Cincinnati Indian Film Festival. Aside from directing, Molly also served as a staff writer for the TV Asia news-comedy show Samachari News and helped produce projects including Surina and Mel and the Hindi film, Chef. Prior to her film career, Molly studied gentrification and maternal health in Mumbai as a Fulbright Scholar, and graduated with a Bachelors in Biomedical Engineering at Columbia University.
Julia Elizabeth Evans – Producer
Julia Elizabeth Evans is a storyteller and producer from the American South. She is currently pursuing her MFA in Film & TV Production at USC, where she studies screenwriting and producing. Over the past year, Julia worked directly under Gail Katz (Chair of USC Film & TV Production) and Tony Jonas (President of WBTV, 95-99) as Executive Producer in USC's year-long TV production course, 'Straight to Series.'
Julia has received over $70,000 in filmmaker/artist grants from various foundations, including The Andy Warhol Foundation, New Orleans Jazz & Heritage Foundation, The New Orleans Film Society, among others. Her documentary, "The Place to Be," about a corner store in Uptown New Orleans was an official selection of the 2018 New Orleans Film Festival (NOFF), 2019 Independent Film Festival Boston, and Jury Award Winner of the 2019 WorldFest-Houston International Film Festival. Her first narrative short—a suspense-comedy, "Your Pizza is Outside," screened at 2019 NOFF, 2020 Indie Grits, Flickfair 2021, among others. Being very honest and specific about "place" in storytelling, her work explores contemporary American identity. Prior to becoming a filmmaker, Julia worked at NPR and the NYTimes as a research assistant. Outside of television writing, set production, and regular naptimes, Julia studies the Japanese martial art of Aikido.
Rob Rice – Co-Producer
Rob Rice is a filmmaker from western Massachusetts. Before changing careers, he completed an M.S. in Neuroscience at Tulane University and worked as an engineer in CRISPR genetics at the Broad Institute of MIT and Harvard. He is currently living in Los Angeles, where he graduated from the MFA Film Directing program at CalArts, and where he was selected to attend the 2019 Flaherty Film Seminar as a Fellow. His work explores the personal and political economies of catastrophe and communion in America. Way Out Ahead of Us, his feature debut, was produced by Matt Porterfield and will premiere in July 2022.
Tanishq Babel – Associate Producer
Originally from Pune, India, Tanishq is a writer, artist, and aspiring filmmaker who is currently based in Los Angeles, California. He is a rising junior at the University of Southern California, majoring in Film & Television Production. From graduate short films to advanced productions at the School of Cinematic Arts, Tanishq has been actively seeking to focus on producing and writing. Last year he was an associate producer on USC's Advanced Multicam Sitcom, "Aggie's Spirits," and this year he was the post-production coordinator on USC's Dramatic Television Series, "Provenance."
Whether he is writing a script or planning a short film, Tanishq is driven by the emotions that are embedded within the very stories he wants to tell. Similarly, the element that matters to him most is the sense of emotionality attached to the people in these narratives. Thus, his passion for the art of the moving image is tightly knit with his continued aim of being able to communicate visceral human emotion on screen and connect with the audience in an emotional capacity.
Elisabetta "Fox" Piantoni – Cinematographer
Elisabetta, better known as Fox, is a director of photography from Italy. After graduating from business school in the Netherlands, she decided to change her path and pursue her passion for photography while traveling to almost 50 countries and working for well known brands, non-profit organizations, and showcasing her work in art exhibitions around the world.
She is currently pursuing her MFA in Film & TV Production at the University of Southern California, where she strives to make stories that combine the beauty of narrative storytelling and the authenticity of documentaries to create films that aim at making a meaningful impact both visually and socially.
Contact
For inquiries, please contact fiscalsponsorship@filmindependent.org.