Were You Gay In High School?

Project type: Narrative Short
Project status: Production
Co-writer/Director: Niki Ang
Co-writer/Cinematographer: Karen Du
Producer: Andrew Ahn
Lead Animator: Sara Gunnarsdóttir
Executive Producer: Kimmie Kim

Help independent filmmakers tell their stories.
Make a donation to Were You Gay In High School? today.
Film Independent's Fiscal Sponsorship program opens the door to nonprofit funding for independent filmmakers and media artists. Donate today and help bring Were You Gay In High School? to life.


Logline
A short film about two queer women recalling their awkward, closeted high school days of kissing boys and straight-girl crushes.
Synopsis
Hannah and Kelly open up about their uncomfortable, coming-of-age moments as teens, finding commonalities in their stories and learning about the people they used to be. They reminisce about the boyfriends they didn't like kissing and the straight-girls who were definitely flirting with them.
Told through live-action and animation, the stories are cringe worthy and silly, painful and hilarious.
Make a donation to Were You Gay In High School?.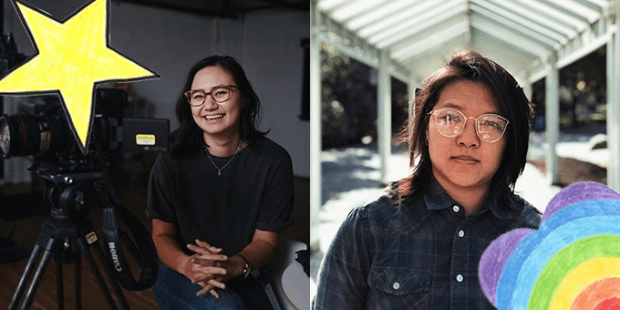 Meet the Filmmakers
Niki Ang — Co-Writer/Director
Niki Ang is a Singaporean-Chinese American writer and director who was born and raised in Singapore before moving to the States at a young age. She has spent the past several years as a full-stack producer/director at BuzzFeed Motion Pictures. Her work has amassed over 150 million views across digital platforms such as YouTube, Facebook, Amazon, and Hulu. She is known for the web series HomeBuddies, Wedding Season, and Eating Your Feed along with videos that center Asian American experiences and explore themes of representation, heritage, intersectionality, and social justice. She currently lives in Los Angeles with her wife and the best cat in the world and is the quintessential middle child.
Karen Du — Co-Writer/Cinematographer
Karen Du is a queer, Chinese-Vietnamese American filmmaker from Denver, Colorado. She most recently co-directed and was the cinematographer on the short documentary Radlasses, highlighting Sydney Olson, one of the top female parkour athletes in the world. Her work has been showcased at the Hollywood Comedy Shorts Festival and BEA Festival of Media Arts, and has been featured on popular digital platforms including Buzzfeed and Mythical Entertainment (Good Mythical Morning). In her spare time, she can be found co-hosting the podcast Morning Wood, attending concerts, dabbling in new hobbies, and perfecting old ones (she will beat you at Tony Hawk's Pro Skater 1-3).
Andrew Ahn — Producer
Andrew Ahn is a queer Korean-American filmmaker born and raised in Los Angeles. His latest feature Driveways, starring Brian Dennehy and Hong Chau, premiered at the 2019 Berlinale. His first feature film Spa Night premiered at the 2016 Sundance Film Festival and won the 2017 John Cassavetes Independent Spirit Award. In 2017, Ahn directed the entire first season of the Sundance Now original show This Close from creators Shoshannah Stern and Josh Feldman. He has promoted diversity in the arts by mentoring youth filmmakers through programs like Pacific Arts Movement's Reel Voices, Outfest's OutSet, and the Sundance Institute's Native Filmmaker Lab. He graduated from Brown University and received an MFA in Film Directing from the California Institute of the Arts (CalArts).
Diana Ward — Producer
Diana Ward is a Los Angeles-based producer of Australian and Chinese Malaysian descent. Her feature documentary Roller Dreams premiered at the 2017 Sydney Film Festival, winning the Foxtel Audience Award for Best Documentary and the Jury Award for Best Documentary at the 2018 Calgary Underground Film Festival. Roller Dreams is distributed by Gunpowder & Sky. In 2018, Diana completed production on Liberty for writer/director Faren Humes (winner Best Narrative Short SXSW 2019 and Special Jury Prize Berlinale Generation 14 Plus Best Short Film 2019) and stop-motion animation The Coin with Siqi Song for Film Independent's Project Involve, as well as Full Beat with writer/director Kase Pena for NALIP's Latino Lens Incubator. Diana is honored to be a Film Independent Fellow and recipient of the 2018 Project Involve Amazon Studios Visionary Filmmaker Fellowship.
Sara Gunnarsdóttir — Animator
Sara Gunnarsdóttir is born and raised in the capital area of Iceland, Reykjavik. She has a BFA degree in Fine Arts and received her MFA degree in Experimental Animation from California Institute of the Arts in 2012. Sara has been working in film for almost two decades, making animation her main medium in recent years. Her work as an independent filmmaker include a few animated shorts in addition to music videos and experimental work. Her thesis film, animated documentary short named The Pirate of Love, premiered at Telluride Film Festival in 2012 and was nominated for student Academy awards, alternative category in 2013. She went on to create animations and original artwork for The Diary of a Teenage Girl (2015), directed by Marielle Heller. That film premiered at Sundance Film Festival and went on to win The Grand Prix of the Generation 14plus International Jury at Berlinale. Sara's latest project as animation director is on the HBO docu-series The Case Against Adnan Syed (2019) directed by Amy Berg. Sara lives and works in Brooklyn, New York.
Kimmie Kim — Producer
Kimmie Kim has extensive experience producing live shows, special events, and films. Her acclaimed documentary Live From New York!, a film that chronicles the 40 year history of SNL, premiered at the opening night of the Tribeca Film Festival in 2015. Most recently, Kimmie produced the Ed Sheeran documentary Songwriter which world premiered at the 2018 Berlin International Film Festival and had its North American premiere at the 2018 Tribeca Film Festival. Kimmie is actively developing multiple projects across various genres, and she plans to continue her creative journey by telling stories that make the world laugh, think and be inspired.
Make a donation to Were You Gay In High School?.
Contact
For inquiries, please contact fiscalsponsorship@filmindependent.org.