What Color Is Blue

Radical queer speculative fiction...
Project type: Narrative Feature
Project status: Post-production
Director/Writer/Cinematographer: Carman Spoto
Producers: Carman Spoto, Quinn Dougherty
Actor: Marceline M.
Actor: Seren Morgan
Actor: George Ciccariello-Maher
Actor: Camae Dennis
Voice and Additional Text : Rasheedah Phillips

Website: swinefilms.com
Email: swinefilms@gmail.com
Facebook: facebook.com/whatcolorisblue

Help independent filmmakers tell their stories.
Make a donation to What Color Is Blue today.
Film Independent's Fiscal Sponsorship program opens the door to nonprofit funding for independent filmmakers and media artists. Donate today and help bring What Color Is Blue to life.
Logline
What Color is Blue is about the internal impotence that we, as queer youth, feel while facing the people, politicians, and organizations that do not want us to exist.
Synopsis
What Color is Blue is an experimental feature-length film that follows a young black transgender woman in Philadelphia as she tries to figure out what responsibility she has to herself and to her community and how to take action to defend it. She wanders through the community alongside Seren, her non-binary partner. They go to political organizing meetings, visit prisons, perform at DIY art spaces and hang out by the river, all while wondering about the meaning of life and what they should be doing to protect their lives and the lives of their friends.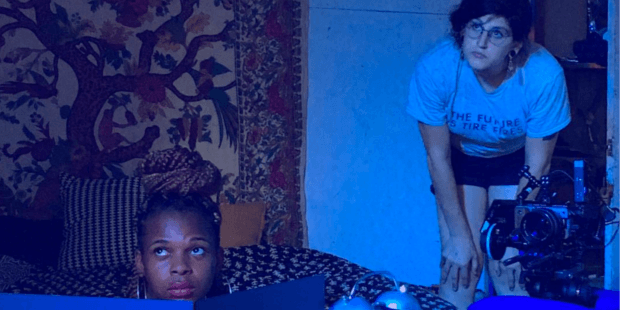 Meet the Filmmaker
Carman Spoto — Director/Writer/Cinematographer/Producer
Carman Spoto is a filmmaker and film and political theorist from the Philadelphia area who now works and resides in Los Angeles, California. Through Swine Films, her production company, Carman has directed, written, and produced three feature films: Phaesporia, Hylo, and Going Under, and multiple short films including Soless, Antenna, Regardless of Time, This Planet Wasn't Made for Us, and Beaux. (Note: Although Carman does the work that historically is associated with the title of Director, she prefers an all-encompassing use of the title of Cinematographer.)
Contact
For inquiries, please contact fiscalsponsorship@filmindependent.org.