2 Richards! The African Company

The African Company – the first black theater in America – launched in NYC's Village during slave times. Nearby, the all-white Park Theater plied its trade. The documentary film "2 Richards!" captures their fraught relationship as each simultaneously produced Shakespeare's Richard III.
Project type: Nonfiction Feature
Project status: Development
Director/Producer/Writer: Kamilla Blanche
Executive Producer: Olga Garay English
Narrator: Clarke Peters
Music Supervisor/Composer: Gail Ann Dorsey
Historian: Margit Edwards

Email: info@2Richards.org
Website: 2richards.org
Facebook: 2RichardsTheAfricanCompany
Twitter: @2Richards_

Help independent filmmakers tell their stories.
Make a donation to 2 Richards! The African Company today.
Film Independent's Fiscal Sponsorship program opens the door to nonprofit funding for independent filmmakers and media artists. Donate today and help bring 2 Richards! The African Company to life.
Logline
NEW YORK CITY, GREENWICH VILLAGE
Opening night. Greenwich Village, New York. The year is 1821, before the abolition of slavery. Two theatre companies next door to each other put on a production of 'Richard III'. However, there's a difference between the two: One is a white theatre company, The Park Theatre, and the other, a Black theatre company, The African Company.
Synopsis
"NOT EVERYTHING THAT CAN BE FACED CAN BE CHANGED, BUT NOTHING CAN CHANGE UNTIL IT IS FACED." – JAMES BALDWIN.
Presently, humankind is waking up to an overdue deep acknowledgment of its entrenched racism, both its past and consequent present. The world, our audience, in its growing awareness, is becoming hungrier for storytelling that's investigative, artistic, and restorative of the Black narrative: a narrative that's been ignored and discredited until now. This is the backdrop. The inspiration, and cultural context in which our documentary takes place.
Our principal goal is to shine a light on this little known artistic endeavor: the founding and creative accomplishments of this country's first Black theatre company. From the early 19th century, and history of Black arts pioneers who led it, William Alexander Brown and James Hewlett (who went on later to be the first stand-up performer), we'll explore the consequential impact these two descendants of slaves have had on the spectrum of communicative art forms we know today around the globe, and the inherent appropriation of their artistic ingenuity even though it's been neglected in our history books.
Through the story of The African Company, we'll weave a line that follows the journey of William Alexander Brown and James Hewlett, free Black men from the Caribbean, who journeyed through Europe to an enslaved United States. An intimate documentation of their continuously challenged artistic identities and professional integrity, this through line in the film will offer a reflection in which the monumental and iconic moments of Black history past, both good and bad, will echo with those felt today. Ultimately, this will take us to the eventual sabotage and demise of the African Theatre Company, and their lasting yet little known influential legacy.
Meet the Filmmakers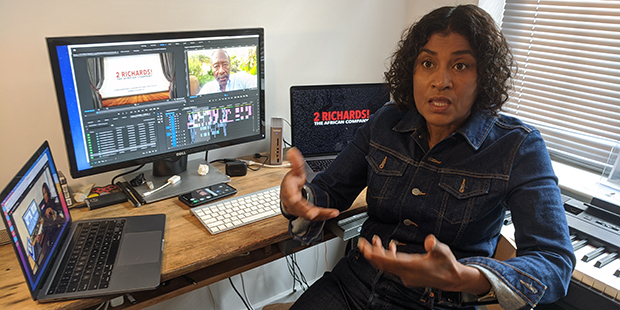 Kamilla Blanche – Director/Producer/Writer
• Kamilla Blanche started her career in the arts as a professional actress. She was one of the original resident actors in the first Black British Theatre Company in London called The Keskidee Theatre, allowing her to train in all aspects of the theatre and went on to work in film TV and theatre for over 20 + years.
• Kamilla worked as City of Los Angeles District 4 , Director of Arts and Culture.
• Kamilla was also the Executive Director of Sister Cities of Los Angeles, Inc. connect-ing and advising up to 30 international cities and producing successful arts and cul-tural exchange.
• Kamilla is now an independent Curator Producer/Director.
• Internationalartsconnect.com
Olga Garay English – Executive Producer
• Olga Garay-English has been an independent arts consultant since 2014 working on Cali-fornia-based, national, and international projects.
• She has been senior advisor on Local and International Cultural Programs to City of Los Angeles Councilman Tom LaBonge; creative strategist to UCLA's Center for the Art of Performance; program and resource development consultant at the Emerson College Office of the Arts and its three campuses in Boston, Los Angeles, and the Netherlands
• Ms. Garay-English, the Founding Program Director for the Arts of the Doris Duke Chari-table Foundation, was responsible for one of the largest national arts funders in the United States. She awarded $145 million to arts organizations in the U.S. and abroad during her nearly eight-year tenure.
• The Western Arts Alliance named Ms. Garay-English one of 2013's Fifty Most Powerful and Influential People in the Nonprofit Arts (USA) and one of the top five Local Arts Agency Leaders. Ms. Garay-English was named a Chevalier dans l'Ordre des Arts et des Lettres in 2012.
• Born in Santa Clara, Cuba, she became naturalized as a United States citizen in 1978.
Clarke Peters – Narrator
• Clarke Peters, actor, writer, and director, established his career in London's West End.
• UK Musicals, I Gotta Shoe, Bubbling Brown Sugar, Blues in the Night, Porgy and Bess, The Witches of Eastwick, Chicago, and Chess.
• In 1990, Peters wrote Five Guys Named Moe, which received a Tony Award nomination for Best Book of a Musical and Unforgettable, a musical about Nat King Cole.
• Peters appeared on Broadway in The Iceman Cometh which won him the Theatre World Award, the revival of Chicago in 2000 & 2003, Driving Miss Daisy, The Wiz, Bubbling Brown Sugar, Ma Rainey's Black Bottom, Carmen Jones, The Amen Corner and Sheffield Crucible Theatre's Shakespeare's Othello, playing the title role. In 2014 he played Gloucester in King Lear in The New York Shakespeare in the Park festival.
• TV credits include: The Wire and The Corner, Damages, Treme, Life On Mars.
• UK: Holby City, Doctor Who, In Plain Sight, Witness Protection, Rita Hayworth and the Shawshank Redemption and Person of Interest.
• Movie credits include Mona Lisa , Outland, Notting Hill, K-PAX, Freedomland Marley & Me, Endgame, Nativity! Red Hook Summer.
• More recently, Three Billboards Outside Ebbing, Missouri and Da 5 Bloods.
• Audiobook: Michael Chabon's novel Telegraph Avenue.
Gail Ann Dorsey – Music Supervisor/Composer
• GAD, multi-instrumentalist, vocalist, songwriter, and recording artist also known as one of the music world's most influential bass guitar players, she is also revered for vocal talents, contributing to many artists as well as her own solo recordings and live performances.
• Vocal collaborations include, 'I Am Easy To Find' by indie band The National, and "Head Of Mine" from David Bowie's 'Blackstar' saxophonist Donny McCaslin, and on"Eye Of The Be-holder" from McCaslin's 2018 release 'Blow'. Gail teamed up with lead singer of The Na-tional, Matt Berninger, on Berninger's first solo album effort 'Serpentine Prison'; produced by the legendary Booker T. Jones.
• The most notable GAD's vocal pairing duet with music legend David Bowie on the Queen/Bowie classic "Under Pressure" is renowned. Dorsey occupied the bass guitar chair in David Bowie's touring band from 1995 to 2004, and can be heard on several live Bowie recordings, as well as the Bowie studio albums 'Earthling', 'Heathen', 'Reality', 'VH1 Storytel-lers' and 2013's 'The Next Day'.
• GAD, toured from 2011 through 2019, Gail was bass player/vocalist with Lenny Kravitz.
Margit Edwards – Historian
• Margit Edwards: Dramaturge and theatre scholar of African performing arts, is currently pursuing a Doctoral degree in Theatre at The Graduate Center, CUNY . 2017-18 IRADAC Fellow; 2018-19 IRADAC Fellow; and 2018-19 Dean K. Harrison Fellowship recipient. Her research interests include 20th & 21st century Africana theatre and performance, theories of coloniality, and transcultural dance dramaturgy.
• Ms. Edwards has been a dancer, choreographer, dance researcher, actor, director, arts administrator and educator. As a founding member of Viver Brasil Dance Company.
• Ms. Edwards was honored with a nomination in choreography in World Dance from the Lester Horton Dance Awards (2007).
• As Artistic Director at artworxLA, Ms. Edwards partnered with numerous cultural institu-tions such as The Autry Museum, The Getty Villa, Natural History Museum of Los Angeles, and UCLA's Department of World Arts and Cultures/Dance.
• Ms. Edwards received an MA in Dance Ethnography from UCLA's Department of World Arts and Cultures/Dance (2001) and an MFA in Experimental Choreography from the Dance Department at UC Riverside (2006). Forthcoming publication of "African Perfor-mance in the Feast of St. Francis Xavier in 17th century Luanda, Angola" in The Routledge Companion to African American Theatre and Performance.
Make a donation to 2 Richards! The African Company.
Contact
For inquiries, please contact fiscalsponsorship@filmindependent.org.