A Bus to the Stars

Project type: Fiction Short
Project status: Development
Director/Writer/Executive Producer: Coxy Chiara Rodoni
Producer: Gaëlle Jaunay-Calendini
Cinematographer: Adam J. Hahn
Composer: Dónal Rafferty

Website: coxy.agency
Facebook: facebook.com/abustothestars/
Twitter: @abustothestars

Help independent filmmakers tell their stories.
Make a donation to A Bus to the Stars today.
Film Independent's Fiscal Sponsorship program opens the door to nonprofit funding for independent filmmakers and media artists. Donate today and help bring A Bus to the Stars to life.

Logline
Three homeless friends living on the street, are waiting for the bus that will take them to the city of Angels, where dreams can come true.
Synopsis
Gilda, Nelly, and Bepop are three homeless friends that live at a bus stop. Their life is the same every day: they wake up, perform their daily routine and try to interact with the people that come and go before their eyes. The bus stop is their home, a shelter they never dared to abandon. One day Hawk, an older fellow homeless, tells them about the existence of "the bus to the stars" that takes people to the "City of Angels" the place where dreams can come true. The news disrupts our trio's ordinary life and triggers the desire to change destiny and depart towards the promised land. Will they be able to get to the city of Angels and make their own dreams come true?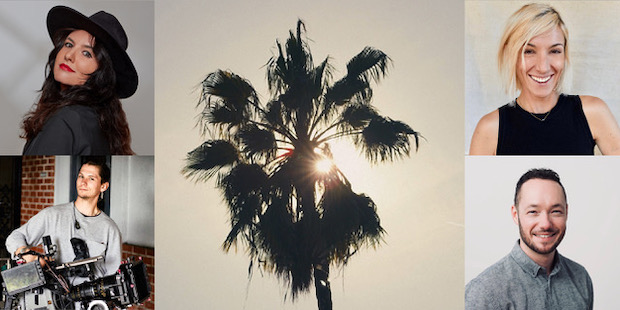 Meet the Filmmakers
Coxy Chiara Rodoni – Director/Writer/Executive Producer
Coxy was born in Italy and raised between Milan and Paris. She started her career in fashion, working as a creative for luxury fashion brands such as Gucci, Dolce & Gabbana, Prada, Gianfranco Ferré, and Roberto Cavalli, where she designed ready-to-wear and accessories, and directed videos, Ad campaigns, and fashion films. In 2013, she moved to Los Angeles and started working as a Costume Designer, creating costumes for feature films, TV shows, commercials, short films, and music videos. At the same time, she has written, produced, and directed short films and is currently developing her feature debut. Her work has been featured in Vogue, Marie Claire, and L'Officiel, among other international magazines as well as within the exhibition "The New Vocabulary of Italian Fashion" at the Triennale Museum of Design in Milan. Her films have been featured at international film festivals and won awards.
Gaëlle Jaunay-Calendini – Producer
Gaëlle Jaunay-Calendini is a French-American award-winning creative producer. Specializing in "stories with a heart" for high-end commercial brands, she was responsible for bringing plus-size models to the fashion industry more than 10 years ago through breakthrough campaigns for H&M or Levis, as well as for pushing to include a more diverse cast and crew on sets. She created an "itinerary cinema" from 2000-2010 in France where she would project movies for homeless people and this story touches her deeply.
Adam J. Hahn – Director of Photography
Adam is a cinematographer and camera operator from Baltimore, MD with a BFA in Film Production from Chapman University. In 2017 he started Omada Cinema LLC, and currently acts as co-founder and operator of the company. Since then he's worked with clients such as Warner Music Group, C2O Coconut Water, Def Jam Recordings, Gucci, Mariu De Sica, ISKO, and GrandArmy as well as various other commercial companies, agencies, and musical artists. His notable work includes viral music videos such as "Good To Know" by Ciscero feat. Masego which has received over 17M views.
Dónal Rafferty – Composer
Dónal was born in Dublin Ireland. Dónal has a Music Degree at the National University of Ireland Maynooth and a Master's Degree at King's College London. He is an alumnus of the IMRO Irish Composition Summer School (2007) and holds diplomas in piano performance and music theory from London College of Music and Trinity College London respectively. His string + wind quintet ​Aquastrata (2005) was awarded the 2010 IMRO Award for Chamber Ensemble composition. His music has been performed by ensembles such as Lontano, Concorde, The Penbridge Trio, the Taylor Festival Choir, and the Charleston Symphony Orchestra both in Europe and the USA and used in film and commercial content. He is an award-winner of the 2020 Indie Film Music Contest. Dónal is a member of ASCAP and The SCL. He has a special interest in collaborating with visual storytellers in the environmental activism and social justice fields. donalrafferty.net
Contact
For inquiries, please contact fiscalsponsorship@filmindependent.org.