A Most Atrocious Thing

Project type: Fiction Feature
Project status: Distribution
Director/Actor: Christian Hurley
Director/Actor: Ben Oliphint
Producer/Actor: Matthew Wassong
Writer/Actor: Will Ammann
Writer/Actor: Dylan DeVol
Composer/Actor: Max Shepardson
Cinematographer/Actor: Bryan Taira
Cinematographer: Elliot Thompson
Finishing Editor/Colorist: Christian Whittemore
Editor: Liam Tangum
Original Music/Sound Design: Jack Larkin
Sound Design: Griffin Fisher, Lindsey Ellis

Website: mostatrocious.com
Instagram: @boxfort.tv

Help independent filmmakers tell their stories.
Make a donation to A Most Atrocious Thing today.
Film Independent's Fiscal Sponsorship program opens the door to nonprofit funding for independent filmmakers and media artists. Donate today and help bring A Most Atrocious Thing to life.
Logline
Oh Deer! A weekend getaway becomes deadly when bad blood turns a group of friends against each other.
Synopsis
Ben, Dylan, and their three stoner buds embark on a graduation trip at a remote cabin with plans to drink, hunt, and drink some more. But, after inadvertently eating tainted deer meat, friends become foes and transform into demonic flesh-craving zombies who want nothing more than to tear the group limb from limb.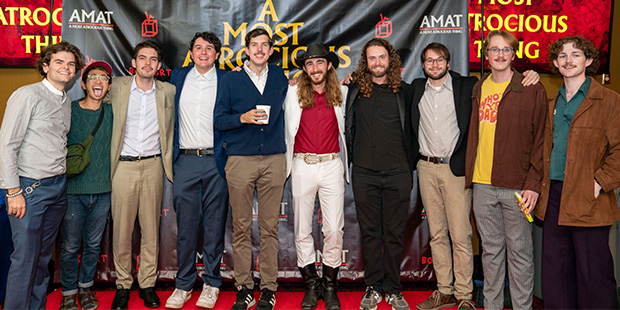 Meet the Filmmakers
Christian Hurley – Director/Actor
Christian "Chris" Hurley is a filmmaker from Long Island whose narrative and documentary work has screened in multiple festivals and on television. During the height of the pandemic, he rallied his friends together to make their first feature, a zombie comedy (or zomedy for short). He looks forward to being able to share this film with a big audience for its world premiere and to making more films like it with his friends.
Ben Oliphint – Director/Actor
Ben Oliphint is a writer and director from Dallas, Texas, with a love for coming-of-age stories by way of all things genre-focused. His love for film started as escapism, and now, on the other side of that exchange, he hopes to provide the same for others – all while having fun with the homies.
Dylan DeVol – Writer/Actor
Dylan DeVol's passion for filmmaking began when he discovered that he could bring his clay characters to life with his home movie camera. After learning to write, direct, act, and edit his own stop-motion and live-action shorts, his path was complete when he met his best friends and collaborators in his first year of film school. These days Dylan directs mixed-media music videos and continues to pursue his love of every aspect of storytelling
Matthew Wassong – Producer/Actor
Matthew Wassong is an award-winning director and producer and stars in A Most Atrocious Thing as 'Matt' in his debut acting role. Moving to Los Angeles from his native Westchester, NY, Matthew met his fellow filmmakers, who lived just two doors down his freshman year, and feels so fortunate to have met all his fellow 'goofs'. He is the Co-Founder and Chief Executive of BoxFort and is excited to bring more entertaining, never before seen films to the big and small screens alike.
Bryan Taira – Cinematographer/Actor
The man with the cam! Bryan Taira is a Japanese-American film director, born and raised in Carpinteria, California. As a storyteller and artist he strives to cultivate a connection between humanity and the natural world through various mediums. Bryan looks forward to creating and collaborating on more films.
Max Shepardson – Composer/Actor
Hailing from Chappaqua, NY, Max grew up Jewish on his mother's side & Protestant on his father's. He had a unique upbringing in many ways, but when he saw his pastor cousin sitting front row at his Bar Mitzvah he knew it was time to start writing this stuff down. A writer, producer, and composer, his work ranges from dark comedic scripts and high-energy music videos to award-winning music compositions for feature films and documentaries. He is currently one of the founding creatives behind Boxfort, and considers himself the luckiest guy in the world to be able to make movies with his best friends.
Contact
For inquiries, please contact fiscalsponsorship@filmindependent.org.