A Reason To

A nostalgic short film about a hazy, intimate memory.
Project type: Fiction Short
Project status: Development
Writer/Exec Producer/Leading Role: Sari Arambulo
Director: Cole Bacani
Cinematographer: Joseph Yao
Producers: Brendan Bennett, Porschia Adler
Associate Producers: Ellis J. Sutton, Eddie Leavy
Editor: Kirsten Hoang

Website: www.areasontoshort.com
Email: areasontoshort@gmail.com

Help independent filmmakers tell their stories.
Make a donation to A Reason To today.
Film Independent's Fiscal Sponsorship program opens the door to nonprofit funding for independent filmmakers and media artists. Donate today and help bring A Reason To to life.

Logline
When a Filipina college student reunites with an old friend, she is confronted with a hazy, intimate memory, realizing they may have nothing in common anymore.
Synopsis
Two years after Anna transferred universities, she reunites with her estranged best friend Harley, only to realize that they no longer have anything in common. They stumble upon a hazy memory, revealing a miscommunicated romance that taints the rest of their conversation and relationship. Anna realizes that their friendship has forever changed, but maybe that's ok.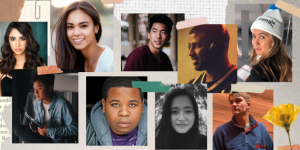 Meet the Filmmakers
Sari Arambulo – Writer/Exec Producer/Leading Role
Sari is a professional actor, producer, and digital creative — best known for portraying "Grace" on NBC's hit comedy A.P. Bio which is now going into its fourth season. She has had leading roles on Nickelodeon's Chase Champion and Disney Channel's Abby Normal. Other credits include ABC's Modern Family, Freeform's Party of Five, and Netflix's Alexa and Katie. She is the co-exec producer and lead of coming-of-age short film Swearing. She is the co-creator, producer and co-host of A.P. Bio The Podcast, the first podcast ever launched by Peacock (NBCUniversal's streaming service). A graduate of the University of Southern California, she has interned for companies like Hulu, Stubhub, and Showtime, and is currently the Associate Producer at Luminoustudios, a production company specializing in branded content. An artist and writer, Sari is an avid proponent of diversity and inclusion who aims to bring stories with all different voices and cultures to the forefront of entertainment.
Cole Bacani — Director
Cole is a writer/director from Naperville, Illinois who just graduated as a film student at the University of Southern California. He was selected as 1 of the 4 students to direct a senior thesis for his last semester. In 2016, Cole received a National Student Production Award for cinematography from the National Academy of Television Arts and Sciences. Since then, he's had his work featured on NoBudge, Film Shortage, DUST, CryptTV, Netflix, First Look, awarded at NFFTY, Chicago CineYouth, and screened all around the world. He directed a season of one of Jubilee Media's most popular unscripted web series: Both Sides which garnered tens of millions of views. Currently, he's working on a coming-of-age short film about growing up Filipino in the midwest titled Everything Stays that was also selected for the Film Independent Artist Development program.
Joseph Yao – Cinematographer
Growing up in Seattle, WA, Joseph Yao started telling stories at an early age. Whether it was whispering tales late at night to his younger siblings or writing novels in his spare time, he loved imagining a different world where one could be transported to no matter where they were. In every film he works on, he strives to create cinematic, beautiful imagery, and above all to tell stories that touch and move audiences. Since graduating from USC, he has colored films that have garnered numerous awards and has DP'ed films that have been selected for Dust, LAAPFF, NFFTY, and other film festivals over the world.
Porschia Adler – Producer
Half German sports car, half Shakespearean character, Porschia has always been synonymous with high performance and storytelling. While other kids wanted to be Steven Spielberg, Porschia wanted to be Kathleen Kennedy: the producer upholding the story through creative and business decisions. Porschia's short film TALK TO ME was an Official Selection at the Cannes Film Festival's Court Métrage. A summa cum laude graduate of USC's business and film schools, Porschia has previously interned with Chernin, MGM, Sony, and CAA's Scripted TV department. Porschia is also a proud Hapa, car enthusiast and baseball fan. She is currently in post-production on her first feature film Never Better, a dramedy filmed during the 2020 pandemic as part of Wayfarer Studios' Six Feet Apart Experiment.
Kirsten Hoang – Editor
Kirsten is a first-generation Vietnamese-American editor and filmmaker based in Los Angeles, California. A graduate with a Bachelor of Arts in Film and Television Production from the USC School of Cinematic Arts, she has worked for companies like Complex, Wong Fu Productions, Jubilee Media, and more. Her personal work (and personal journey) often questions the concept of family and relationships — with the hopes to further explore its overwhelming complexities within the Asian-American context.
Contact
For inquiries, please contact fiscalsponsorship@filmindependent.org.