Africa: Untold
Project type: Nonfiction Episodic
Project status: Production
Series Director/Creator: Bruce Donnelly
Producer: Fermin Rojas
Director of Photography: Rafael Metzler
Marketing/Outreach Strategy: Lara Preston

Email: bruce@dkrfilms.com

Help independent filmmakers tell their stories.
Make a donation to Africa: Untold today.
Film Independent's Fiscal Sponsorship program opens the door to nonprofit funding for independent filmmakers and media artists. Donate today and help bring Africa: Untold to life.

Logline
Meet Africa's game-changers: The innovators, educators and pioneers, reimagining and reshaping the continent's future.
Synopsis
Beginning in South Africa, Africa: Untold is a docu-series that is setting out across the continent to tell the inspiring stories of the women and men whose talents, efforts and determination to overcome the greatest challenges of our time, are having an immediate and indelible impact on their communities and countries. From South Africa's first and only all-female rhino anti-poaching unit, to a young township boy preparing to go into space, the series will reintroduce the world to Africa, through its innovators, educators, conservationists and pioneers whose work is changing its fate and future forever.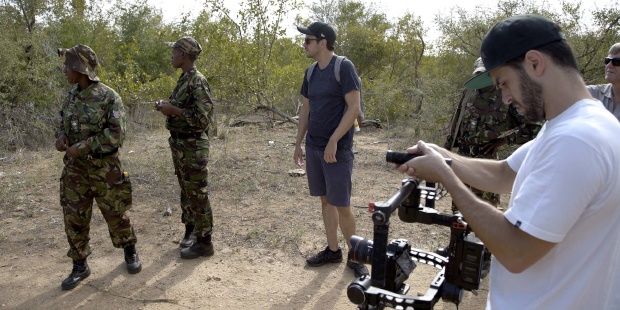 Meet the Filmmakers
Bruce Donnelly — Series Director/Creator
South African-born film director and producer, Bruce first pursued his film career at the University of Cape Town, before moving across to the New York Film Academy to further his studies. Now based in New York City, Bruce is the co-founder of DKR Films, together with his partners Fermin Rojas and James Kubesch. He has been the director and producer of a number of film, television and commercial projects, most recently for the new Samsung Galaxy S8, a commercial produced by Discovery Channel.
His work also includes the highly-acclaimed Cuban documentary film Alumbrones, which follows a group of graphic artists in Havana and tells of their many inspirations and struggles on the island. The film premiered in Piccadilly Circus in London at the Raindance Film Festival and was selected by the United Nations, Global Peace and American Documentary Film Festivals among others, with special presentations and panels at Stanford and Harvard Universities.
Alumbrones was recently incorporated into the Academy of Motion Picture Arts & Sciences Library collection. Returning to film in his home country, Bruce has most recently embarked on producing a series of films that share the remarkable, untold stories of Africa, beginning with the first ever all-female, rhino anti-poaching unit, The Black Mambas.
Lara Preston — Marketing/Outreach Strategy
Lara founded Red Flag over a decade ago and is also the founder of the Pan-African NPC, The Ladima Foundation that supports women in Africa within the film industry. She is also part of the top management team of the Zanzibar International Film Festival and is the Project Manager for DISCOP Zanzibar.
Lara's network and reputation in the communications space across the continent is based on many years of experience, with a specific focus on the film and content industries.
Led by Lara, the team at Red Flag provides a full-service communications service, with expertise in developing and executing communication and business development strategies. The team are also experts at project management, video production, social media and content development, as well as all aspects of web, digital and graphic design.
Our ability to offer all of these services with in-house talent enables us to create holistic and seamless solutions have proven successful for clients in South Africa and across the rest of the continent.
Contact
For inquiries, please contact fiscalsponsorship@filmindependent.org.