30 Of The Best Spirit Award Winning Indie Films Ever—Part 3: Dark, Darker, Darkest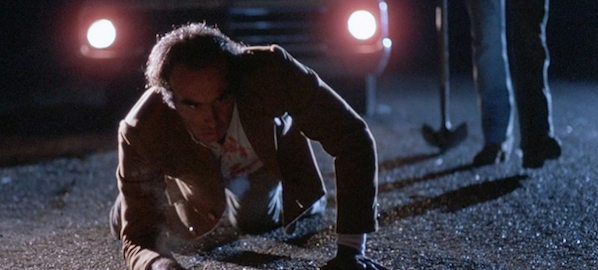 Anyone who loves independent cinema can appreciate the fact that not all the movies we love are those that make us feel warm and fuzzy inside. In fact, the work celebrated by the Film Independent Spirit Awards often takes the form of dark and disturbing stories. Here are some of our favorite winners from years past that made us cringe, lose sleep or feel all sorts of weird.
Blood Simple (1986)
Directors: Joel & Ethan Coen
Stars: M. Emmet Walsh, Frances McDormand, Dan Hedaya
Spirit Award Winner: Best Male Lead, Best Director
Where You Can Watch It: DVD
Joel and Ethan Coen's moody debut is a suspenseful thriller that introduced the siblings' bold talents to the world, and marked the perfect start to their dynamically diverse filmography. At the very first Film Independent Spirit Awards, they tied with Martin Scorsese for Best Director, and M. Emmet Walsh took home the award for Best Male Lead for his role in Blood Simple as a private detective hired to spy on the alleged philandering wife of a wealthy man.
After Hours (1986)
Director: Martin Scorsese
Stars: Griffin Dunne, Roseanna Arquette, Linda Fiorentino
Spirit Award Winner: Best Feature, Best Director
Where You Can Watch It: DVD, VOD (Walmart, Amazon)
The very first Spirit Award winner for Best Feature is Martin Scorsese's dark comedy about a lonely word processor who gets more than he bargains for after deciding to meet up with a beautiful and mysterious woman late after work one night. A combination of comedy, oddball romance, thrilling action and deranged drama all come together for one of the most twisted tales in Spirit Award history.
The Films of David Lynch (1987-2007)
Winning Films: Blue Velvet, Wild at Heart, Twin Peaks: Fire Walk with Me, Mulholland Dr., Inland Empire
Stars: Laura Dern, Nicolas Cage, Isabella Rossellini, Naomi Watts
Spirit Awards Won: Best Female Lead, Best Cinematography, Best Film Score, Special Distinction Award
Where You Can Watch Them: Mostly DVD, with select titles on VOD (Amazon, Walmart)
If one were asked to name a filmmaker known for dark and deranged dramas, David Lynch is likely to be the first name that pops up. His unsettling work transfixes audiences into a dreamlike state, haunting them long after they've seen it. In 1987, Blue Velvet earned Isabella Rossellini a Best Female Lead Spirit Award, and most recently in 2007, Lynch and Laura Dern were given the Special Distinction Award for their work together over the years, most recently on Inland Empire.
River's Edge (1988)
Director: Tim Hunter
Stars: Keanu Reeves, Crispin Glover, Ione Skye
Spirit Award Winner: Best Feature, Best Screenplay
Where You Can Watch It: DVD, VOD (Amazon)
This disturbing thriller and winner of Best Feature in 1988 was quite the controversial film when it hit theaters, mainly because the gruesome subject matter involved teenagers. A group of high school kids are torn in different directions when one of their friends is murdered by the other. Loyalties are tested and morale is in question as each of them considers the appropriate action to take in this provocative crime drama that was inspired by actual events.
The Films of Darren Aronofsky (1991-2011)
Winning Films: Pi, Requiem for a Dream, The Wrestler, Black Swan
Stars: Natalie Portman, Mickey Rourke, Ellen Burstyn
Spirit Awards Won: Best First Screenplay, Best Cinematography, Best Male Lead, Best Female Lead, Best Feature, Best Director
Where You Can Watch Them: DVD, VOD (Netflix, Amazon, Walmart)
When Darren Aronofsky introduced his cerebral, yet creepy aesthetic with the low-budget, black and white psychological thriller Pi, it became the first of many Spirit Award wins to come. Pi scored Best First Screenplay, Best Cinematography and acting honors for Ellen Burstyn and Mickey Rourke. Aronofsky continued his Spirit Awards winning streak with more awesomely dark work over the years: The Wrestler took home Best Feature in 2008 and Aronofsky won Best Director for Black Swan in 2011.
Memento (2002)
Director: Christopher Nolan
Stars: Guy Pearce, Carrie-Ann Moss, Joe Pantoliano
Spirit Award Winner: Best Feature, Best Screenplay, Best Director, Best Supporting Female
Where You Can Watch It: DVD, VOD (Walmart)
Before mega-budget blockbusters like Inception and the Dark Knight Trilogy, Christopher Nolan made this mind-bending indie thriller. Starting from the end and moving in reverse, the mystery about a man with short-term memory loss hunting for his wife's killer unravels in a unique fashion, introducing us to an innovative filmmaker who would incorporate darkness into all of his future works. Aside from Nolan's directing and writing honors, Carrie-Ann Moss took home the Spirit Award for Best Supporting Female.
Chris Lombardi / Film Independent Blogger