3rd Street Blackout Wants To Get People Talking Again
During its world premiere last month at the Los Angeles Film Festival, 3rd Street Blackout floored audiences with its combination of New York personalities, spot-on music selections, and hilariously candid characters.
Negin Farsad and Jeremy Redleaf, who wrote, directed, and starred in the film said their inspiration for the story was the real-life blackout caused by Hurricane Sandy in 2012, which forced the two of them to sit in the dark and realize how much they missed their televisions and phones. Their intention in making the film was to cause a revolution of reconnection in this increasingly digital age.
"I remember right after the blackout and there were five minutes where the internet was working and I tweeted, "Oh my god, we've had a blackout," Farsad admits. "And I was such an idiot. But it was such a wonderful time! Because people were actually talking to each other!"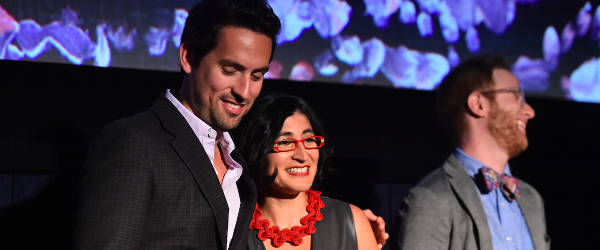 When asked about the casting process, Farsad and Redleaf said they said they live and work among so many comedians and a number of roles were given to friends and frequent collaborators. The film features appearances by Ed Weeks (The Mindy Project), Janeane Garofalo (Wet Hot American Summer), Phyllis Somerville, John Hodgman (The Daily Show), Sasheer Zamata, Jordan Carlos, Katie Hartman, Miles J. Harvey, and Rachel Feinstein.
Farsad also made clear that the racial diversity in the film was intentional. "I don't know if you've noticed this but there aren't that many Iranian-American women running around on television, running around on film." said Farsad, who is Iranian-American. "And I notice when I audition for things, I don't get them. And I think for performers of a diverse background it's unfortunate."
Farsad said this sad reality forced her to take stock of the situation. "It sucks to say you have to do it yourself, but you really have to do it yourself. That's how it is right now. I mean only 28 percent of speaking parts go to women," then she repeated for emphasis, "Only 28 percent of speaking parts go to women. So it's unfortunate that we have to strap the dick on and do it ourselves."
Jade Estrada / Film Independent Blogger