Damien Chazelle Sings the Praises of 'Umbrellas of Cherbourg' at Film Independent at LACMA
Unless you've been living under Pasadena's picaresque Colorado Street Bridge for the past few weeks, then you already know that Damien Chazelle's 21st-century movie musical La La Land is having what we in the content industry like to call a moment. But the film—which on Sunday claimed a record seven Golden Globes and has raked in over $53 million—isn't just an expression the 31-year-old Whiplash auteur's obsession with the widescreen romance of classic Hollywood and soulfulness of American jazz music.
The film, starring Ryan Gosling and Emma Stone as a pair of star-crossed dreamers muddling through life in the City of Angels, is also something of a crypto-remake of French New Wave director Jacques Demy's 1964 masterpiece The Umbrellas of Cherbourg—a fact Chazelle himself was only too eager to admit at a special Film Independent at LACMA screening of Umbrellas on January 5.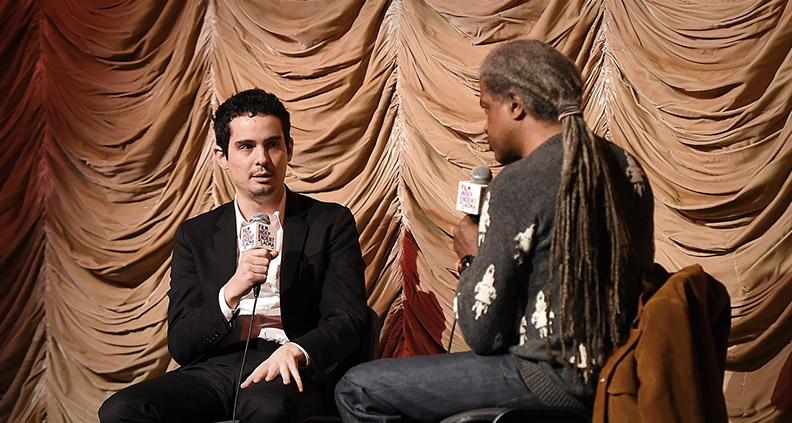 Talking to Film Independent at LACMA curator Elvis Mitchell in a 40-minute conversation preceding the film, the director claimed to have seen Umbrellas more than 200 times. "I'm not the only one who cries during this movie," Chazelle said of Demy's tale of two young lovers—played by Catherine Deneuve and Nino Castelnuovo—torn apart by both war and time. "It hits you like a ton of bricks," he said of the film's earnest melodrama. But Chazelle didn't always feel that way.
At first, Umbrella's operatic approach "threw me for a loop," said Chazelle, citing his initial resistance to Demy's entirely sung-through dialogue, "including standard greeting and mundane things. [It's] not a standard series of songs."
Years later Chazelle showed Umbrellas to composer Justin Hurwitz as they began to develop the idea for La La Land. Soon, Hurwitz "became even more obsessed," than Chazelle himself. Chazelle then recalled bringing would-be financiers to Hurwitz's Spartan apartment, which was completely empty except for a piano and a single Umbrellas of Cherbourg poster.
Demy and composer Michel Legrand subsequently worked together on 1967's The Young Girls of Rochefort (again starring Deneuve). Regarding the composer's importance to the creative process, Chazelle said, "it's hard to tell if they're Legrand films or Demy films." Chazelle then recalled his fascination with the story of how Demy and Legrand pitched the film to potential investors "as a sort of circus act," performing songs live in board rooms and stuffy office buildings—a strategy that, according to Chazelle, "didn't go well for a while."
Mitchell observed that part of the initial resistance to the film at the time of its release was no doubt due to its jazz-centric aural aesthetic, which in 1964 had not yet been fully embraced by or incorporated into the musical genre. "[The film's] rhythms aren't the rhythms of MGM musicals," he said, pointing out Legrand's prominent use of jazz vibraphone. Chazelle agreed: "It's about as far away from a Broadway musical you can get."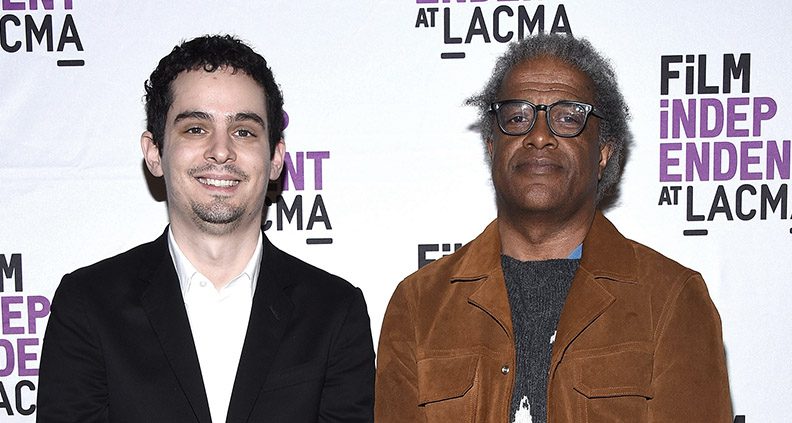 For Chazelle, whose Parisian father grew up loving jazz during the city's go-go New Wave era, the pairing of European art house cinema and American jazz is as natural a fit as Deneuve's teen shopgirl Geneviève and Castelnuovo's lovelorn mechanic Guy ultimately are not. "In many ways, the jazziest cinema of the 1950s and '60s was French," said Mitchell, citing in particular Miles Davis's score for the 1958 Louis Malle noir Elevator to the Gallows.
Once the duo fully entered jazz mode, Mitchell couldn't resist asking the man behind "Not my tempo!" to list his favorite drummers. Chazelle cited Max Roach as his first love, as well as Elvin Jones, Buddy Rich, Philly Joe Jones and others. He also compared drumming to film editing in each one's ability to dictate the rhythm and energy of a work of art. Editing, Chazelle said, was the one job within filmmaking that he could most easily see himself doing as a career if he were not already a director.
But despite the presence of one of Hollywood's most exciting young filmmakers, it wasn't until the lights dimmed that the real fun began, as the opening moments of Umbrellas began to swirl onscreen to Legrand's evocative score. And once the characters started singing they didn't stop until 90 minutes later, at which point the crowd filtered out of LACMA's Bing Theater onto an LA street that maybe wasn't quite as magical as the ones found in La La Land—but which wasn't far off.
To learn more about upcoming Film Independent at LACMA events—including our innovative new film and live music series Bring the Noise—just click here. Not a Member of Film Independent yet? Become one today.