'And Then I Go' Director Delves into the Dark Side of Growing Up
When director Vincent Grashaw's intense coming-of-age drama And Then I Go premiered at the 2017 LA Film Festival, school shootings had already been a topic of national conversation for nearly two decades. Sadly, the conversation has only intensified since the events of Parkland on February 14, making Go (and its sobering exploration into the psychological roots behind these tragic bursts of violence) one of the most relevant and trenchant independent films of 2018—even if it's not the easiest to watch.
Adapted from Jim Shepard's acclaimed 2005 novel Project X and produced by Film Independent Fellows Rebecca Green and Laura D. Smith, the film follows troubled high school pals Edwin (Arman Darbo) and Flake (Sawyer Barth), who find their close bond challenged, with Edwin becoming progressively more detached as the frequent target of bullies. Their relationship morphs as the two concoct a plot to enact violent revenge, which soon picks up a tragic momentum all its own.
Green and Smith developed the project through the Film Independent Producing Lab in 2012 and was also supported by Film Independent's Fast Track program in 2014. Grashaw—who was attached to the project a scant two months before shooting—is himself a 2012 Film Independent Spirit Award nominee for the film Bellflower, as a producer.
And Then I Go co-stars Justin Long, Melanie Lynskey and Tony Hale, among others. Following its premiere at the LA Film Festival, the film was acquired by The Orchard and was released in theaters and SVOD on April 17, 2018.
We recently spoke to Grashaw to discuss the film's relationship to current events, the process of casting his young leads, working with more established actors and the experience of premiering at the LA Film Festival. Here's our conversation:
VINCENT GRASHAW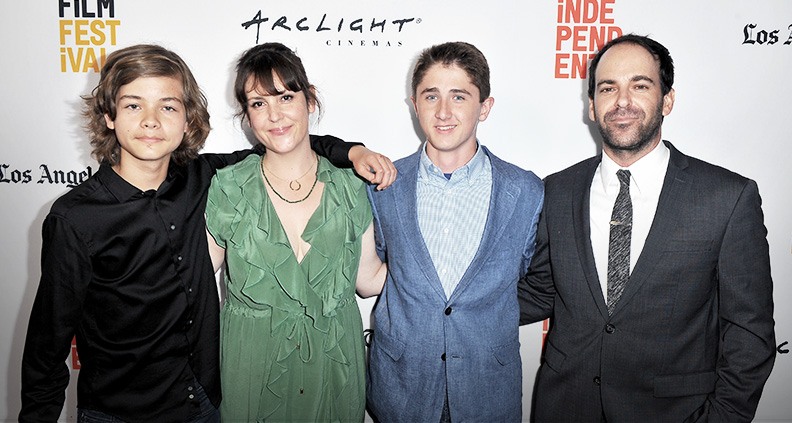 How has the conversation around And Then I Go changed since Parkland, either internally in terms of how you're presenting the film to people, or in terms of the reviews you've been seeing?
Grashaw: Well, it took the producers—Rebecca and Laura—several years to get the film going, being very conscious of this being a subject that might be hard to get made or get financing for. The last thing I would want is for victims of this sort of stuff or parents who lost kids to somehow feel like we weren't doing the topic justice. It's a very sensitive thing. I didn't necessarily want to do a school-shooting movie. What I connected to in the book was this unique perspective that I don't think had been done and I felt was really important. The thing about [the story], it sort of stripped away all of the cliché and surface solutions. It's like if you have a drug addict and you try to get them sober, the only way that will work is getting to the reason why they started. That's kind of what we wanted. That was our intention—to humanize these kids without calling them monsters.
At what point did you become involved, and in what way did you help shape the story or make it personal to yourself?
Grashaw: I came on in May of 2016. You know, I didn't adapt it. I didn't acquire the rights. Rebecca and Laura were trying to get this made. I came on two months before the shoot, so I didn't have a long time to live with it. But it was one of those things that when I read it, it transformed me back to that age when things are really awkward. One of the other things I could really relate to was the power of friendship at that age, the lengths you'll go to maintain a friendship that might not be meant to be anymore. I think anybody can relate to that. We've all been there. Everything's the end of the world at that age, you know.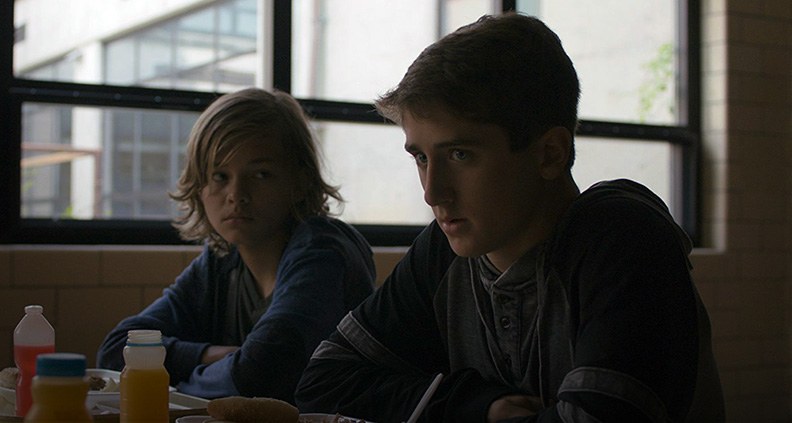 How did you find the kids in the film? Just through the regular casting process?
Grashaw: We had just a normal casting. Arman Darbow, who plays Edwin, we found him in Los Angeles. He actually has a very interesting upbringing. He was raised in France for two years, in China for a year; he speaks three or four languages. Not really a trained actor by any means. He could tap into those emotions that I think, personally, I could relate to with that character. And Sawyer auditioned in New Jersey. He was just brimming with natural confidence—he had all these elements of strength that I liked. He initially came in to read for Edwin, but I gave him the pages for Flake and he read them and in five minutes was like, I got this. The two of them together really came off the screen.
What was it like working with some of the more established actors in the film, like Melanie Lynskey and Justin Long?
Grashaw: They obviously came on board because of the material—I think they saw what we were trying to do. They're supporting characters, and I think they realized they were serving these kids. Justin, having never played a father before, that was attractive to him in terms of a challenge. With any kind of working or established actor, you hire them to do the job. You talk to them and, you know, I don't say a lot. It's weird. While directing, you kind of guide people to where they need to be and you watch magic happen—if it's working. The only time I have to speak up is if I have something I want to lean them towards.
We're almost a year removed from last year's LA Film Festival. I wondered if you could speak to that experience a little bit.
Grashaw: As filmmakers, we submit to festivals because that's the business. It's not just like, "Oh, that's a party." It's the way you get your movie sold. It was special to share at the LA Film Festival because Jennifer Cochis, it was her first year there as director. And she's a really great person. I thought she killed it. It was also interesting to have a festival where there's only one screening. There's something special about the way they treated that, where it was just this one big world premiere and it felt like a very important night for everybody.
I imagine it sort of feels like Groundhog Day to got to all these festivals and to keep having these same conversations about the film.
Grashaw: At least for me, there are times when you're like, "Eh, I don't want to sit through the movie again." But you go up there and you see an audience and it's a full theater and, you know, maybe you haven't seen the film in a while. So that's refreshing. That's why we go to these places, to share it with people.
And Then I Go is currently available to stream. To watch our video interview with Grashaw and And Then I Go producers Rebecca Green and Laura D. Smith from the 2017 LA Film Festival just click here. To learn more about Film Independent's myriad Artist Development programs, click here.
The 2018 LA Film Festival will be happening September 20-28. And there's still time to submit—the late deadline is May 21, and the exclusive late deadline (for Film Independent Members only) is June 1.
Not a Member of Film Independent yet? Become one today. Also, follow us on Twitter, Facebook, Instagram and subscribe to our YouTube channel.