Authenticity, Activism and Inspiration: Diversity Speaks at the 2016 LA Film Festival
It's no secret that "Hollywood" has been a homogenized industry ever since its very beginnings. In the past few years we've witnessed countless conversations about doors finally being opened for minorities to share their voices in film and TV, but perhaps the most inspiring of these stories are the ones in which artists unapologetically create their own doors and refuse to let their ethnicity, gender or sexual orientation define what opportunities they should accept.
The LA Film Festival's 2016 Diversity Speaks discussion featured three separate June 4 panels focused on different aspects of what it means to work in the entertainment industry while ostensibly being labeled an "other".
First up was actress Issa Rae, creator of the YouTube web series The Misadventures of Awkward Black Girl. Rae confessed that Black Girl was initially a project she imagined only her family and friends would watch, but that it soon became something much bigger. Her initial goal was simply to tell a story, based on her own background, about a regular young black woman who wasn't cool, or a good dancer, or a lip-smacking attitude-throwing boss. The series was a hit, and now Rae has the opportunity to work on bigger projects, including a new HBO series called Insecure.
"You get tired of seeing the same representations, you get tired of having the same conversations about how there's not enough and what you could do," Rae pointed out about the issues swirling around diversity. She maintained that she's more hopeful now that in the past few years as more and more filmmakers of her generation have taken it upon themselves to actually do something about Hollywood's woeful diversity statistics.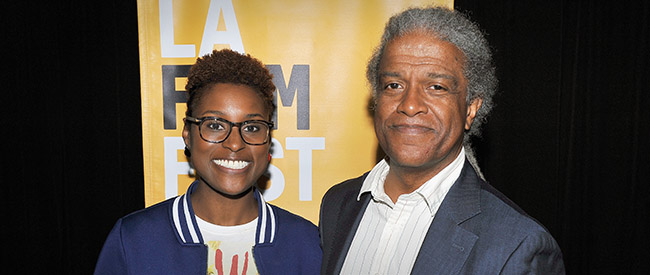 A large part of this new generation of artists includes filmmakers who are also activists. The next panel, Arts and Activism, moderated by veteran actor Dale Godbaldo, featured Cory Hardrict, an actor who's worked on everything from network television to low-budget indies to major Hollywood films. Hardrict said that while he respects filmmakers of past generations who paved the way, he also feels that "we have a lot of leaders today that should be talked about. I want to see more of my heroes living in my community, right now."
Joining Hardrict was actor Jay Ellis from Issa Rae's aforementioned upcoming HBO series Insecure, Vanessa Ramos, a comedy writer currently working on NBC's Superstore and Terence Nance, writer/director of the experimental hit Oversimplification of Her Beauty. When responding to a tough question about how to reconcile the work too often being offered to actors of color, Ellis had a simple and dignified answer: "I'd rather not have the paycheck." He cited that after the boom of African-American-centered series like Empire and Black-ish, "[networks] just wanted to turn 'Johnny' into 'Jerome,'" and that these roles did not have an actual depth or cultural background to them.
On what legacy these artists wanted to leave behind, Vanessa noted that she wanted to be known as a "great joke writer, not just a female joke writer or a Latina joke writer." She recalled how frequently when in a group of male comedy writers she gets weird compliments like, "hey you're just like one of the guys!" During the Q&A portion of the panel, a question about this feeling of inferiority was raised and Terence was quick to interject with some wise advice: "feeling like you have to be twice as good really means that you've decided to accept half as much." They agreed that the idea that being a minority in the industry is a bad thing only if you let it be, and that the only way to truly dissolve these notions of "lesser-than" is to continue creating and telling the sorts of unique stories that need to be heard.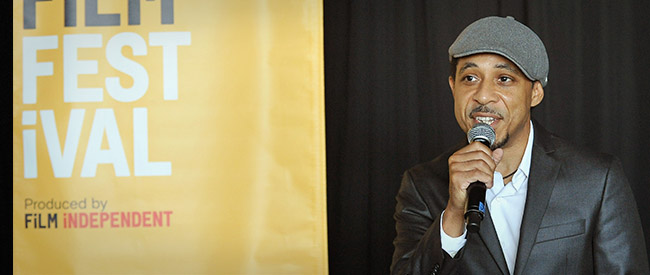 One example of these unique stories was director Andrew Ahn's Spa Night, which centers on a young Korean-American man who begins working at a spa he quickly learns is a secret gay hook-up spot. Drawing from personal experience, Ahn shed light on the difficulties of being the first-generation son of immigrant parents in Los Angeles through his own unique perspective. Joining him on the last panel, Low Budget in LA, were four of the producers from Nonetheless Productions, the company that brought this film to life.
The producers began by listing out the hardest things they encountered in dealing with the creation of a micro-budget film, like location scouting and casting on a film that had to have a particular spa look and a had to star a young actor who was fluent in both Korean and English. The biggest challenge was (of course) securing funds, especially when using crowdfunding. Ahn noted that their film had exactly 592 Kickstarter pledges, mostly coming from the niche of LGBTQ activist audiences. But after that, it was time to appeal to individual equity investors. The latter was not an easy task to accomplish, given the story's risqué subject matter, but that didn't let Ahn stop him. "This film, I knew had to be in the independent film space," he said.
Like Ahn, the other panelists from the entire day's worth of Diversity Speaks panel were adamant about one thing: the importance of selflessness when telling their stories, especially as it pertains to activating their audience. Which is to say, they work on projects that might be difficult sometimes so that they might inspire others and make things a little easier for the next guy—and so on and so on. To wrap things up, LA Film Festival Director Stephanie Allain bid the crowd adieu by saying, "this is why we do this, to share the knowledge."
The 2016 Diversity Speaks panels were sponsored by HBO and Loyola Marymount University School of Film and Television and supported by Yvonne Huff Lee and Jason Delane Lee | Lagralane Group and Latino Public Broadcasting. The Panels were hosted by the Blackhouse Foundation.
---
This year's 2016 LA Film Festival is currently happening at the ArcLight Cinemas in Culver City as additional venues citywide through June 9. Buy your tickets to all of our great screenings and special events today. Click here for more information.
To see our full lineup and Festival Guide, please visit our website, stay tuned to this blog and subscribe to our YouTube channel. Learn how to become a Member of Film Independent by clicking here.
(header: L-R, Jay Ellis, Vanessa Ramos, Terence Nance and actor Cory Hardrict)