FROM THE ARCHIVES: Disabilities Onscreen, Behind the Camera and Sitting in the Theater
NOTE: the below piece originally ran in April of this year. It's being re-posted here, inspired by this recent New York Times article.
***
When discussing intersectionality and media representation, far too often disabilities are left out of the conversation, despite the fact that people with disabilities account for 26% of the US population, according to this report from the CDC; "disabilities" encompassing a wide range of conditions both visible and invisible and impacting literally every demographic. But despite the disabled community's prevalence it have not been proportionally represented onscreen, nor in key creative roles behind the camera—let alone fully tapped as a market.
In the final (for now!) in-person event produced by Film Independent Education before the current COVID-19 lockdown moved things fully online, Fi partner organizations Film Fatales and RespectAbility co-presented a March 10 panel at Film Independent's Wilshire Boulevard HQ, entitled "Disabilities On Screen and Off" offering insight for both disabled and non-disabled filmmakers alike. Moderated by Film Fatales members Nasreen Alkhateeb and Tchaiko Omawale (director, Solace), the panel featured speakers Ashley Eakin (director, Single), Michele Spitz (founder, Woman of Her Word) Shari Bisnaught (costume designer, Best Summer Ever) and Tatiana Lee (actor and activist, RespectAbility.)
The conversation touched on topics ranging from the empowering of disabled individuals to ask for what they need on set to steps distributors and exhibitors could (and should) be taking to create more inclusive filmgoing experience, filmmaker resources and much more.
DISABILITIES ON AND OFF SCREEN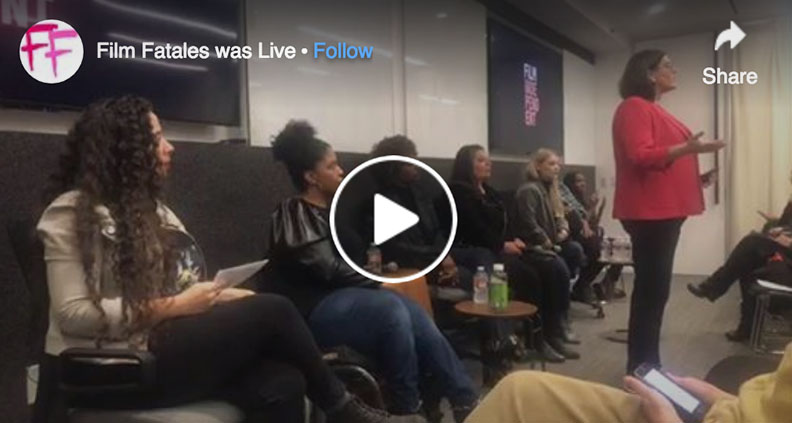 Coming out as disabled. Some disabilities, like the use of a wheelchair or visual impairment requiring the use of a cane, are visible. But some are invisible, such as a cognitive or mental health issue or a physical disability that can be concealed under clothing. Alkhateeb asked Eakin, whose short Single had been programmed at this year's SXSW, "When is it safe for you to identify yourself as someone with a disability?" Eakin answered, "I think it's personal per person. For me, it took a long time to be okay with that label. If anyone placed that label on me I would be very offended—but that was a whole internal journey."
Wait, listen and ask questions. The panel stressed how important it is for non-disabled producers and directors working with disabled talent and crew to listen and take their cues from their collaborators. "Let them [the person with the disability] do the talking," Eakin said. Said Lee: "Don't assume they're not a professional; people with disabilities know what they need." Sometimes the requests are small—like an extra chair, or access pathway clear of electrical cords.
Disabilities are in fashion. For Bisnaught, who is not disabled, but who as costume designer was tasked with clothing numerous disabled performers on the set of Michael Park Randa and Lauren Smitelli's musical feature Best Summer Ever—another 2020 SXSW selection—working with the disabled provided an opportunity to introduce theatrical quick-change concepts to the film sets, such as magnetized clasps and lots and lots of velcro. Because, she said, such theater-based techniques "lend to making things more accessible."
Resources and timing. Regarding at which point in to ask disabled crew and talent what resources they need, Lee said, "I would [make arrangements] very early. As soon as you decide who you're casting, you should let [the production team] know," pointing to the RespectAbility resources page. According to Eakin: "a lot of getting over the practical challenges is just spending time with them [the disabled collaborator] and doing a lot of pre-pro."
Hearing movies. VO performer and Woman of her Word founder Michele Spitz is at the forefront of the field of audio description narration. An audiobook-style accompaniment used to describe a film's onscreen action, audio description is an emerging method of enhancing the in-theater experience for the visually impaired. The issue? Currently, very few theaters are technically equipped with audio narration devices. That, and the fact that budgeting for narration on the front end presents yet another budget line item. Fortunately, Spitz offers a variety of media grant opportunities for both filmmakers and exhibitors.
Speaking of money. "I hope that in the near future, there will be more people giving grants, and that they easier to identify," Spitz said of the financial lift of budgeting for audio description or any additional production designed to help facilitate the work of disabled team members. But in actuality, these costs are probably a whole lot less than you would expect—or fear. Also, consider the fact that, according to Lee (quoting the Nielsen Company), the disability market is worth an estimated $1 Trillion in untapped consumer dollars. Not too shabby.
Film Independent promotes unique independent voices by helping filmmakers create and advance new work. To become a Member of Film Independent, just click here. To support us with a donation, click here.
More Film Independent…
(Header: Best Summer Ever)