Bring the Noise Sets Sail May 11 with Inc. No World and 'Gulliver's Travels'
Last month, acclaimed musician and producer Jack Antonoff (performing as the electro-pop outfit Bleachers) serenaded Film Independent at LACMA audiences all the way back to 1985, performing a new and reimagined original score to the John Hughes classic The Breakfast Club. The third edition of Film Independent's exciting new live event series Bring the Noise, the night was filled in equal measure with laughs and nostalgia, as Antonoff & Co. provided fitting aural accompaniment to the hit Reagan-era dramedy. Hopefully you were stuck there in Saturday night detention along with us. But if not, here's what you missed:
By now you should already be familiar with the concept behind Bring the Noise—inviting top musical acts to perform a brand-new live score to a classic film of their choosing. It's been a long month, but we're finally back! Bring the Noise returns next week to LACMA's Bing Theater on May 11 for yet another one-of-a-kind film screening, this time with electronic indie rock duo Inc. No World reinventing the score to producer Max Fleischer's 1939 animated adaptation of Jonathan Swift's fantastical classic, Gulliver's Travels. Here's artist Matt Owen's amazing poster: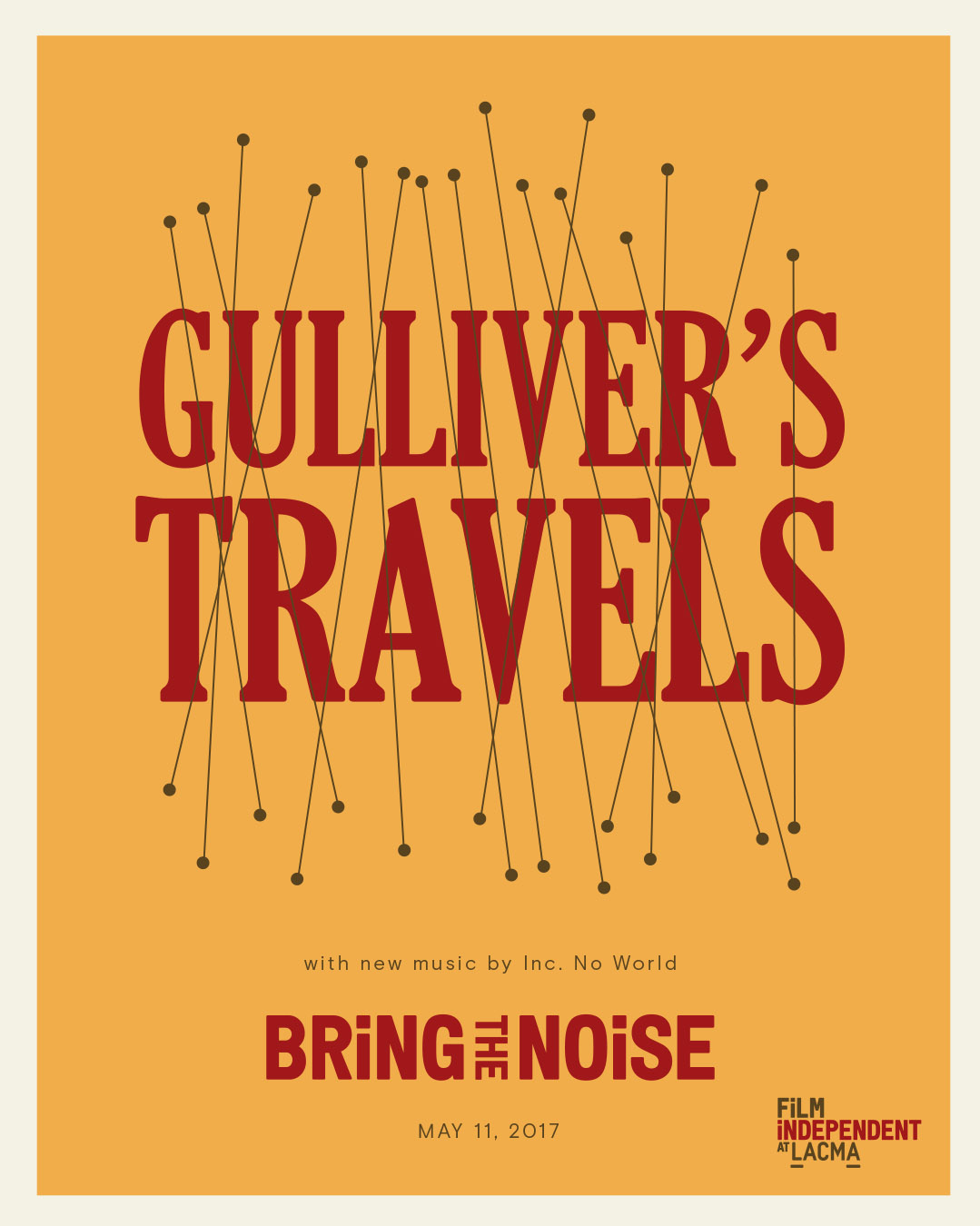 GULLIVER'S TRAVELS
Based on the book first published in 1726, Gulliver's Travels tells the story of explorer Lemuel Gulliver, who washes ashore in the town of Lilliput after a storm causes his ship to wreck. Once liberated from his Lilliputian captors, Gulliver is persuaded by King Little help prevent a war between his village and its rival, Blefuscu. As Gulliver tries to clear the way for a romance to develop between the Prince and Princess of opposing lands, a team of Blefuscu spies attempts to kill the ambitious traveler.
But even in the midst of all the rivalry, sneaky tricks, romance and redemption, Gulliver helps a solemn truce between the two towns develop and lets peace reign supreme. Fun fact: Fleisher's Gulliver's Travels is only the second feature-length animated film to be produced by an American studio (Disney's 1937 Snow White and the Seven Dwarfs was the first).
INC. NO WORLD
Performing live alongside the film will be Inc. No World, formerly known as "inc." and before that, "Teen Inc." Los Angeles natives, the band consist of brothers Andrew and Daniel Aged, who play a mixture of tones and textures perfectly calibrated to soothe the ears from tip to lobe. The group has collaborated with artists including FKA Twigs, and has been featured on the Grand Theft Auto V soundtrack.
In 2013 they released their debut album, No World, with UK label 4AD, gaining praise and even landing the group a personal invite to perform for noted deep-thinker Deepak Chopra. After teasing fans with a few singles in the intervening years, the band released their second album As Light As Light on their own No World Recordings label in September 2016.
BRING THE NOISE
This Bring The Noise is extra-special, as Gulliver's Travels is currently set to be the only animated film of the series for this year—one that continues to inspire the band and anyone else who watches it. The brothers Aged plan to dig deep into how the film has influenced them as both artists and travelers, having spent extensive time in different parts of the country exploring new sounds, something they look forward to incorporating into Bring the Noise. Of course, with this animated specialty we invite families and children to join us in experiencing this cinema classic, as Inc. No World matches the flickering images onscreen with their ethereal sound.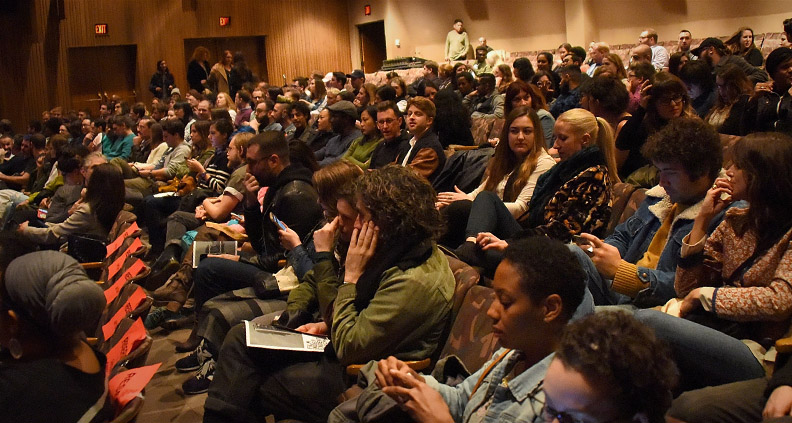 Tickets for the May 11 edition of Bring the Noise are on sale now—$20 for Film Independent and LACMA Film Club Members and $25 for LACMA Members, students with valid ID and seniors 65+. Tickets are $30 for the general public.
Become a Member of Film Independent today by clicking here. Learn more about by following us on Twitter, Instagram and Facebook. And for more, subscribe to our YouTube channel.