Bring the Noise Braces for Detention April 1 with Jack Antonoff and 'The Breakfast Club'
In January, Film Independent at LACMA launched Bring the Noise, an exciting new live event series designed to give classic films a fresh and unique twist by screening them with all-new original scores performed live by a rotating group of guest musicians. The series kicked off on January 28 with Seth Bogart of garage rock all-stars Hunx and his Punx, who played a live score to Todd Solondz's Welcome to the Dollhouse, even featuring a cameo appearance from Dollhouse star Heather Matarazzo, who made a surprise appearance to honor the film.
The second and most recent installation of Bring the Noise happened on March 9, featuring a live score from the electronic band YACHT to the classic 1979 thriller Alien, directed by Ridley Scott. Here's what went down:
That all brings us to next Saturday, April 1, when Jack Antonoff of electro-pop outfit Bleachers will take us back to the '80s, playing a new and original live score to the John Hughes 1985 Saturday detention dramedy The Breakfast Club. For over 30 years, this teen-angst classic—starring athlete Emilio Estevez, princess Molly Ringwald, brain Anthony Michael Hall, basket case Ally Sheedy and criminal Judd Nelson—has reminded us that adolescence was (and is!) a pretty sensitive time in all our lives, no matter the decade.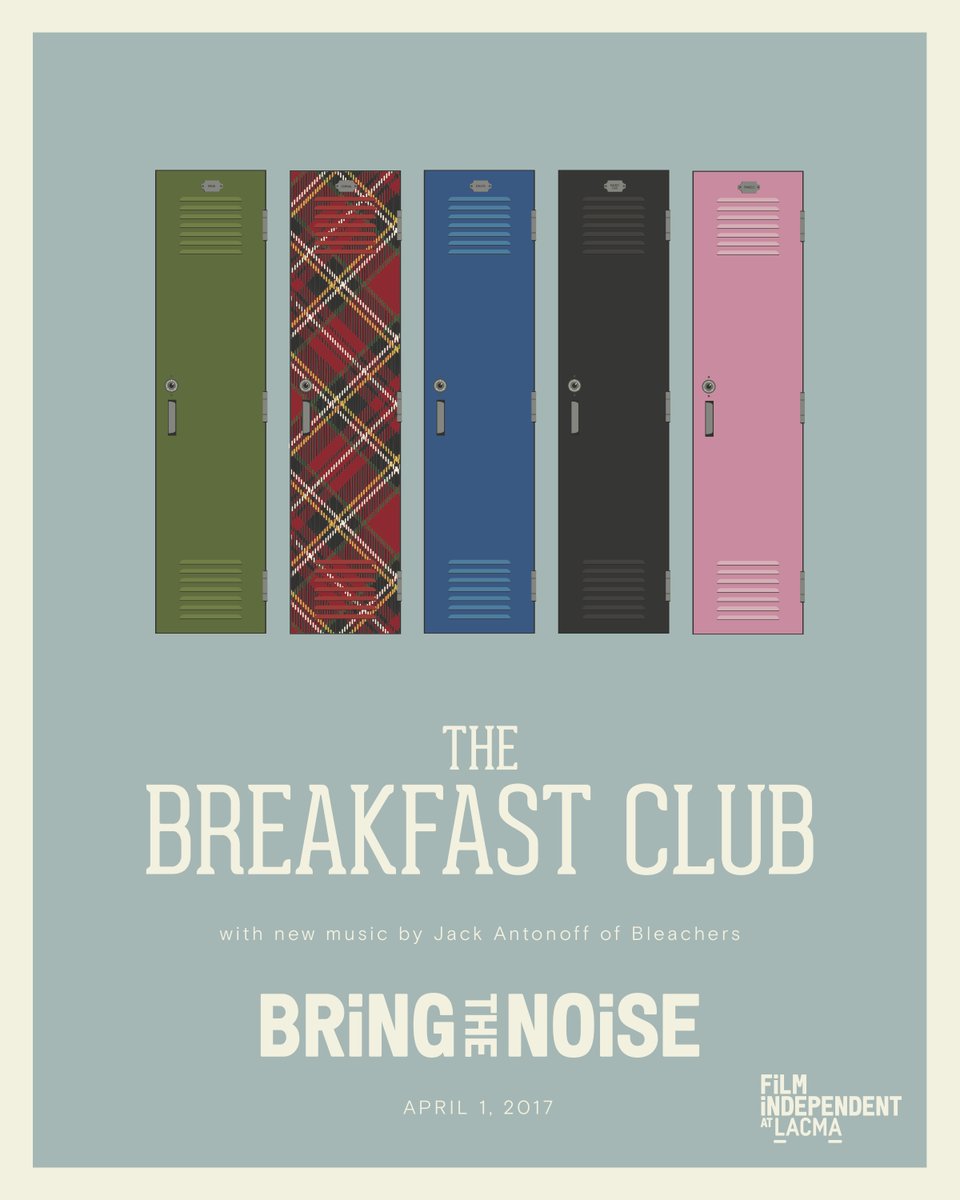 Set in Hughes' fictional cinematic playland of Shermer, IL, Breakfast Club tells the bittersweet story of five high school students from different cliques forced to spend a long, boring Saturday sequestered together during weekend detention under the watchful eye of Paul Gleeson's Principal Verson. Over the course of their nine-hour ordeal, this group of disparate personality types quickly discovers that they have more in common with each other than they think.
Taking a break from collaborating with artists like Taylor Swift and Lorde, Antonoff is sure to cause a ruckus with his unique score for The Breakfast Club. The acclaimed musician and producer is also known for being the lead guitarist for rock radio stalwarts fun., who brought us the catchy anthem "We Are Young," which Antonoff co-wrote. With Bleachers' '80s-influnced modern production heartfelt approach to modern pop, Antonoff plus The Breakfast Club make the ideal Bring the Noise pairing. So don't miss it.
Whether you're an outcast, jock, popular kid or even an old-school troublemaker in a sweet denim jacket, everyone at Bring the Noise all has one thing in common: a love for film and music. What more do you need? Come join us for a detention you'll never forget, one night only, April 1 at LACMA's Bing Theater in Los Angeles.
Individual tickets are now available to the general public for $30. LACMA Members, seniors and students can pick up tickets for $25 and just $20 for Film Independent at LACMA Film Club Members. Click here for more info.
---
Film Independent at LACMA's Bring the Noise program is brought to you by Premier Sponsor Audi, Lead Sponsor Hollywood Foreign Press Association and Promotional Supporter KCRW 89.9FM.
For more about Bring the Noise, click here or visit our YouTube channel. To find out more information about Film Independent at LACMA events, click here. Not a Member of Film Independent yet? Become one today.