Narrative Feature
Writer/Director: Emily Dell
Producer: Elizabeth Dell
Budget: Around $700K
Financing: Private Equity
Production: 24 days/Los Angeles/July 2007
Shooting Format: Super 16mm
Screening Format: HD
Story:
A story about a female break-dancer overcoming a brutal attack to claim her place in the world of underground hip-hop.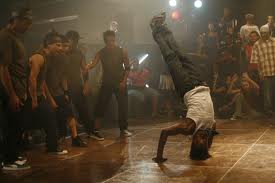 Development & Financing
Elizabeth Dell and her sister Emily were at a street fair in San Francisco's Mission district in 2002 when they were first introduced to the world of b-girls.  On a side stage, they watched a crew of female dancers breaking and spinning on their heads.  Elizabeth and Emily were awestruck – they'd never seen anything like it – and they wanted to know more about these breakers or "b-girls" (only laypeople call them break-dancers, says Elizabeth).
Later that year, the Dell sisters moved to Los Angeles and began to explore the local breaker scene.  In LA, they were introduced to Jules Urich (aka "Lady Jules") who was the most well-known b-girl in the world.  The relationship developed and Emily decided she wanted to make a short film with Lady Jules.
They raised money for the $25K project by obtaining fiscal sponsorship through Film Arts Foundation in San Francisco.  This allowed friends and family to give money to the project as tax-deductable donations, via the non-profit organization, which took a small admin fee (usually around 5%).  They shot the short in late 2003 and completed it the following year, hitting the festival circuit in 2004 and 2005.
B-Girl played extremely well with festival audiences.  Word spread fast and the filmmakers found themselves with a popular short that festivals wanted.  Of the 35 or so festivals they played, half directly solicited the Dells to request the film.  Not surprisingly, B-Girl was extremely popular with women's festivals and hip-hop festivals, which together accounted for about 60% of the short's entire festival run.
It was during the editing of the short that Emily and Elizabeth felt they had only scratched the surface of their subject and the world of b-girls.  While they never intended the short to be a taste of something bigger, in post they decided to begin work on a feature based in the same world.
They both felt they could tell a strong genre story on a limited budget; and based on the festival success of their short, they knew there was an audience for an urban female dance flick.
Elizabeth drew up a budget for $2 million and she approached all the mini-majors for financing; sometimes she would cold-call, other times she would use connections or opportunities that presented themselves—for example, after seeing Mark Gill at Film Independent's Producer Series, Elizabeth called his office and met with him.   Elizabeth was persistent with the mini-majors and production companies without being a pest—she would only call once every 10 days and it often paid off in meetings with several decision makers. Usually Elizabeth would get to pitch B-Girl, but was told the same thing by everyone: We are not going to finance a film by a first-time director, but come back to us when you've made it, and maybe we'll buy it.
It became clear to the filmmakers that they would have to raise the financing for B-Girl through private equity. Elizabeth started by slashing the budget considerably and then they reached out to everyone they knew, from their circle of family, friends, and school alumni.  Elizabeth estimates that her success rate was 1%: she approached about 1000 people to find 12 investors, many of whom were two or three degrees of separation away. If someone said no, she would ask for new contacts with phone numbers.  This way, when approaching an investor, Elizabeth would always have a name she could drop, so she was never cold-calling, but "luke-warm calling."
Elizabeth divided the budget into units of $10K, and investors could take as many as they wanted.  Some just came in at the one unit/$10K level; the largest single investment was about 20 units ($200K). Investors signed a standard deal with three stages: investors received all the initial revenue to a 120% return on investment.  Once that was achieved, the next revenues would be used to pay deferred cast/crew salaries.  The final round of revenues (i.e. the profit) would be divided 50:50 between the filmmakers' share (which includes the cast/crew participations) and investors.  The fundraising took approximately a year to complete.
Festival Preparation
B-Girl shot in July 2007 for 24 days in LA, and one day in New York (with a bare-bones crew). They wrapped in August and began an intense post-production schedule, aiming to have a cut ready for the Sundance deadline in September. It didn't pay off; Sundance passed on B-Girl.
In January 2008, Elizabeth and Emily made the trip to Sundance anyway, as they'd done many times before.  They used the trip, not to sell B-Girl, but to meet friends and network with others, but they still talked about their film, and brought film clips for collegues who showed interest.  After a short break from the film and with advice from friends, they came to the decision that B-Girl was far from finished, and a much better version of the film could be found.
They solicited feedback from close friends and contacts and began hunting for a new editor.  As they'd spent most of their budget, they needed an editor who would work as a favor.  They spent months looking; some very talented editors agreed to work with them, only to get larger opportunities and have to leave the project.
Five months of test screenings and four editors later, the best version of the film finally emerged and a cut was completed in October of 2008.  By January 2009, they had a finished film.  During this period, Elizabeth had applied to Toronto and SXSW, but B-Girl was again rejected.
Emily and Elizabeth then came to the conclusion that B-Girl was not a traditional festival movie.  It was a tough decision to make.  The festival route was the only one they knew and had planned for.  They'd scrapped Plan A, but had no idea where to find a Plan B.
The Sale
In February and March of 2009, the filmmakers set up screenings at their post facility for potential sales agents, after which there were several interested parties.  The filmmakers set up meetings with them, and in March they signed with OddLot Entertainment to sell all worldwide rights.  The sales company takes a standard 20% commission from all sales; the filmmakers also paid them a fee to cover market expenses.  The filmmakers researched sales figures for foreign territories and gave OddLot carte blanche to sell B-Girl whenever they could get a deal for a pre-determined minimum price.  OddLot worked directly with the filmmakers on all aspects of the US rights deal.  OddLot Entertainment re-cut the trailer, and had new posters designed in preparation for selling B-Girl at the Cannes market.
In April, the filmmakers set up a cast and crew screening and invited a few distributors too, along with executives from sportswear company Nike, who had done some product placement in the film.  The Nike execs loved the movie and they suggested to Elizabeth that they sponsor a bigger screening as a way of launching the film.  They would pay for the venue and throw a party afterwards with a VIP reception and party.
Nike turned the screening, at the Ricardo Montalban theater in Hollywood, into an event.  Lady Jules was a hot item, as she had just appeared on MTV's America's Best Dance Crew reality show with the Beat Freaks.  The event became the de-facto premiere for B-Girl.
A month later at the Cannes market, OddLot sold B-Girl to about 15 territories.  Shortly after this, the filmmakers made a deal with Screen Media to buy North American DVD and TV rights for 15 years.  Screen Media paid an advance in the six figures, and after recouping their expenses, they share profits 50:50 with the filmmakers.  This percentage increases (in the filmmakers' favor) after revenues hit $400K.  Screen Media sold TV rights to Showtime, and the filmmakers received 75% share of the sale (undisclosed).
OddLot continued to sell the film at other markets worldwide, including AFM and Berlin.  To date OddLot has sold the UK, Australia, Germany, Greece, Poland, Czech Republic, Israel, South Africa, the Middle East, among others. More than 60% of their sales were made at Cannes where OddLot first started selling B-Girl.
At the end of 2009, the filmmakers independently organized a small screening tour to promote the upcoming DVD release at the end of January.  They toured cities across the country including New York, LA, San Francisco, Atlanta, Orlando, and Austin.  They booked art-house theaters and timed their screenings alongside local hip hop competitions that had built in audiences from the hip-hop and street-dance communities.
B-Girl was released on DVD on January 26, 2010. In exchange for coordinating and funding their own promotion tour (without support from Screen Media or Showtime), the filmmakers retained the right to sell copies on their website, though this hasn't been as successful as they'd hoped.  Elizabeth and Emily also retained merchandising rights and have produced t-shirts and posters that they sell on the film's website.  They also created a special features DVD outside of the original DVD deal with Screen Media, which they package with other merchandise and sell online.
B-Girl premiered on Showtime on July 4, 2010 and played on the channel the past several months as well as being available as a VOD title.
Advice from the Producer
B-Girl was a huge learning experience for Elizabeth and Emily. It became clear very quickly that "no one was going to do it for them.  It was an 'un-fun' lesson to learn." They thought it would be straightforward: they would get into a festival, a sales agent would pick it up, and everything would be handled.  "It was a very dangerous attitude to have," says Elizabeth. "It sucks that there's no white knight to come to your rescue.  Once you realize that, you have to be ok with doing it yourself, and figuring it out as you go. You are going to fail a lot, especially in the beginning," says Elizabeth.  "We've been extremely lucky that we had the chance to fail and then to figure out how to do it better on this film.  We had the space to learn, which has been a gift, and we'll rely on that learning in all our future projects."