Coffee Talks: Film Composers Discuss Odd Career Paths, Formal Training and Classic Inspirations
If you've ever wanted to grab a cup of Joe with today's top film composers and pick their brains about the ins and outs movie music, the annual Coffee Talks panels at last week's 2017 LA Film Festival were the place to be. At the Kirk Douglas Theatre on Sunday, June 18 Doreen Ringer Ross, Vice President of Film, TV and Visual Media Relations at Broadcast Music, Inc. (BMI) took the stage to moderate Coffee Talk: Composers.
Joining Ross were panelists Miriam Cutler, a film composer best known for her documentary work (The Hunting Ground, Ghosts of Abu Ghraib), music producer and composer Tyler Bates (Guardians of the Galaxy films, 300), film composer Rob Simonsen (The Spectacular Now, Gifted) and music producer, film composer and current Nine Inch Nails band member Atticus Ross (The Book of Eli, The Social Network).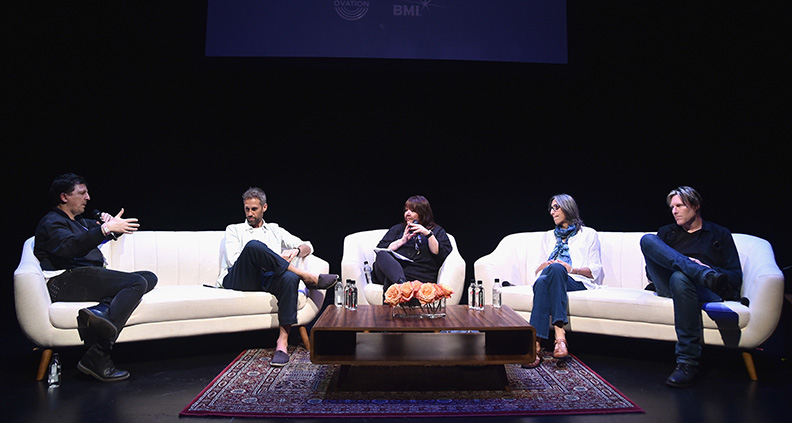 AN UNLIKELY CAREER PATH
One of the most interesting parts of the panel was learning how a group with such a diverse set of films under their belts each got set on the path of becoming composers. Ironically, none of the panelists actually set out to do scoring work—the jobs just sort of found them.
Cutler—known for scoring social activist films—was a folk dancer who grew up loving music. Arriving at college to major in musical theory, she hated it so much that she switched her focus to anthropology (which she ended up loving). Writing songs, producing and playing clarinet for eclectic jazz and new wave bands, people soon started asking her if she would compose for their films. The difference in that era, Cutler told the audience, was that most of the people hired to compose movies back then were primarily performing musicians rather than trained symphonic composers.
Simonsen likewise had an eccentric beginning, starting as a rebellious music student who opted for a more self-taught method. His career began in holistic medicine, but his heart was always in music. A serendipitous opportunity to work on a film presented itself, prompting Simonsen to drop his old life and begin a new career path.
IS FORMAL TRAINING NECESSARY?
The conversation then shifted from career catapults to a discussion of whether formal musical training is even necessary nowadays. Ross confessed that he has often found himself wishing that he had had more formal training at points. "At the end of the day, if your brain works that way, [classical training is] a tool," noted Simonsen.
Another tool Bates advocated for was finding experienced mentors to learn from one-on-one—something he says helped him tremendously on his own path.
Cutler vouched for the merits of a formal education, especially given her most recent ventures teaching at prestigious institutions like Sundance, International Documentary Association, University of California Los Angeles, University of Southern California and Columbia College Chicago. She marveled at what a group of young-and-hungry aspiring composers might be capable of coming up with given the right tools.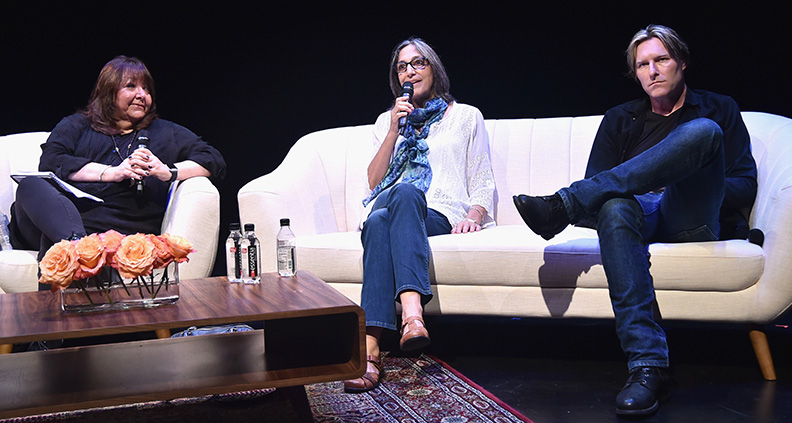 LEARNING AND GROWING
And while a formal education may come to an end, learning and growing in the industry never stops. "Composing is like painting a mural on a speeding bullet train," said Bates, describing his experience in an evolving industry.
Cutler shared how her passion for social justice naturally attracted her to documentaries, which has taught her to be more flexible to the needs of production. Sometimes, she said, a film might be shooting for four years when a new development would suddenly change the narrative of the story. Her advice is to refine your time management skills and understand the unique needs of each production.
Such is the case for projects like the new 20-hour Ken Burns documentary that Ross recently worked on—a process he described as "incredibly unique." Bates, on the other hand, shared how interesting the atmosphere can be when scoring for video games. Aside from the workflow being different, he found that the gaming industry was much different than the glamour associated with film and TV; he compared it to being with nerds (in a cool way) who are very passionate about the intricacy of their work.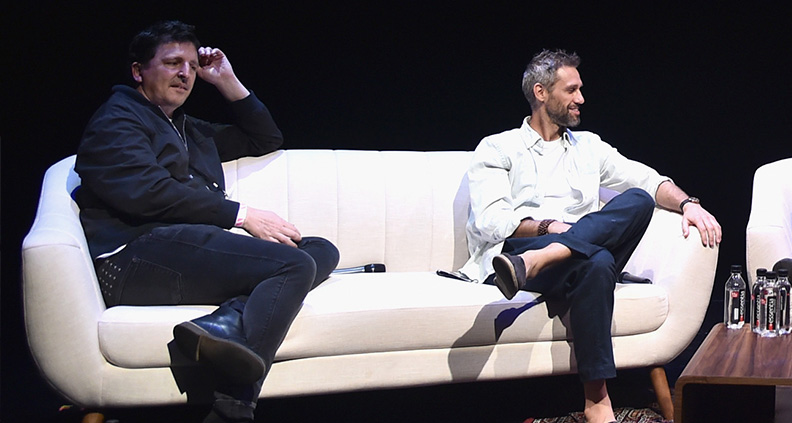 UNDER THE INFLUENCE(S)
Even with the wide range of genres and styles represented among the panelists, many of the panels' influences could be traced back to the most renowned composers, such as Bernard Herrmann, Nino Rota and John Williams. But they also cited different jazz and folk musicians, as well as films like Lawrence of Arabia (1962) and Halloween (1978).
The panelists stressed the importance of paying attention to different types of music for inspiration. When asked about obstacles and hardships throughout their careers, Simonsen summed it up best: "If the hunger is strong enough, it will punch through whatever limitation."
The 2017 LA Film Festival took place June 14—22, headquartered at the ArcLight Cinemas Culver City, with additional screenings at ArcLight Hollywood, ArcLight Santa Monica, LACMA and The Theatre at Ace Hotel. Catch more of our coverage on the blog and our YouTube channel. Not a Member of Film Independent yet? Become one today.
(Header, L-R: Atticus Ross, Rob Simonsen, Doreen Ringer Ross, Tyler Bates and Miriam Cutler)