Dazed and Confused and Hilarious—Another Great Live Read Night
At last night's Live Read, Film Independent at LACMA presented one of Richard Linklater's most celebrated works, Dazed and Confused. It's hard to believe it has been 23 years since the film's release! Before introducing director Jason Reitman, Film Independent curator Elvis Mitchell informed the audience that Quentin Tarantino considered Dazed to be one of the 10 best films of all time.
"This is the first Live Read where we outnumber you guys," Reitman joked, before introducing the 11 diverse actors that were about to take the stage. Of course this wasn't literal, as The Bing theater was packed with a crowd eager to experience this rendition of what Reitman considers the "quintessential" screenplay to capture youth and coming of age.
Being that there were so many characters in Linklater's script, all of the actors read multiple roles, and of course everyone in attendance was anxious to discover who was going to read for the role of Wooderson, the character made famous by Matthew McConaughey in the film. Before the event began, every few minutes you'd hear fans of the film reciting that unforgettable line: "Alright, alright, alright."
Much to the roaring audience's delight, Mae Whitman hilariously interpreted the role, even coming prepared with a prop, having a pack of American Spirit cigarettes on hand.
All of the performers shined and got their share of laughs, but the ladies on stage were undoubtedly responsible for many of the evening's uproarious moments. Aside from Whitman's interpretation of Wooderson, Michaela Watkins and Catherine Reitman's character voices were always a delight (especially when playing one of the Mom characters) and Whitney Cummings delivered a pitch-perfect "AIR RAID!".
It was definitely an evening to remember, with smiles permanently planted on faces from start to finish. Reitman mentioned Linklater's latest film, Boyhood, speaking of how it was bittersweet and cathartic to see how adolescence is captured throughout the filmmaker's career. From Slacker to the original script for Dazed (which Reitman says featured material that was cut out of the film and, in his opinion, revisited decades later in Boyhood), you might say this Live Read couldn't have come at a better time.
Chris Lombardi / Film Independent Blogger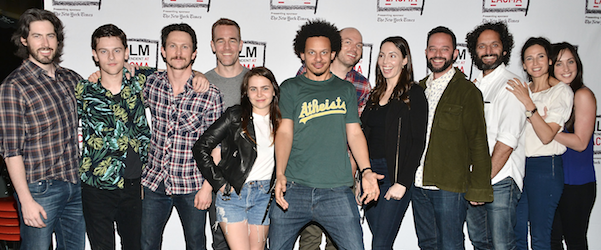 The Full Cast
Mae Whitman as Sabrina, originally played by Christin Hinojosa
Travis Tope as Mitch, originally played by Wiley Wiggins
Catherine Reitman as Kaye, originally played by Christine Harnos
Jason Mantzoukas as Mike, originally played by Adam Goldberg
Paul Scheer as Pickford, originally played by Shawn Andrews
James Van Der Beek as "Pink," originally played by Jason London
Michaela Watkins, as Jodi originally played by Michelle Burke
Whitney Cummings as Darla, originally played by Parker Posey
Jonathan Tucker as Benny, originally portrayed by Cole Hauser
Nick Kroll as O'Bannion, originally played by Ben Affleck
Eric André as Don, originally played by Sasha Jenson