Shirtless Models and Barf Bags: Dispatches from a 'Triangle of Sadness' Live Read
"It's not gonna feel like your average Live Read," warns Film Independent President Josh Welsh, as he introduces Ruben Östlund to begin Film Independent Presents' February 27 staging of the filmmaker's Academy Award-nominated screenplay for his Palm d'Or winning 2022 capitalism-and-sociology satire, Triangle of Sadness.
A previous Film Independent Spirit Award nominee for 2015's Force Majeure, Östlund's unconventional Live Read "guest director" gig is an exercise in anarchy, with the stage direction rich in commentary, resets and digressions–often to the befuddlement of his own performers–ably bringing the spirit of the critically acclaimed film to life.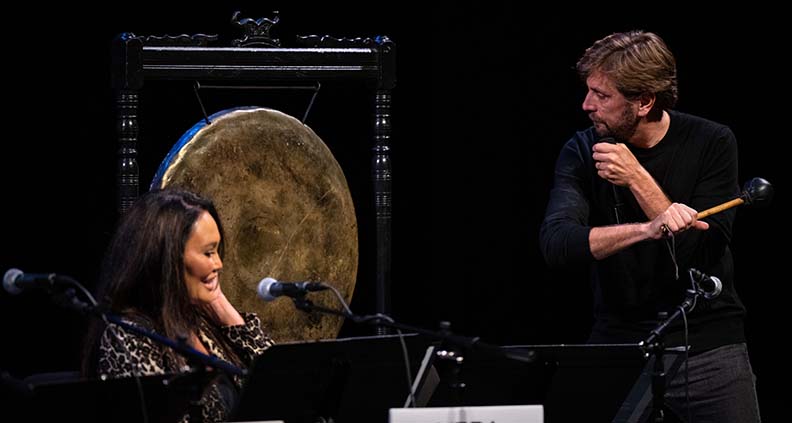 This Live Reading of NEON's Triangle of Sadness took place on Monday, February 27 at the Wallis Annenberg Center for the Performing Arts in Beverly Hills, Film Independent's first Live Read of 2023. The star-studded stage performed to a sold-out audience–all of whom were game to play along with Östlund's unique vision for the evening.
Don't let the panel-style stage setup fool you. If you hadn't seen the movie, you might be curious (concerned?) about the themed barf bags on each seat and the couple in the row ahead of you explaining that they would need to get up partway through the performance.
"Interior casting agency, day," Östlund begins. "About 50 half-naked men waiting in line." The screen behind the actors reflects this image to set the scene, and hey, look what else is happening–the audience laughs and claps as they notice it. A parade of shirtless men walking through the auditorium to the stage, where they pose with Lewis Taylor (played by Jordan Firstman, Rotting in the Sun) to demonstrate the difference between grumpy, expensive brands and happy, cheap brands.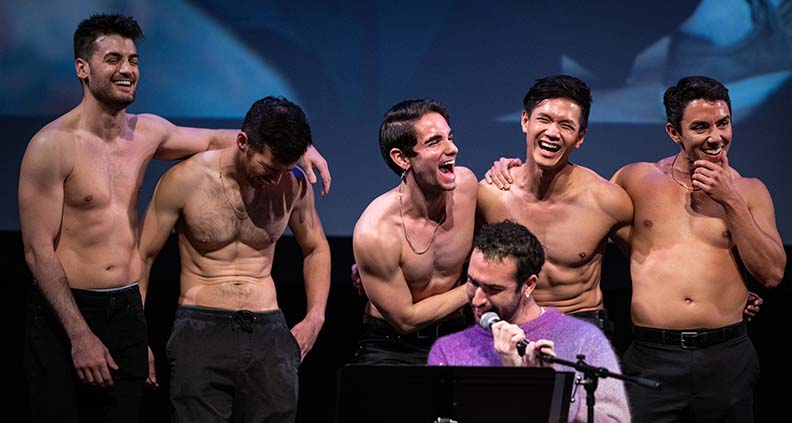 And this is how the scene reads. And each scene following–among the cast of 10, no more than five remain seated throughout the night. Östlund directs in real time, sometimes removing himself for a better flow of dialogue, other times interrupting to instruct the actors (and the audience), even replaying a scene here and there (see below, under: "levels of drunkenness").
Music and light cues usher in the next scene, and our lead couple moves to a table that mysteriously appears upstage. As Carl and Yaya (Nicholas Braun, Succession and Ayo Edebiri, The Bear) introduce the role of money in the power struggle of their relationship, Fred Armisen (Portlandia) makes everyone laugh with his acting choices as the waiter in this upscale restaurant. Östlund explains his real-life inspiration for this part of the story between escalating barbs from the actors reading the scene.
It's an electric, engaging, one-of-a-kind environment that is half theater and half a peek behind the scenes of a director at work.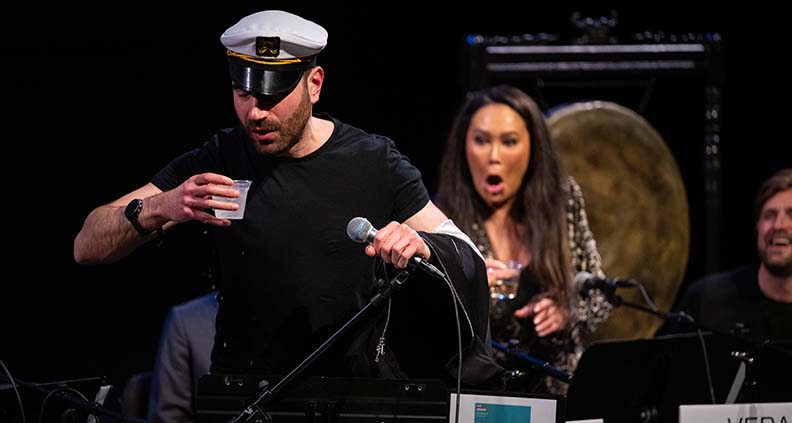 Östlund exuberantly guides his ensemble social satire, as our celebrity model couple proceed to their luxury cruise for the uber-rich, helmed by an unhinged boat captain (Ted Lasso's Brett Goldstein). The cast of shirtless models reappear as uniformed cruise staff, serving the actors on stage and the audience with ginger candy and pretzels. The Chief Stewardess, Paula (hilariously rendered by Alison Brie, Somebody I Used to Know) peps them all up while badgering Goldstein's captain to recover from his "illness" and choose a night to host dinner.
But the star scene of the evening emerges as a very drunk captain resists Paula's remonstrance to get out of his quarters and attend his dinner. This scene is replayed twice, as Östlund urges Goldstein to "increase the drunkenness" from five glasses of vodka to a whole bottle, then two bottles. Each time Goldstein complies, leaning into a sloppy, cocky delivery with hilarious effect.
The laughter is cacophonous by the time we get to the dinner scene. This is where that couple sitting in front of you does their thing. Retching on stage and off, as people pretend (?) to vomit into their bags while running through the auditorium. Is this really happening? The stage direction is infused with fun facts, like did you know that seasickness is worse on an empty stomach? "It's very interesting that I write like this," Östlund interrupts himself to comment.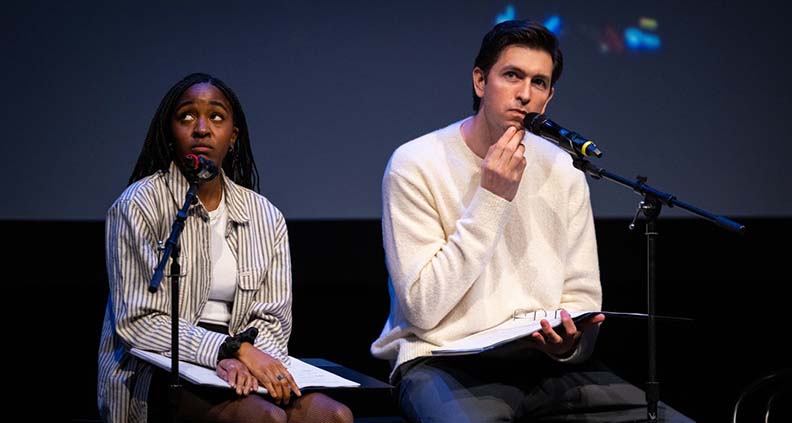 So many memorable moments from Tia Carrere's Vera (Easter Sunday) who adorns Armisen's Dmitry ("I am the king of shit!") and the cruise ship's below-decks staff step into leadership roles–specifically Simona Tabasco (The White Lotus) as the formidable Abigail, supported by Aparna Nancherla (The Great North).
The Film Independent Live Read tradition began in 2011, with the idea to ask a working director to choose a script they love – be it a classic, cult or personal favorite – and to reinterpret it on stage with actors of their choosing. Past directors have included Marlee Matlin (Sunset Boulevard), Quentin Tarantino (The Hateful Eight), Jason Reitman (Ghostbusters) and Marvin Lemus (L.A. Story), among others.
"Normally when we do these, the director is choosing a script that is not their own film that they made," Welsh explains before Östlund's unique brand of immersive experience goes down. With thanks to the Wallis, NEON, the HFPA, and the Film Independent team (namely Film Independent Programming and Events Director Rachel Bleemer and Associates Kate Mason and Terry Chi), this live reading of an Academy nominated script is an evening to remember. Don't believe us? Watch the full Live Read below:
NEON's Triangle of Sadness is Oscar-nominated for Best Picture, Best Director and Best Original Screenplay. Triangle of Sadness is now playing in select theaters and available on VOD, and will be streaming on Hulu March 3.
Film Independent promotes unique independent voices by helping filmmakers create and advance new work. To become a Member of Film Independent, just click here. To support us with a donation, click here.
More Film Independent…