Directors Close-Up Announced: Charlie Kaufman, James Ponsoldt and Marielle Heller Set to Participate, Among Others
Walk into any bookstore in your neighborhood if one still exists and go to the "Film & TV" section. There you'll see them—book after book, each claiming to teach budding auteurs how to write the perfect screenplay, choose the perfect shot, or perfect the art of the Hollywood schmooze.
And while resources like books, podcasts and DVD directors' commentaries can be invaluable as educational sources, there's nothing quite like hearing about the filmmaking process directly from the filmmakers themselves.
Since 2001, Film Independent has been proud to present the Directors Close-Up series of intimate panels featuring some of today's top indie filmmakers.
For five consecutive weeks beginning Wednesday February 3, movie lovers and aspiring content creators have the opportunity to attend exclusive weekly panels, each focused on exploring specific aspects of filmmaking through their recent work.
"We're bringing together a fantastic group of filmmakers, with some of the most groundbreaking work this year," said Maria Raquel Bozzi, Film Independent's Senior Director of Education and International Initiatives.
In fact, the filmmakers—and films—included in the Directors Close-Up Class of 2016 boast no fewer than 18 Film Independent Spirit Award nominations and three Academy Award nominations. 
"From Anomalisa to Tangerine and everything in-between, [the Directors Close-Up] represents all that's exciting in cinema these days," added Bozzi.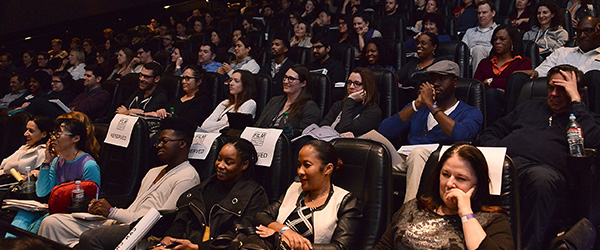 This year, the Directors Close-Up panels and participants include:
James Ponsoldt will kick things off on February 3 with Bringing to Life The End of the Tour, in which the director will discuss the making of his Spirit Awards nominated biopic of David Foster Wallace with members of his cast, including Jason Segel.
On February 10, Spirit Awards nominated filmmakers Charlie Kaufman and Duke Johnson appear with Developing Anomalisa, which will chart the duo's Spirit Award nominated love story's unusual journey from sound play to animated feature.
On February 17, Oscar nominated screenwriter Meg Le Fauve (Pixar's Inside Out) will participate in a panel discussion entitled The Storytellers: Writers and Directors—with other guests TBD—to unpack the sometimes friendly, sometimes fraught working relationship between (in Variety-speak) scribes and helmers.
On February 24, Spirit Awards nominated directors Marielle Heller (Diary of a Teenage Girl), David Robert Mitchell (It Follows) and Chloé Zhao (Songs My Brother Taught Me) will team up for The Independent Spirit: A Directors Roundtable to discuss their films and their strategies for balancing artistic integrity with the cutthroat indie film marketplace.
On March 2, director Sean Baker will appear for A Tangerine Case Study, which will explore the genesis, execution and reception of his recent Sundance favorite and Spirit Awards nominated LA sex worker comedy.
These filmmakers will join the ranks of past Directors Close-Up participants, which includes famous names such as Ben Affleck, Ava DuVernay, David Fincher, Nicole Holofcener, Spize Jonze, Kasi Lemmons, Lena Dunham and many more.
To get a taste of what the Directors Close-Up is all about and why you should buy tickets today, check out this clip of 2011 participant Jason Reitman, discussing the process of collaborating with his creative team:
We also love this video from last year's panel with Selma director Ava DuVernay, who was joined by star David Oyelowo to discuss the unlikely journey of their acclaimed Martin Luther King Jr. biopic to the screen:
All panels will take place at The Landmark Theater in Los Angeles on Wednesday evenings between 7:30 and 9:30pm and include post-event receptions for each night. This year's sponsors include Landmark Theaters, The Directors Guild of America and SAGindie.
For more information and to buy your pass, click here. But act quick, they're selling fast! And don't forget: Film Independent Members receive 20% off the regular rate so make sure your Membership is current!
For more information about upcoming Film Independent events, click here. To learn more about our Film Education program, click here.
Learn how to become a Member of Film Independent by visiting our website and subscribe to our YouTube channel.
Matt Warren / Film Independent Digital Content Manager