Directors Close-Up Recap: Guillermo Del Toro's 'Pinocchio' Has All the Right Moves
"Anima: to give a soul to something that didn't have it. In stop-motion this is more true than any other form of animation." This, according to iconoclastic filmmaker Guillermos Del Toro, exactly one week before taking home Best Animated feature at the 95th Academy Awards for his visually arresting masterpiece Pinocchio.
This idea was the crux of Del Toro's thesis at the 2023 Film Independent Directors Close-Up session "Directing Frame by Frame" on February 26. It was the first of the annual program's three live events at the Wallis Annenberg Center for the Performing Arts in Beverly Hills leading up to the Film Independent Spirit Awards on March 4.
Moderated by Del Toro's friend and fellow filmmaker Jon Favreau (Iron Man, Elf, Swingers), the discussion also featured co-director Mark Gustafson, Animation Supervisor Brian Leif Hansen and Director of Character Fabrication Georgina Haynes. Watch the full panel below and keep reading for highlights.
With admiration and curiosity, Favreau posed questions to go under the hood of the stop-motion process and the highly involved making and animating of Pinocchio's unforgettable cast. Using materials such as silicon, latex, and fabric, the Pinnochio puppet was 3-D printed in metal, composed with ball-and-socket joints for the animators to articulate the puppets with more subtly. 
The conversation circled a theme of emotion conveyed in the aggregate of small details. Haynes said, "We're really precious about making our puppets, down to the last little button that we stitch on. And then we give them to the animators and they kick them around the stages for a few years."
Every part of the puppet was hand-painted to reveal texture and worn age. But the lion's share of the animating process was in rendering facial expressions. Using Allen keys to deform the puppet's skin and change expressions, an "enormous amount of time" was spent figuring Pinocchio's face. The animation took somewhere around 1000 days, proving the Pinnochio team's firm allegiance to the time-consuming medium. 
Asking the audience by a show of hands "Who's interested in stop motion?" Del Toro declared, in good humor: "Animators are weirdos. We're all weirdos. But out of those weirdos, the weirdest ones are in stop motion. We are really strange people that maintain an art form that is impossible. Studios don't like stop motion. It's too slow, too expensive."
Del Toro says he was able to maintain the integrity of their hard work and swore to the crew on the first day, "We will never preview this movie nor will we ever get a single note from the studio. Everything we do will be protected as a work of art, [so] give us your 100%. And I was able to protect everyone–not a single note."
He also spoke to the strength of his crew, seeing his role as that to allow his team of animating artists to do their best work: "If an artist feels seen, they're going to give you 100%. The work of a director is to do self-portraiture but make it so that everybody does that self-portraiture. Everybody will own it." Of directing, he said: "You are the only one with the hand on the red button," speaking to a very quick "mind meld" with co-director Mark Gustafson.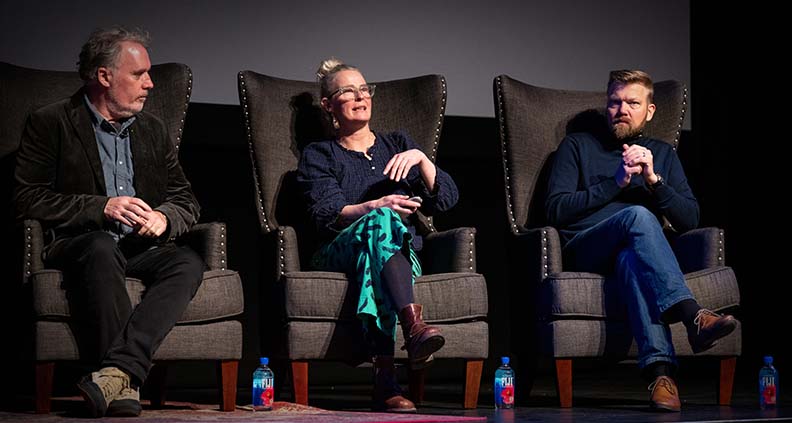 Del Toro saw his animators as performers themselves, granting them total freedom to follow the puppet's tendencies into "little improvs" that were often very fruitful. It was revealed in clips how the animators would act the scenes out themselves before using puppets to more intimately understand their motivations. "Anybody can move the puppet, very few people can make it come alive," he said.
The stop-motion technique of Pinocchio became about savoring the lengthy process and believing in the end result, one with a distinctly homemade feeling to it. The team's widespread commitment to the project fueled an exhaustive effort seeing it through in such painstaking detail. Guided by a belief in reality, the aim was humanizing the characters and showing them more relatable.
Calling attention to everyday, ostensibly superfluous acts such as slouching over on the couch or bumping into a balloon–tiny details albeit requiring several days each to perform–Del Toro cites the Japanese master Hiyao Miyazaki's wisdom of the craft: "If you animate the ordinary, it'll be extraordinary." 
Favreau gave each member of the panel a chance to share some final thoughts. Del Toro relayed his thesis of animation as an overlooked art form: "Everybody [involved] in this project was an artist and everybody in this project was an honor to work with. For me to work with Mark [Gustafson]–one of the great things to have occurred in my life."
He continued: "To work with everyone and be inspired into understanding that animation has been kept on the children's table by economic decisions in a large industry that is incredibly reactionary, and that keeps thinking this is a genre for kids and not a medium for art, and to push it into what it is and should be is the best, most malleable medium to execute most everything we want to express and one of the purest forms of cinema, animation is film and we wanted to prove it over and over again by tackling not only the expressiveness of it but the complexity of it."
Film Independent promotes unique independent voices by helping filmmakers create and advance new work. To become a Member of Film Independent, just click here. To support us with a donation, click here.
More Film Independent…
(Header: Pinocchio directors Mark Gustafson and Guillermo Del Toro)