Nisha Ganatra and Lilly Singh Talk 'Late Night' Early in the Morning
"A lesson I keep learning over and over again, is that the difference between the good ones and the great ones is hard work"—at least according to acclaimed multi-hyphenate filmmaker Nisha Ganatra, in her keynote conversation kicking off the first full day of interactive panels, workshops, networking evens and more (free coffee!) at the action-packed 2019 Film Independent Forum.
Following Friday Night's raucous kickoff screening of Olivia Wilde's Booksmart in Hollywood, Ganatra's in-depth creative keynote officially welcomed attendees to the Forum's spiffy new digs at the new LMU campuses in Playa Vista, smack in the heart of LA's "Silicon Beach." Ganatra—whose credits include 1999's Chutney Popcorn and the upcoming Mindy Kaling vehicle Late Night, plus more episodes of episodic TV than you can shake an overstuffed DVR at (including episodes of Girls, Transparent and Dear White People)—was joined onstage by one of her self-professed biggest fans: actor, influencer and YouTube creator Lilly Singh, soon to be a late night host herself, taking over Carson Daly's longtime slot on NBC.
The love onstage was palpable. And while as friends and colleagues Ganatra and Singh didn't necessarily need to break any ice, the keynote did start off with a the ceremonial #FiForum19 breaking of chairs, as a faulty collapsible director's chair nearly sent Ganatra to her premature inclusion in next year's Oscars' "In Memorium" montage. Replacement chairs were procured, and Ganatra and Singh settled in to chat about a wide swatch of topics: social and gender parity behind the camera, creative inspiration, hustle and the dynamic of mentorship.
For her part, Ganatra said that, as an aspiring director, she drew inspiration from such films and filmmakers as Mira Nair's Mississippi Marsala and Gurinder Chada's Bhaji on the Beach—two works that resonated deeply with her as a young woman and queer-indentified artist of color. Things would eventually come full circle earlier this year when Late Night premiered at Sundance alongside Chada's Blinded by the Light, which Ganatra said was a dream come true.
Thus inspired, a young Ganatra began working her way up the ladder on film sets. But inevitably—as a woman determined to call the shots—she repeatedly ran up against what she described as a "glass ceiling." Looking for a better "in" into the business, Ganatra enrolled in film school at NYU, studying under Spike Lee, who encouraged her to develop Chutney Popcorn as her feature debut. Lee's reasoning, she said, was that she could always pass Chutney off as a mere "student film" if unsatisfied with the results. Such a contingency didn't prove necessary, however, and Ganatra's career was off and running.
"Now think off all the people who will be inspired by you," Singh enthused, counting herself among one of Ganatra's avid disciples.
Singh made the observation that, generally, women are socially conditioned to avoid bragging, and prompted Ganatra to cite specific examples of her work that she felt especially proud of. It didn't take long for Ganatra to pull something: the penultimate episode of HBO's Girls, and particularly its final montage sequence.
According to Ganatra, the original script just ended with the action line, "Hannah says goodbye to whoever she can find"—a dashed-off placeholder that didn't exactly imagine the subtly complex, temporally bifurcated sequence Ganatra eventually conceived of for it. "You obviously see something in you head," she says Dunham said to her, "Just do that."
Speaking of polarizing online personalities: as a denizen of the internet herself, Singh asked if Ganatra had ever been "cancelled" online. "Not that I know of," laughed Ganatra. "I have," Singh not-quite-laughed. Ultimately, both women agreed that if you're being honest about your story and its characters rather than just ticking diversity boxes, the project will "feel real because it is, not just because 'oh, it's cool to be a feminist.'"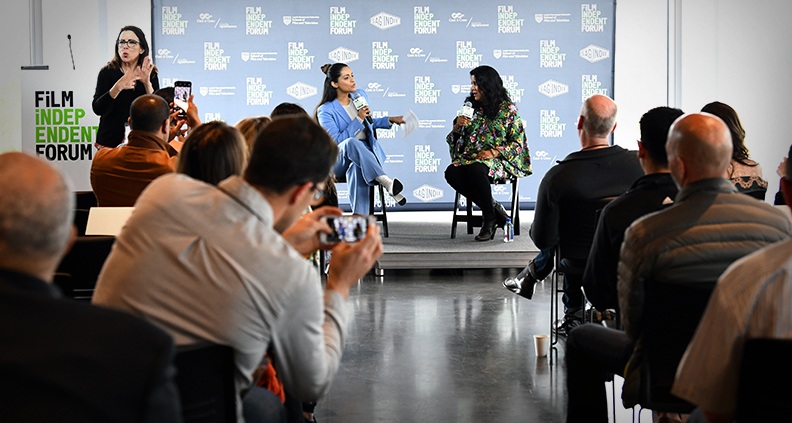 Taking to hear the idea that equal representation is just as important behind the camera as it is in front of it, Ganatra was proud to boast that Late Night had been awarded the coveted ReFrame Stamp by industry advocacy group Women in Film, a special distinction given to movies that have demonstrated success in in achieving behind-the-scenes gender parity.
That wasn't the only significant moment of Late Night's production for Ganatra, who in a serendipitous piece of low-budget indie-movie real estate brokerage had found herself arranging a read-through of Late Night—with stars Emma Thompson and John Lithgow, no less—in the very same NYU classroom where she had taken her first film class.
At the end of the hour, Ganatra was literally tearing up, reflecting on how challenges faced and obstacles overcome had made her a better artist, and a better mentor for young filmmakers. "Everything happened the way it was supposed to happen," she mused—but try telling that to the damn chair.
Late Night opens in theaters on June 17, released by Amazon Studios. The 2019 Film Independent Forum takes place April 26-28, 2019 at the new LMU Playa Vista campus in the heart of Silicon Beach—click here to learn more.
The 2019 Film Independent Forum is supported by Premier Sponsors SAGindie, Cast & Crew and University Partner Loyola Marymount University School of Film and Television.