Directors Close-Up Recap: Jason Segel, Jessica Williams and the Casting of 'Shrinking'
We've all watched that one show and thought, "Wow, I love the actors in this!" But not many of us think about the people actually responsible for populating our favorite series with the performers who bring our favorite characters to life. Casting Directors are a shining gem, a gift to the entertainment industry. They're the reason we love our favorite movies and TV shows, working hand-in-hand with directors, actors and producers to make sure a script or idea reaches its full potential.
On the penultimate night of the 2023 Film Independent Directors Close-Up on February 28 at the Wallis Annenberg Center for Performing Arts in Beverly Hills, Shrinking creator and star Jason Segel, director James Ponsoldt, actor Jessica Williams and casting directors Brett Benner, CSA and Debby Romano, CSA came together for the DCU's annual "Casting and Directing Actors" session, talking about the new Apple+ hit (just renewed for Season Two.)
For those who don't know, Shrinking follows a grieving therapist, Segel's Jimmy Laird, who starts to break the rules, going rogue to tell his clients exactly what he really thinks. Ignoring his training and ethics, he finds himself making huge, tumultuous changes to people's lives… not least of all his own, much to the befuddlement of his therapist colleagues Gabby (Williams) and Paul (the great Harrison Ford).
Darrien Michele Gipson (Executive Director, SAGindie) moderated the conversation. She started by asking about the origin of the show. Ponsoldt replied: "I saw a clip of [executive producers] Brett Goldstein and Bill Lawrence. They both said they were working on projects that were similar so they decided they'd come together and join forces. But it didn't really come together until you joined," he said, speaking to Segel, who had previously collaborated with the filmmaker on the 2015 Film Independent Spirit Award nominated The End of the Tour.
Segel elaborated. "From what I understand, those two guys have been wanting to work together on another project because they got along so well on Ted Lasso. Bill had been working a a project about a therapist; he had a neighbor who went through something similar. His neighbor was a surgeon, and Bill would look over his fence and see this grown man kind of devolving and partying until four in the morning. It really stuck with him. The guy had a real redemption arc in real life and made it out okay. And then Brett had another idea [along the same lines], but his involved a murder!"
"I got a from Bill a couple of years ago saying he wanted to try and make a show together," Segel continued. "We talked about a few and then Bill and Brett got on Zoom and pitched this idea to me. For me, it was everything I'd been looking for. I think that the show works because of the casting—these guys [Benner and Romano] were absolutely brilliant."
Gipson asked Segel about balancing his roles on set as actor and producer, as well as how he navigates the comedy and drama of the show. Segal squirmed. "Well, I think Jessica would agree with me, but I don't know." Williams laughed. "Go on," she urged.
Said Segel: "I've always believed this since I started writing and performing… I think the only reason [something is] funny or it works is if you believe it. If the character believes it. If you're doing a drama, then the jokes are because your character is weird. And honest to god, I'm weird. Like, that [Jimmy] is what I'm like in life." He turned to costar Williams. "You're not dissimilar, right?"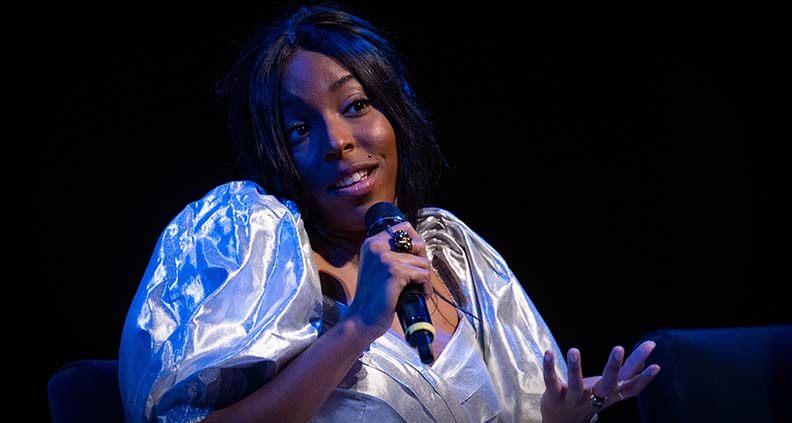 Williams conceded. "Yeah, I'm pretty weird. My only job is to learn my lines and show up. In-between 'action' and 'cut' give it 100% and being in whatever it is. Look at how Harrison is acting. Look at how you [Segal] are  acting and then responding directing to that. My focus is on you guys. I'll go, 'In this take Gabby wants to see him get in trouble. So she's gonna go, Oooo, you're gonna get it! like they're children.'"
Segel recalled his experience on another project. "I had a moment that really stuck with me. I was acting against someone who really does acting. We were doing a scene outside. A stray cat walked across the thing and I was like 'Whoa!' He turned to me and said, 'Your character's never seen a cat before?' I was like 'Whoa, okay.' It actually really stuck with me. You need to be playing all these moments really present. You have to stay present."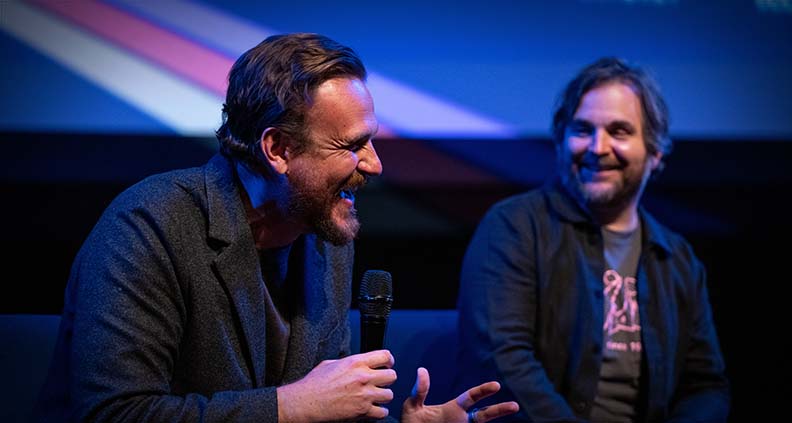 Gipson asked Williams how she found Gabby's character. "What did you key into that made her who she is in this show?"
"When I started they only had two scripts written. Gabby was more of just a loose sketch," said Williams. "They knew that they wanted her to be a brighter presence in the office. They knew they wanted her to balance out Jimmy [Segal] and Paul [Ford]." Williams noted her improv training as part of the skillset that allowed her to stay in the moment. "Coming from the Upright Citizens Brigade and The Daily Show background, it was cool because they told me I could improvise a lot," she said. "I used to do this podcast called Two Dope Queens. What I took away from that is I liked the danger of not knowing what's going to happen. I really liked it. As an actor, as a Black actor, as a woman, it meant a lot to me to not know what she [Gabby] was going to say."
Gipon moved to Shrinking pilot director Ponsoldt, asking how he maintained his balancing act as director, allowing each actor to follow their own performance cadence while ensuring they were all still generally pulling in the right direction.
"I think there is sort of the 30,000-foot view you have to have when you're directing something," he said. "When Jason and Bill told me about this show there was no script, but they told me a version of what Jason said. There's a neighbor. He's lost family. He's self-medicating. I was like, 'This is a comedy, huh?' It sounded very sad… and it is. It's about grief and trauma and recovery. And because I know them and I know this will be very funny." He added: "For me, I think that part of the job for the director is to know that script inside and out. You have an open and trusting collaboration and conversation with the actors."
So much of that, he said is "Having the right actors. You're working with really great casting directors to put the right people there. And then you're just a fan. I want to be by the camera and eat popcorn and laugh and cry. I've been a fan of Jason's since Freaks and Geeks, long before we knew each other. I've been a huge fan of [Williams] since The Daily Show. Being a fan and hoping to feel something, that's where I operate from."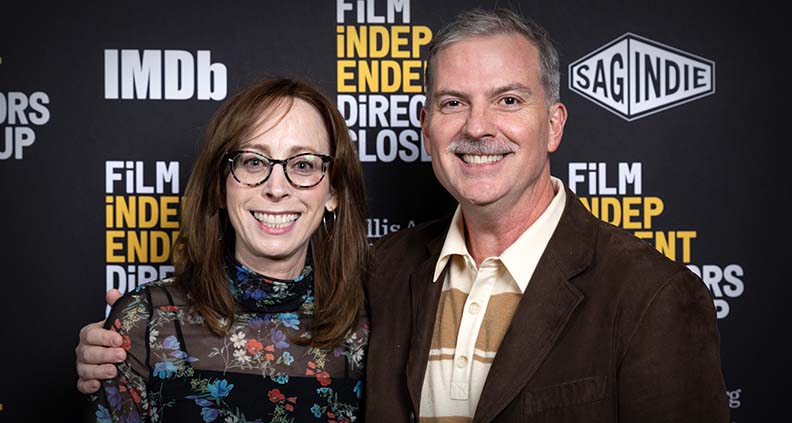 Segel jumped in. "Comedy is very musical. It has a rhythm. There are a lot of different kinds of comedy and they all have a rhythm. The thing that was helpful especially when writing and doing the scenes is everyone is a different instrument. Each of these actors is a different instrument in a symphony. It's learning to get them to play together. They don't all have to be going at the same pace. It's not about getting everybody on the same page. It is about getting everyone on the same count."
"I've done jobs where I've been fired. I've done jobs where I was like 'Oh, that wasn't as funny as I thought it would be,'" said Williams. "A lot of times as an actor when you're auditioning and going out for things, it's about finding your band or your symphony. Sometimes it's not you. I did an audition once and the casting director said 'I can tell you're funny but I don't know what to do with you.' It's like dating. If you're funny and you know what's funny and you have things that make you laugh, hold on to that! Don't let anyone tell you it's not. You've just gotta keep dating and find your fit."
What is your first consideration when you're going to approach putting together a stellar cast for a show like this, Gipson asked Benner and Romano.
"I think this was different for us because we were working with Apple+. We knew we had Jason and we knew he would attract a great supporting cast," said Romano. "The best way to go about 'decorating Jason' was to just honor each character." But what about Shrinking's biggest casting coup? "We can not take any credit for Harrison Ford," Romano laughed, saying they initially put the silver screen icon on their list as a joke.
"It wasn't until we had a conference call where we went over this two-and-a-half page list. At the end of it Bill said, 'I know you guys are gonna think this is crazy, but I want to go after one of these people and it may take awhile. But I think we should be patient and see what happens.'" That someone turned out to be Ford. Romano then nodded to Williams, sitting to her right. "Jessica came in and wowed everyone in her meeting. I told her there is no way Brett and I would not be in her meeting because no one needs more eyes on them. She blew everyone away in her meeting."
"The best part about casting is trying to find people that are fresh faces. That's what's rewarding for Brett and I. When we saw the character of Sean (Luke Tennie) and Alice (Lukita Maxwell). We knew that is where we would get to shine. It was really just a matter of doing your work."
Film Independent promotes unique independent voices by helping filmmakers create and advance new work. To become a Member of Film Independent, just click here. To support us with a donation, click here.
More Film Independent…