NEW WITH VIDEO: Spirit Award Nominees Tell Behind-the-Scenes Stories & Secrets
Note: the following blog originally ran in February of this year, without video. It's being re-posted here with full-length video of our Spirit Awards roundtable, part of our coverage of the 2020 Directors Close-Up, which ran Jan 15-Feb 12
***
Any director venturing into the world of indie filmmaking should anticipate absolute insanity, whether production leads you to rural Nevada to tame wild horses, urban New York to shield J. Lo from paparazzi or somewhere in-between, it's critical to remain optimistic in the face of seemingly insurmountable challenges. Such sentiments were echoed by the five Film Independent Spirit Award-nominated filmmakers featured on our February 5 Directors Roundtable at Night Four (the final one is tonight) of the 2020 Directors Close-Up.
Best Director nominees Alma Har'el (Honey Boy) and Lorene Scafaria (Hustlers) were joined by Lulu Wang, director of Best Feature nominee The Farewell, along with Olivia Wilde (Booksmart) and Laure de Clermont-Tonnerre (The Mustang), whose films were each nominated for Best First Feature. The conversation was moderated by Film Independent President Josh Welsh.
"Uncompromising" would have been a fitting word to collectively describe the night's panel. Wang's The Farewell (the eventual Best Feature winner at February 8's awards ceremony) was a project that was ultimately told authentically only due to great persistence and the filmmaker's willingness to say "no" for two full years. While many would have conceded to studio concerns and made a more obvious mainstream comedy—American producers wanted a trite fish-out-of-water story, she said, while Chinese ones struggled to understand the conflict at the heart of the film—Wang refused to make any movie other than the one she wanted.
The Farewell's path to the big screen wasn't linear, and even involved a detour to the "secret library" of NPR's Ira Glass (Wang's autobiographical story appeared as a segment on the popular radio show in 2016), but eventually the film arrived at Wang's intended destination. Being featured on This American Life garnered so much attention, Wang said, that she was able to be selective in her search for producers. Filming in China was easier in some aspects—but also created some challenges, like smuggling nearly confiscated footage off the set after a location dispute, last-minute casting and more.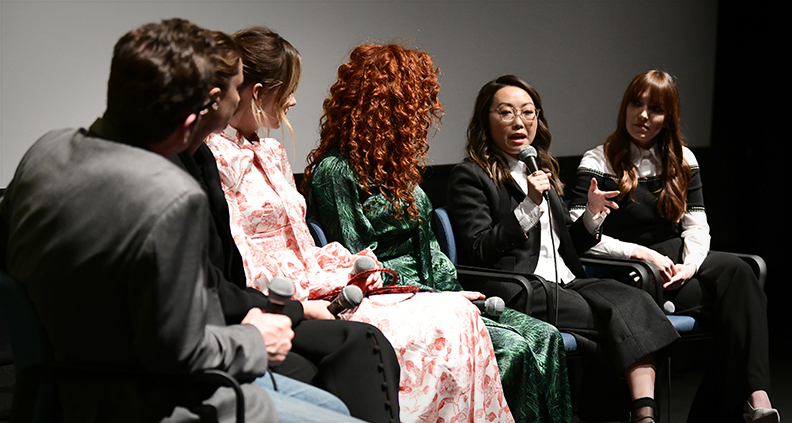 Actor-turned-filmmaker Laure de Clermont-Tonnerre too was unwavering regarding the filming location for The Mustang, knowing that her story's Nevada setting was integral in telling the story of a very specific American prison experience. "We had to fight with the prison and beg them and convince them to be able to shoot there," the director explained. Filming in an operational prison in a tax-incentive free state wasn't exactly a practical production strategy, but was essential to telling a good story.
But one element of the film that was never in flux was the commitment of lead actor (and Best Male Lead Spirit Award nominee) Matthias Schoenaerts to the project. Laure had actually met and developed a bond with the actor's mother, Dominique Wiche, before ever speaking to Matthias himself. When Wiche passed away, Matthias viewed the film in part as a tribute to his mother. De Clermont-Tonnerre also emphasized her gratitude to the Sundance Film Institute for their support over the five-year life of the project, which proved invaluable since she never officially attended film school.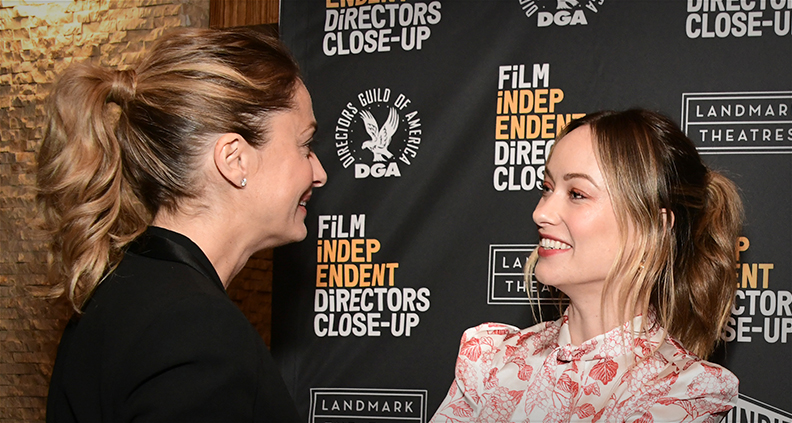 Creating an atmosphere on set conducive to artistic expression is undeniably important, but Booksmart's Olivia Wilde still feels like this aspect of production is too often underrated. Wilde (who would ultimately take home Best First Feature on Saturday) said many film sets feel more like a construction site than a place to relax and be vulnerable. She also poked fun at the use of the word "the talent" when referring to actors, which she says creates a harmful divide between cast and crew.
The Booksmart set was likely more relaxed due to the bond formed by leads Kaitlyn Dever and Beanie Feldstein, who started living together for a month before shooting began and continued to do so throughout production. "They hugged for what felt like five whole minutes just like taking deep breaths together and they held hands the entire lunch" Wilde gushed when describing their initial meeting.
The actors were so dialed into their characters that they effortlessly memorized four pages of dialogue for a lengthy seven-minute single take during the film's climactic party sequence—a scene which Wilde selected to screen before the panel. "That's our little baby 1917 up there," joked Wilde, referencing the 2019 Sam Mendes film.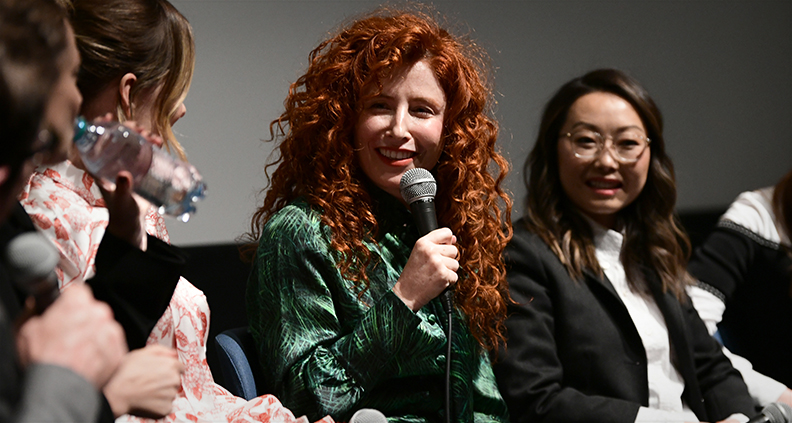 Alma Har'el had a daunting task on her hands cultivating the on-set atmosphere in her feature debut, Honey Boy, as screenwriter-and-star Shia LeBeouf would be confronting his own personal childhood trauma, and that 12-year old actor Noah Jupe would be included in intense and potentially inappropriate situations due to the film's material. A few factors that boosted set comfort included Shia and Noah having both of their mothers present during filming, as well as Har'el's unique bond with LeBouf.
For the latter, we can thank an Amoeba Records employee who mistakenly placed Har'el's Spirit Award winning documentary Bombay Beach in the Bob Dylan section at its Hollywood location (Dylan's music is used in the film) for the origin of their working relationship. Shia purchased the DVD on whim and wasted little time after watching it before emailing Alma and discovering that they had both dealt with alcoholic fathers and were in agreement on many issues. Upon getting an email from the Transformers star, she said: "I thought it was from him, but my ex-husband was like 'no way!'"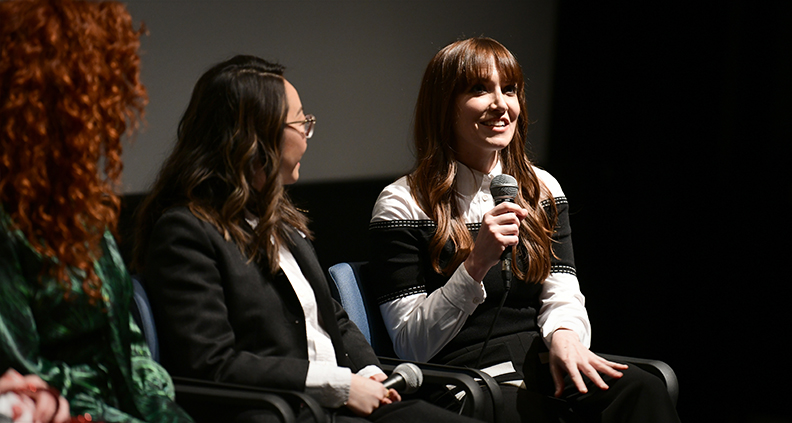 Hustlers presented unique challenges for Lorene Scafaria—ones that comes when your film features A-list celebrities like Jennifer Lopez, Usher, Lizzo and Cardi B and is being shot in media mecca New York City. Having many scenes taking place outdoors made it even more difficult, when location shooting, to avoid paparazzi.
One of the most valuable elements of the production was a comfort and stripper consultant, who not only made sure everyone felt safe and secure but also provided advice on ways for the cast to act that were consistent with real-life exotic dancers. Finding funding for the film was also a headache. Many potential producers had problems with strippers (they couldn't even say the word without giggling)—not to mention the fact the script probably hit a bit too close to home, Scafaria said.
"A movie about women drugging men and stealing from them when they [the producers] identified with those men was really hard," Scafaria joked.
One last takeaway from this spirited panel… actors lie! Laure de Clermont-Tonnerre explained that actor Matthias Schoenaerts said he loved horses initially, only to find out that he was actually extremely afraid of them (as was supposed "cowboy" Bruce Dern.)
Wang experienced a similar problem when Awkwafina claimed she spoke Mandarin fluently, when she actually spoke none. But such were the lengths performers were willing to go to work with such a talented collection of filmmakers.
Watch more from this year's DCU on our YouTube channel:
The Directors Close-Up panels take place at The Landmark (10850 W Pico Blvd) on Wednesday evenings at 7:30 pm, followed by a post-panel reception.' The 2020 Directors Close-Up is sponsored by the Directors Guild of America, Landmark Theatres and SAGIndie. The official photographer is Getty Images. Additional support provided by BRICKTOWN.
Film Independent promotes unique independent voices by helping filmmakers create and advance new work. To support our work with a donation, please click here. Become a Member of Film Independent here.
Keep up with Film Independent…