From Archives, Forum Edition: Effie Brown Gets Real… and Really Personal
EDITOR'S NOTE: The below recap originally ran as part of our coverage of the 2016 Film Independent Forum. This year's Forum takes place  April 26-28. Click here to see a complete schedule and register to attend today by clicking here.
***
Even before stepping up to the dais in Theater One at the DGA building in Los Angeles on Day Two of the 2016 Film Independent Forum, speaker Effie T. Brown had promised a keynote address light on bullshit and heavy on "real talk".
After being introduced by Film Independent Senior Director of Education and International Initiatives María Bozzi, Brown thanked keynote sponsor, The Loyola Marymount School of Film and Television (Brown is an alum) as well as Film Independent itself, which she referred to as "the longest relationship I've ever had, except for my parents."
A Fellow of Film Independent's inaugural Project Involve in 1993, Brown said she'd been in the audience of more than a few Forum keynotes over the years, and that she always got the most from speakers were unflinchingly honest about the "horror and beauty" of working in Hollywood. Observing, "Everyone in this room has a dream that is manifesting as a calling," she distilled her career life lessons into three cornerstone tenants:
Don't "compare and despair." Brown talked about what she called "the running narrative of compare and despair"—looking at other producers and filmmakers and thinking, "I can't wait to be where they are, but why aren't I? Am I a fraud? Do I deserve to be here? That mental mind-fuck is exhausting." To that end, she implored the audience not to judge themselves too harshly, and to get comfortable with the idea of being an artist.
The "what.""What are you doing here and why are you doing it?" Brown threw the question out to the audience and insisted, "you have to know the answer to this or you'll take an insurmountable amount of shit."
And the "why." For Brown, her What? and Why? came into focus early, as a self-described "latchkey kid" spending many unsupervised hours in front of the TV set. She eventually noticed, "People who looked like me were nowhere to be found." From there, she said, "I wanted to make content that was inclusive about marginalized and underrepresented [groups]…inclusive storytelling, that's my truth." This realization has guided Brown's entire career in ways that have transcended mere show business. "When you see a person accurately and fully realized, it humanizes them and makes it harder for people to treat you inhumanely."
Confidence is key. Whatever the case, Brown insisted it was vital for filmmakers to maintain a healthy self-perception as an artist, regardless of soul-sucking day jobs or other distractions. She told the writers in the audience to write, if only for 15 minutes a day. She told the DPs to shoot stuff, if only on their phones. And she told the producers to produce, if only on weekends.
Embrace your breakdown. Lastly, Brown spoke about what she called "embracing your breakdown," which she also described as "finding a certain grace in failure." Explaining how, she got personal, recounting a long and difficult period that left her feeling depressed for several years.
Her worst year. Brown spoke of how in 2007, at the height of the financial collapse, her career took a big hit when her hedge fund-enabled film fund ran dry. She already had two films hurtling toward production and decided to merely scale back, not cancel the projects. It was a time when Brown felt as if every setback and disappointment were like "little rocks" filling her pockets. Eventually, after IRS trouble, Brown moved her offices back home and stopped paying her mortgage. The period culminated in a dinner with one of her investors, who bluntly told her, "a closed mouth never gets fed—you have to ask for what you need."
And climbing back. That, along with her conviction that "it's better to save your ass than your face" jump-started the process of taking those little rocks back out of her pocket. The trick, she said, was to not let these negative experiences turn into failure by not learning anything from them. Speaking with the confidence of experience in 2016, Brown was clear about the mindset creative people need to adopt in order to truly triumph: "You deserve to be here. You are in the right place."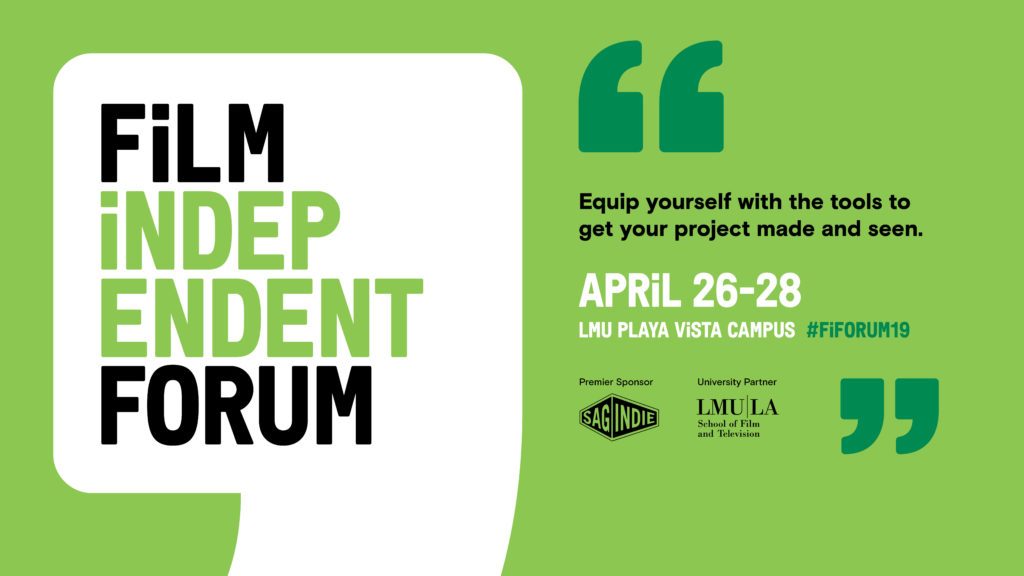 The 2019 Film Independent Forum takes place April 26-28 in the heart of Silicon Beach, at the new LMU Playa Vista campus. Click here to learn more. Buy your 2019 Forum pass today by clicking here. Passes are $195 for Film Independent Members and $265 for non-Members. Passes include lunches, receptions, screenings and free parking all weekend.
Not yet a Member of Film Independent? Click here to join. The 2019 Film Independent Forum is supported by Premier Sponsors SAGindie, Cast & Crew and University Partner Loyola Marymount University School of Film and Television.
Subscribe to our YouTube channel for exclusive interview clips, full panels and other exclusive material from the 2019 Film Independent Forum. Also: be sure to follow Film Independent on Facebook, Twitter and Instagram.