Festival Diary, Day Five: Everyone Hopes for a Happy Ending
Each day through the end of the 2017 LA Film Festival, Film Independent blog correspondent Cortney Matz will be recording her experiences and offering an insider's perspective on the Festival.
DAY FIVE
If this was your first day at the festival, you may have wondered if you missed the memo on Hawaiian shirt day. Leis and flowered apparel are flooding the ArcLight for the Out of State screening, Ciara Lacy's documentary a displaced Hawaiian rediscovering his roots. Meanwhile in Culver City, it does look like a luau exploded in here.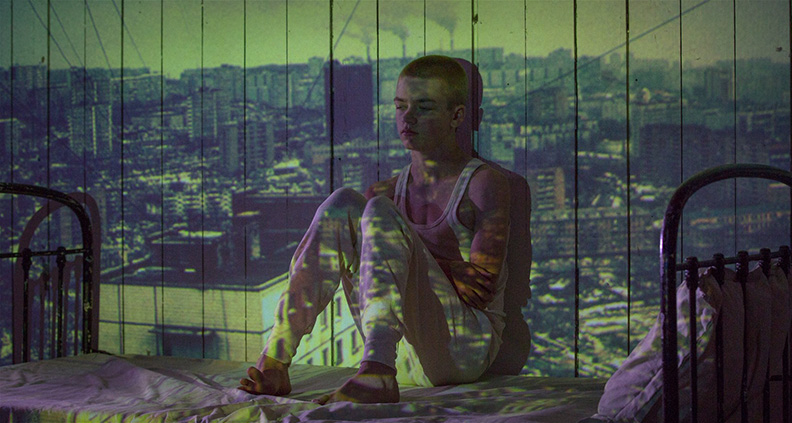 I have a stacked schedule today, and the opening film for the Shorts Program 4 is strangely compelling—even going so far as to shape the way I perceive the rest of my day. Titled Little Potato, it's a documentary from Wes Hurley about a young man from Russia who immigrates to the States with his mother after she marries an American. In the film, Hurley is referred to as "Potato". Isn't that cute?
Several misadventures befall Potato and his mom over the course of the narrative, but they both thrill at the thought of American movies. Ghost is the first thing they see after the fall of the Soviet Empire, with more to follow, and even though this is years before anything substantively changes in their troubled lives the happy endings these movies give them hope—prompting me to consider why it is we watch films.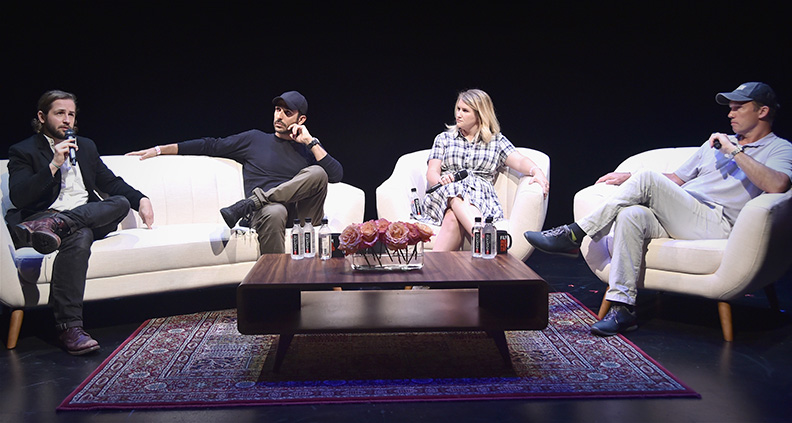 Many of us are here this week because we've made films or are making films—and we all have our own reasons for doing that. The Coffee Talks panels in the Kirk Douglas today are full of stories from actors, writers, directors and composers about the daisy-chain road trip to reaching a completed project. We of course hope that people will watch these films when they're made, and that's a lot of what this week is about.
The conversation on happy endings has been going on so long as to be passé, but I wonder if the appeal of this for viewers is less about a story ending happily and more about being pleasantly surprised. I mean, how many of us really see happy things coming in our lives? It's usually a welcome change—a bit of a twist.
The LA Film Festival is a happy ending of sorts. Not just for the filmmakers who have worked so hard to spin their yarns for us, but also for the audiences who've come to watch, listen and learn. We all get a chance to leave the concerns of the day—big or small, petty or debilitating—and watch things work out for the person on screen. It's fun. It usually lends some perspective to those daily concerns of ours. And besides, who couldn't use a little hope now and then?
The 2017 LA Film Festival is currently underway, June 14—22, headquartered at the ArcLight Cinemas Culver City, with additional screenings at ArcLight Hollywood ArcLight Santa Monica, LACMA and The Theatre at Ace Hotel. Check out the Festival Guide here.
Stay tuned to our Twitter, Facebook and Instagram for the latest new additions and updates. And don't forget to subscribe to our YouTube channel for more exciting announcements. Tickets and passes are on sale now.
Sold out screenings? Get in with a Festival pass. In addition to screenings and special events (even when sold out) Festival passes provide entry to our super-fun Festival Lounge, featuring a 21+ hosted bar and the opportunity to rub shoulders with Festival filmmakers and other film industry professionals. Buy yours. Film Independent Members save up to 25%
(Header: Ciara Lacy, Jeff Consiglio, Jason Zeldes, Chapin Hall, Tyler Strickland, Hale and Beau Bassett at the Out of State)