Detail Oriented: Sound Design and the Aural Art of 'Nomadland' (Part Two of Two)
In Part One of our two-part interview with the Nomadland sound design team, Sergio Diaz and Zach Seivers talked about the benefits of director Chloé Zhao's considered approach of incorporating sound into every step of the production process, long before post. Now, we go deeper into how the crew filmed a key sequence at a real-life Amazon fulfillment and their experience working with the score of Italian pianist and composer Ludovico Einaudi.
SERGIO DIAZ & ZACH SEIVERS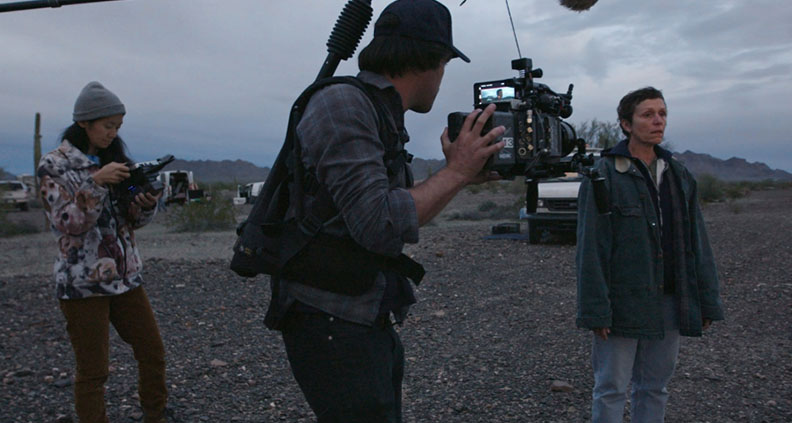 You worked on this film during the pandemic. How did that work with you, Sergio, in Mexico City, Zach in LA and Chloé in Ojai?
Diaz: Without a doubt, it was challenging! But thanks to Chloé's clear vision and precise direction, everyone made it happen. Using Evercast [HD live streaming and video conferencing platform] to collaborate remotely, Zach and I worked on a specific workflow for 20-30 minutes of film every two weeks. We're so proud of the end result–I think the film is very powerful in its emotional connection.
Seivers: It's crazy, Sergio and I have never met in person! Using Evercast, we both worked with Chloé throughout the process, and then Chloé and I met at Disney in Burbank to do the final mix. That was carefully coordinated with Disney to follow their [COVID-19] protocols and ensure that we were as safe as possible. It was the first time I've mixed a film with a mask on all day; it was really quite strange at first, but we all got used to it.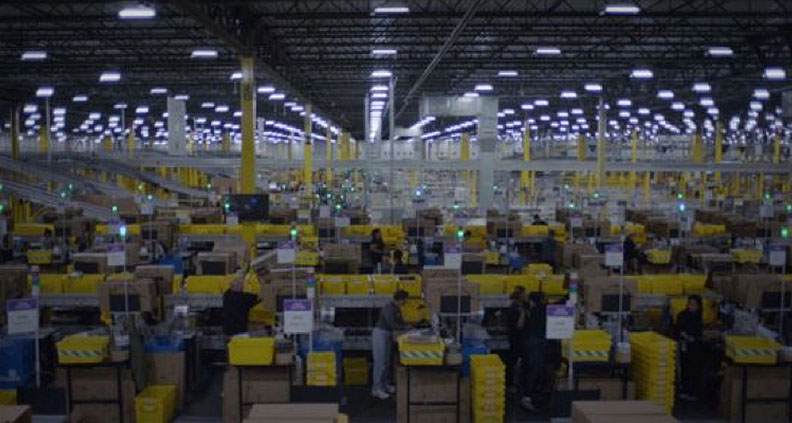 How did you recreate the soundscape at the Amazon fulfillment center to make it sound so realistic?
Diaz: This one fell into the "prominent" sound category [see Part One] as well. We wanted to immerse the audience with what working in that industrial setting really felt like. So I brought in crowds of people talking off-screen, which added to everything you see on-screen that came from Wolf, to give you the realistic feel.
Seivers: The din of the noise with the forklifts, conveyer belts and machines were recorded by Wolf. Chloe shoots in a documentary style, so she doesn't stop the work at the fulfillment center when camera starts rolling. Allowing everything to continue influences the performances and creates a very authentic production recording. But some of these realistic sounds aren't necessarily the most cinematic. So Sergio came up with specific elements–whether it's the clickety-clack of a conveyor belt or the sounds of the robots moving around–and hands it off to me for the final mix to come up with what you hear in the film. We wanted to stay true to the actual physical environment while also adding just the right amount of heightened sound, to make the film's soundtrack as immersive as possible and to walk the line between fiction and nonfiction. Our goal was for it to feel seamless and realistic to the audience, while also emotional and poetic.
The cameras kept rolling in a live Amazon facility throughout the shoot?
Seivers: Yes. In fact, Joshua told me that even though he shot the film and knew how big it felt being there, hearing it in the final mix just it took it to a whole other level that he wasn't expecting. That was a huge compliment coming from him, because he was actually there on set!
Another tender scene was when Fern looks through old photos in her van one evening as an old classic plays in the background.
Diaz: This cinematic language of this film really balances all the layers of sound, creating a unique and gentle immersive soundscape to bring out the natural harmony of the soundscapes in the wide open spaces of the American West.
Seivers: This was all Chloé's decisions surrounding the cue. But I worked on the mix to make it feel like it was playing from her radio, although we took some creative license and didn't overly futz the sound or make it too scratchy-sounding, so that it would feel more emotional.
The music by composer Ludovico Einaudi is sublime. The piano and violin score when Fern takes a walk in the evening after she meets Bob Wells–talk about why that score was chosen to accompany that sequence and what emotions you were aiming to evoke?
Diaz: Chloé wanted Ludovico's music to be the "hero" in every montage, so the sound elements were there to complement but not overtake the melancholy of that moment. Here, we see both sound design and scoring working together in balance to create a soft and immersive soundscape.
Seivers: Even though the score sounds as though it was uniquely composed for the film, Chloé chose cues that had been previously released by Ludovico years ago. What's so cool about this approach is that Chloé essentially edited the picture to final music and we were then able to design and mix the sound of the film with the final cues from start to finish. This is highly unusual, as we normally wouldn't hear the final score until the very late stages of the mix, which can sometimes create interesting 11th-hour changes. In this case, we always knew exactly what the cues would be, so it really helped everything gel organically.
Nomadland is now streaming exclusively on Hulu and is playing at select theaters nationwide.
Film Independent promotes unique independent voices by helping filmmakers create and advance new work. To become a Member of Film Independent, just click here. To support us with a donation, click here.
More Film Independent…