Revisiting Our Favorite Directors Close-Up Moments
Film Independent's 2016 Directors Close-Up series kicks off this Wednesday February 3, beginning five consecutive weeks of intimate panels with leading independent filmmakers talking about their art and craft.
For a complete list of what to expect this year please see our announcement blog or check out our press release. You can also learn more about this year's Directors Close-Up slate by visiting Film Independent's Events page.
Upcoming panels include discussions with filmmakers James Ponsoldt (The End of the Tour), Charlie Kaufman and Duke Johnson (Anomalisa), Meg Le Fauve (Inside Out), Marielle Heller (The Diary of a Teenage Girl), David Robert Mitchell (It Follows), Chloé Zhao (Songs My Brothers Taught Me) and Sean Baker (Tangerine.)
There are still limited passes for each panel—so if you'd like to go, act fast! Passes can be purchased here.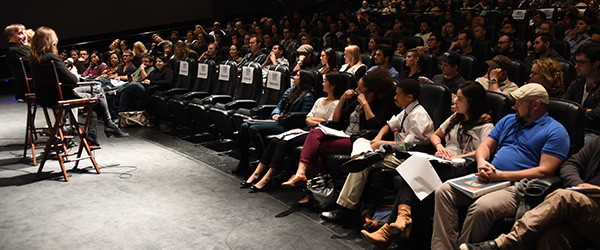 Sounds fun, right? But while we're excited about this year's DCU lineup, today's #FlashbackFriday gives us an excuse to look back at some of our favorite Directors Close-Up moments from years past. So let's hop in the way-way-back machine, shall we?
In 2014, Transparent creator Jill Soloway joined TV directors Jeremy Podeswa, Jessica Yu, Miguel Arteta and Carl Franklin for "Television: Directing Outside the Lines" to explore the proliferation of showrunner-auteurs on the small screen.
"If anybody's willing to watch your shit and willing to think about it and tell you how to fix it, then listen and fix it!" Soloway said of TV's inherent collaborative dynamic between writer and director. Click below to watch the clip:
In 2012, the cast of Philly Brown—including Edward James Olmos, Harry Lennix, and Gina Rodriguez—discussed (under)representation of Latinos in the film industry and the challenges still faced by Latino actors and filmmakers.
"[Growing up] I'd see movies that I'd love and I'd be like 'oh, Latinos just didn't exist—there were just no Puerto Ricans before this time!'" said Rodriguez, about the lack of Latino stories in the films she watched as a child. Watch the clip below:
Also in 2012, Academy Award winning screenwriter Jim Rash (The Descendants) took the stage to discuss his approach to writing—specifically of the symbiotic relationship between comedy and drama.
"The funniest [thing] is to take a dramatic situation and be true to what happened and how people interact," he said, "you'll find great, funny observations about how people deal with drama." The full clip is below:
Lastly, in 2013 director Ben Zeitlin joined panel moderator and Skywalker Sound Executive Phil Benson to discuss Zeitlin's Beasts of the Southern Wild and its unique approach to sound mixing and editing.
"We as an audience hear what she's feeling immediately establishes that sound has a window into her imagination and emotions," said Zeitlin of the audible heartbeats that introduce Beast's main character, Hushpuppy. Here's the clip:
For more highlights from past Directors Close-Up panels, please visit our YouTube channel. Buy your pass for the 2016 Directors Close-Up here and learn more about 2016's panels and participants by clicking here.
To learn more about Film Independent please visit our website and click here for more upcoming events. Learn how to become a Member of Film Independent by clicking here. See you Wednesday, February 3!
Matt Warren / Film Independent Digital Content Manager