WATCH: Film Independent Presents… Women's History Month Spotlight, Part One
With regular programming temporarily suspended due to the ongoing COVID-19 situation, Film Independent Presents is moving online, with weekly SVOD playlists curated by Film Independent Senior Programmer Jenn Wilson.
***
For the next two weeks, our Film Independent Presents SVOD playlist will be a tribute to March's Women's History Month. In fact, there was so much great work we wanted to highlight that we're splitting the list in two, with Part Two spilling over next week into April.
The five women spotlighted this week are some of the most exciting and inspiring auteurs to have ever stalked the ground behind video village, selected here for the diversity of their filmmaking styles and—for many—their service to a higher purpose; using their creative voices to speak for people who often can't speak for themselves.
Many of the titles I'll be mentioning this week and next are available on the Kanopy and Hoopla streaming services, which are totally free streaming services available to anyone with a public library card. And even though (as with many libraries across the country) LA public library branches are closed, it's still possible to sign-up for an e-card online to access Kanopy, Hoopla and all of your local library's other e-media offerings.
ALICE GUY-BLACHÉ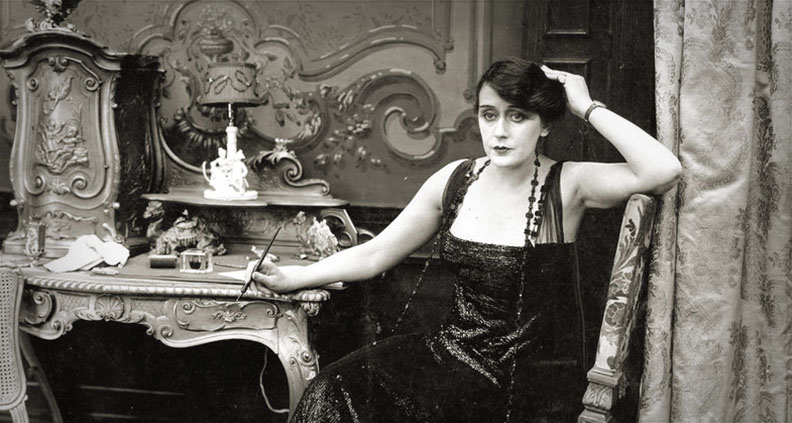 Let's start with the incredible Alice Guy-Blaché, whose contributions to film history were almost completely forgotten until recent efforts to reclaim her legacy and celebrate her work. Born in France in 1873 as Alice Guy, she got her start as a secretary at the Gaumont Film Company. Inspired by the 1895 exhibition of Lumière Brothers films, she asked permission to make her own film (The Cabbage Fairy, 1896), often considered the world's first narrative film. She served as Gaumont's head of production until 1906, assisting in the making nearly 750 films.
In 1907, Guy married Herbert Blaché, and by 1910, the two had formed their own studio called The Solax Company based in Fort Lee, New Jersey. Guy-Blaché oversaw the production of 325 films there, 50 of which were written, directed and produced by Guy-Blaché herself.
Guy-Blaché made her last film in 1919. She and her husband then tried making a go of it in Hollywood, but Herbert left her for another woman. With no husband/business partner and most of the East Coast industry re-located out West, Guy-Blaché was bankrupt, forced to sell off Solax and all its equipment.
Divorced from Herbert Blaché, Alice Guy returned to France in 1922. Though she never made another film over the years Blaché was outspoken on the lecture circuit about her erasure from both Gaumont's and Solax's published histories. She died in 1968 in what might have been total obscurity, had it not been for the monumental efforts made by film archivists, historians and feminist scholars save her work and restore her place in the written history of filmmaking.
In 2018, the filmmaker Pamela B. Green made Be Natural: The Untold Story of Alice Guy-Blaché, an incredibly detailed documentary account of Guy-Blaché's life and work, available right now on Kanopy. Guy-Blaché's accomplishments are frankly astounding, with early films made in both sound and color — something Hollywood wouldn't accomplish until the late 1920s and 1930s.
But nothing quite compares to this fact: that over 100 years later, she's still the only woman to have owned her own studio. Luckily, three of Guy-Blaché's films are now also available for free viewing on the Kanopy platform.
CÉLINE SCIAMMA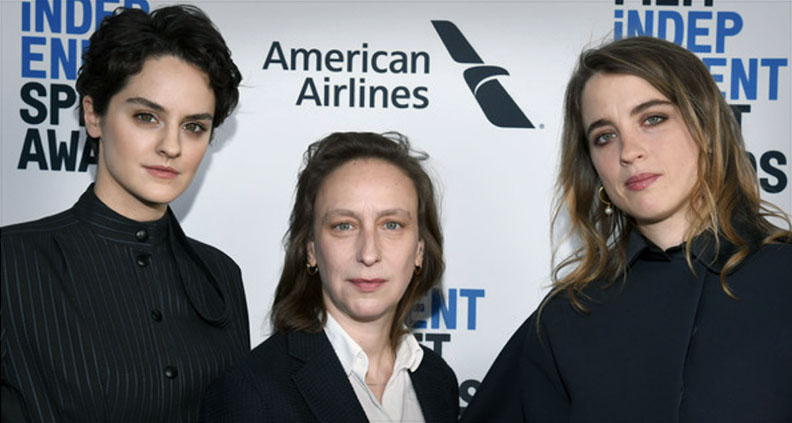 This week's playlist also celebrates French auteur Céline Sciamma and the fact that now, for the first time, all four of her feature films can be found in the US on streaming services. Sciamma has been someone to watch since her first feature Water Lilies in 2007 landed her a spot in the Un Certain Regard section at Cannes.
But it is her most recent film — last year's Portrait of a Lady on Fire (a 2020 Film Independent Spirit Award nominee for Best International Film), which won both the screenwriting award and Queer Palm award at Cannes — that has undoubtedly been her biggest success, launching her work into corners of the world that had yet to discover it.
But beyond this, why should we care about Sciamma's work? Because she's been quietly inventing a new kind of cinema for over a decade now, a cinema that deliberately tries to subvert the male gaze. While hugely popular in countries like South Korea, Portrait of a Lady on Fire was not well received in its home nation France—a country still dominated by cultural patriarchy—and was shut out of every César category that it was nominated in except cinematography. Nevertheless, Sciamma persists, undaunted.
"It's not about saying, 'We have this power.' It's about believing in the power of culture and cinema. Believing in the power of what we do, which I do," she has said.
Sciamma's features Water Lilies, Tomboy and Girlhood are all available on The Criterion Channel (with the latter two also available on Kanopy) and Portrait of a Lady on Fire was recently added to Hulu. Want more? Sciamma's 2009 short film Pauline was part of last week's Film Independent Presents short film playlist.
LANA & LILLY WACHOWSKI
Some might question the inclusion of the Wachowski sisters on this list, my answer to that is twofold: one, genre films are quite often and unfairly left out of "Best Of" lists; and two, it's almost impossible to name a recent film as groundbreaking as The Matrix.
That landmark 1999 blockbuster is the film by which every sci-fi film since has been judged—need I say more? And both The Matrix and its predecessor, 1996's Bound, feel as fresh and fun on 10th re-watch as they did the first time I saw them in theaters.
What's more, Cloud Atlas—the sisters' 2012 collaboration with Run Lola Run director Tom Tykwer—remains one of the most misunderstood and underrated films of the 2010s, reinventing David Mitchell's formally inventive 2004 novel as an ambitious exploration of shifting identities across a variety of genres and time periods.
LOURDES PORTILLO
Lourdes Portillo is included here quite simply because she's an incredible Chicana filmmaker who has dedicated her life's work to making films focused on the Latino identity. Her 2001 feature Missing Young Woman was one of the first films to address the epidemic of disappearances among young women going missing in Ciudad Juárez.
Missing Young Woman was one of the first films that I saw at a film festival and wrote about while I was living in Chicago. Luckily, three of Portillo's documentaries, including the Oscar-nominated The Mothers of Plaza de Mayo, are now on Kanopy.
FREIDA LEE MOCK
Finally, documentary filmmaker Freida Lee Mock has also dedicated her career to making social justice films. In 2012, the LA Film Festival (where I was on the programming team) premiered her amazing film G-Dog, about Father Gregory Boyle and his efforts to create a diversion program for members of LA's street gangs, which later became known as Homeboy Industries.
Mock's powerful documentary 2013 Anita about Anita Hill became incredibly relevant all over again in 2019, when—in a repeat of history—women again testified about sexual assault allegations, this time against another Supreme Court nominee, Brett Kavanaugh.
Below is a quick guide to where you can find these filmmakers' work online to watch right now. Part Two of this blog is coming next week – stay tuned for weekly curated Film Independent Presents playlist content that can be enjoyed free at home. You can catch up on recaps and videos of past Fi Presents events here.
Alice Guy Blaché
Canned Harmony (1911) – Kanopy
Falling Leaves (1912) – Kanopy
A House Divided (1913) – Kanopy
Céline Sciamma
Water Lilies (2007) – The Criterion Channel, Kanopy
Tomboy (2011) – The Criterion Channel, Kanopy
Girlhood (2014)– The Criterion Channel, Kanopy
Portrait of a Lady on Fire (2019) – Hulu
Lana & Lilly Wachowski
Bound (1996) – Free on PlutoTV
The Matrix (1999)– Free to watch with a free 1-week trial of FuboTV
Lourdes Portillo
The Mothers of Plaza de Mayo (1985) – Kanopy
Corpus: A Home Movie For Selena (1999) – Kanopy
Missing Young Woman (2001) – Kanopy
Freida Lee Mock
G-Dog (2012) – Amazon, Hoopla, Vudu
Anita (2013) – Amazon, Hoopla, Tubi, Kanopy
Film Independent promotes unique, independent voices by helping filmmakers create and advance new work. You can support our efforts by making a donation or becoming a Film Independent Member.
Keep up with Film Independent…
(Header: Portrait of a Lady on Fire)