2022 Film Independent Forum: Livestream Panels Spotlight
Are you a filmmaker dying to hear from one of the preeminent allies in Indigenous filmmaking about how he curated 119 films by Indigenous artists in his 20 years at Sundance? Or a fan of the Netflix hit series – Latinx dramedy Gentefied – who just wants to know what it takes to be at the forefront of advancing Latinx representation in television? Well, have we got a treat for you!
Not in L.A.? Not a problem! This year's Forum returns in a hybrid format, bringing a robust lineup of events to emerging filmmakers and cinephiles the world over. In addition to what we've shared about the program kicking off in person on Monday, October 24, the Forum will continue with a jam-packed week of virtual and livestream panels, case studies, workshops and a plethora of networking opportunities!
Here is the full Forum Schedule and below are the three livestreamed events that we can't wait to share with you!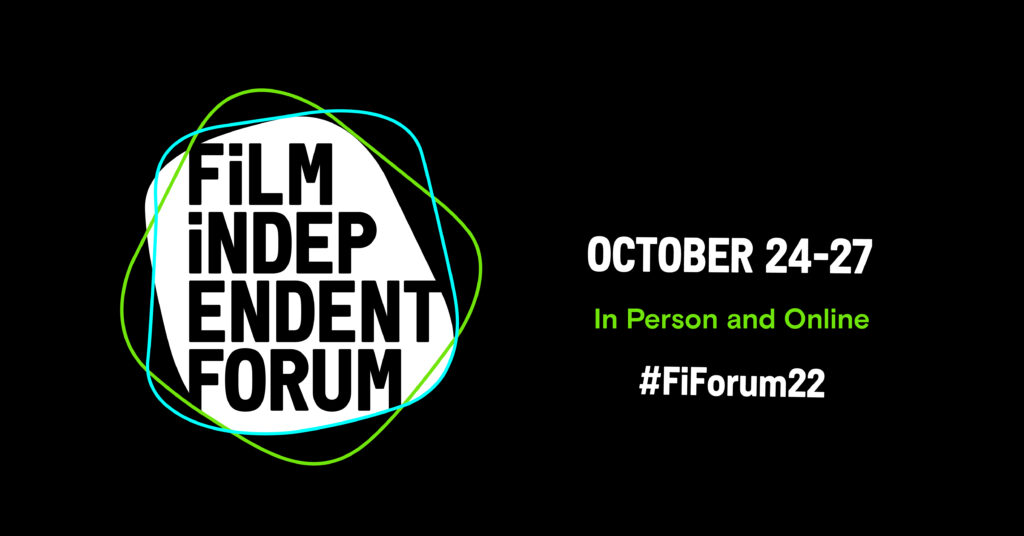 Keynote Conversation with Bird Runningwater
When: Tuesday, October 25 @ 5:30 – 6:30pm PT
Why We're Excited: A candid conversation on the paradigm-shifting progress in the industry for BIPOC filmmakers and how all indie filmmakers can capitalize on this booming landscape.
Who: Prior to his departure from the Sundance Institute in September 2021, Cloud Woman Media CEO Bird Runningwater – a member of the Cheyenne and Mescalero Apache Tribal Nations – led the Diversity, Equity and Inclusion efforts at the Sundance Institute, where he nurtured countless emerging filmmakers for 20 years. Under his tutelage, 154 Indigenous filmmakers were mentored and supported through Sundance Labs, Grants and Fellowships, ultimately yielding a whopping 119 films written, directed and produced by Indigenous artists. Currently serving as an EP on TV series Sovereign – in development with Ava DuVernay, Warner Brothers Television and Array Filmworks – he also has projects in development with Showtime and has recently signed a first-look deal with Amazon Studios.
Forging Your Path: Film Independent Fellows in the Spotlight
When: Wednesday, October 26 @ 5:30 – 6:30pm PT
Why We're Excited: As we celebrate the 30th anniversary of Film Independent's Artist Development programs, we will revisit with some alums to talk about how they got their first projects off the ground, what it's like to work in different areas of media entertainment, and most importantly, what it takes to start and sustain a career in film and television. Join us for an illuminating conversation on what the future holds for independent storytellers and artists.
Who:
Chester Algernal Gordon – The producer of this year's Opening Night Film, The Inspection, the Fast Track 2019 and Producing Lab 2019 alum is the first male African-American costume designer to have participated in competition at the Cannes Film Festival with the Martin Scorsese-produced American-French drama Port Authority.
Linda Yvette Chavez – An alum of the 2010 Project Involve and the 2015 Screenwriting Lab, the Gentefied co-creator, co-showrunner, director and EP's upcoming project will be actress America Ferrara's directorial debut for Netflix, the YA story I Am Not Your Perfect Mexican Daughter. Linda recently inked a multi-year overall deal with 20th Television Studios, where she is developing new series headed for Disney's various platforms.
Billy Luther – The 2020 Directing Lab fellow and 2006 Fast Track alum's award-winning documentary Miss Navajo, which premiered at the 2007 Sundance Film Festival and aired nationally on PBS' Independent Lens that same year. He also wrote and directed his first narrative feature Frybread Face and Me, which was Executive Produced by Taika Waititi and slated to premiere in 2023. He is currently a writer for the AMC series Dark Winds.
Angel Kristi Williams – Named one of the ten Black directors to watch in 2014 by Paste Magazine, the 2014 Project Involve fellow's directorial debut Really Love – produced by MACRO and Homegrown – won the Special Jury Recognition for Acting at SXSW for co-stars Kofi Siriboe and Yootha Wong-Loi-Sing. Most recently, Angel won an NAACP Image Award for directing Colin in Black and White, her first episode of television, followed by directing episodes of Naomi and Cherish the Day.
Producers at the Table
When: Thursday, October 27 @ 5:30 – 6:30pm PT
Why We're Excited: We will be closing the Forum with our traditional roundtable, this year's featuring some of today's best-known indie producers. Amongst the topics to be discussed: Does the increased appetite for stories from all corners of the globe mean that producers across the globe will be busier than ever? Is theatrical dead for all but the largest independent titles? And with streamers dominating sales at festivals and markets, what does this mean for the bottom-line and back-end? From telling stories that matter, to sustaining a career, these producers prove that it can be done and will offer tips and advice for all.
Who:
Mollye Asher – With her third collaboration with Chinese-American director Chloé Zhao – 2020's Nomadland – the Academy Award-winning producer scored the Producers Award at the 2020 Film Independent Spirit Awards and was included in Variety's 2021 NY Women's Impact Report.
Miranda Bailey – The CEO of Cold Iron Pictures recently produced God's Country starring Thandiwe Newton, which premiered at Sundance 2022 and was soon sold to IFC. Currently, Bailey is producing Thirsty starring Lake Bell, a comedy about Orange County moms who go just a little too far to have their kids win; and Raised Eyebrows, starring Geoffrey Rush as Groucho Marx.
Scott Franklin – An Oscar nominee for his work on Black Swan, the producer is a two-time Spirit Award Best Picture winner for The Wrestler and the aforementioned Black Swan. Recently producing Tobias' Lindholm's The Good Nurse – starring Jessica Chastain and Eddie Redmayne – Franklin is also one of the Executive Producers on Darren Aronofsky's The Whale, starring Brendan Fraser.
Jhane Myers – A Comanche and Blackfeet American Indian filmmaker, Myers leveraged her cultural background in bringing Comanche authenticity to this year's sci-fi action horror Prey – the fifth in the Predator franchise – as one of the producers on the film. Known for her knowledge and dedication to Native film and fine arts, Native language, and Native cultural advising, her upcoming producing projects include Sacajawea: The Windcatcher and documentary Journey of a Windcatcher.
How to Forum 2022
There are various ways to take advantage of this year's hybrid format. Make sure to check out the complete Forum Schedule so you don't risk missing a second of it!
Full Access passes – $149 for Members; $189 for the general public – includes:
October 24 – access to all in-person live events at the Directors Guild of America ("DGA") Theater in Los Angeles, including the Filmmaker Keynote from dynamic writer/director duo Daniel Kwan and Daniel Scheinert – aka Daniels – and a screening of A24's The Inspection, followed by a Q&A with the filmmakers.
October 25–27 – access to all virtual sessions covering:

Pre-recorded content released on our virtual platform every day; and
The 5:30pm PT livestreamed panel every evening (come prepared with questions for the panelists!).
You can also enjoy this year's Forum from anywhere in the world with a virtual pass. You'll have access to recordings of all Forum Keynotes, panels, case studies and the DGA sessions until Dec 31, 2022.
Virtual Only passes – $79 for Members; $99 for the general public, which includes online access to the virtual events from October 25–27 and recordings of the DGA events.
Passes are FREE for Arts Circle Members
Arts Circle and Filmmaker Pro  receive an added bonus: priority registration for one-on-one Industry Connect sessions at the DGA.
Film Independent Members save up to 20% on Forum passes… join or renew today.