"I like the unexpected."—Matthew Weiner On His Feature Film Debut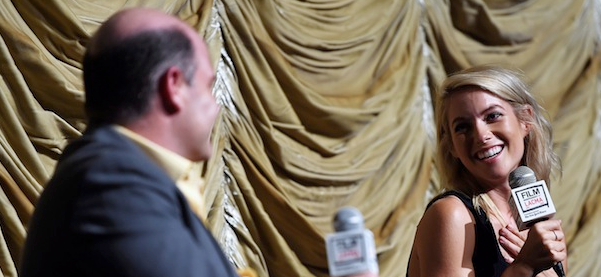 "Cinema is exquisite at recreating a sense of loneliness that I assume most people feel but don't want to think about."
It's not surprising that Mad Man creator Matthew Weiner—a man known for creating some of the most compelling lost souls television has ever seen—brought his penchant for existentialists to his feature film debut, Are You Here, which screened last week at Film Independent at LACMA. After the screening, Weiner and actress Laura Ramsey talked with Film Independent curator Elvis Mitchell about making the film, which revolves around the dysfunctional, co-dependent friendship between loony Ben (Zach Galifianakis) and playboy weatherman Steve (Owen Wilson). The two struggle to find meaning and connection in life the midst of a family feud over Ben's multi-million dollar inheritance. (Amy Poehler plays Ben's greedy sister, bent on contesting the will.)
"I thought that was the purpose of life: trying to figure out how to deal with loneliness," revealed Weiner, whose work often explores that very theme. He recalled one of his favorite lines from The Sopranos—though not one he'd written. In the midst of a "mid-life" crisis, 13-year-old AJ goes to the hospital to visit his grandmother Livia in the hospital. Weiner delivered the line in his most gravelly old-woman voice, "Ya die in yer own arms."
In Are You Here, Ben and Steve's life-long friendship is built around Steve's role as the caretaker of his erratic and eccentric friend, who is eventually revealed to be bipolar. "Ben is feeling too much and Steve is trying not to feel anything," said Weiner.
"That's the thing about friendship," says Steve in the film, "It's a lot harder than love, because there's nothing in it for anybody."
"That line is the first line I had in the movie. I built the movie around that line," said Weiner, who began the script while he was working on The Sopranos and shot it during Mad Men breaks. "It's a very personal film, that took 10 years from the time I wrote it to get it made," he said. "I'm very lucky to have found my soul mate, but there was a huge part of my life that disappeared when I got married and I started wondering where did it go? Did it have a purpose? Was it a temporary thing?" Friends was on TV at the time Weiner was writing the script, and the show made him wistful for the male friendship he felt he'd lost. "Part of what was attractive about that show was the wish fulfillment," he said.
Ramsey—who appeared in an episode of Mad Men as one of Don Draper's countless paramours—plays the ethereal trophy widow who ends up driving a wedge between Ben and Steve. Ramsey revealed that a bad case of nerves almost cost her the part. "When I heard Owen Wilson and Zach Galifianakis and Amy Poehler were attached," she said, "I thought there wasn't a chance in hell I would ever get the role, because I'm not a name." Her first reading won Weiner over, but Ramsey blew the callback when nervousness got the best of her. After the second reading, Ramsey was told she didn't get the part, but she refused to take no for an answer and sent an email plea to Weiner asking for another shot. He agreed, and she nailed it.
Weiner noted that actors, like those who suffer bipolar disorder, "have an access to the moment" that most of us don't. "It's the height of the experience of life," said Weiner, "but it's not good for the people dealing with it." (In the film, Ben struggles with the decision to medicate to even out his personality.)
One of the challenges in making the film, said Weiner, was pulling off a big tonal shift; the film starts off as a buddy comedy and ends up taking serious issues (like mental illness and the nature of friendship) seriously. "I like not knowing what's going to happen," said Weiner. "In storytelling, for me, the unexpected is often revealing that something is exactly as it should be."
Pamela Miller / Website & Grants Manager