Interview: Video Essayist Kogonada Makes His 'Columbus' Feature Debut
Even if you don't immediately recognize his distinctive mononym, there's a good chance you've seen some of Kogonada's work.
For years, the Nashville-based filmmaker has been a pioneering creator in the emerging field of video essays, creating a series of breathtaking high-art short-form works devoted to exploring subjects as diverse as Kubrick's recurring one-point perspective and the difference between Classic Hollywood and Italian neo-realist cinema.
Now, Kogonada has moved beyond the confines of the embedded Vimeo player to write and direct his debut narrative feature, Columbus.
Set in the titular town of Columbus, Indiana—a real-life mecca for modernist architecture, a fact that plays heavily into the film's rigid aesthetics—the movie tells the story of Jin (John Cho), in town to visit his ailing father, and Casey (Haley Lu Richardson), a young woman bound to the town by her drug-addict mother. The result is a meditative portrait of relationships subsumed under the forces of both time and place.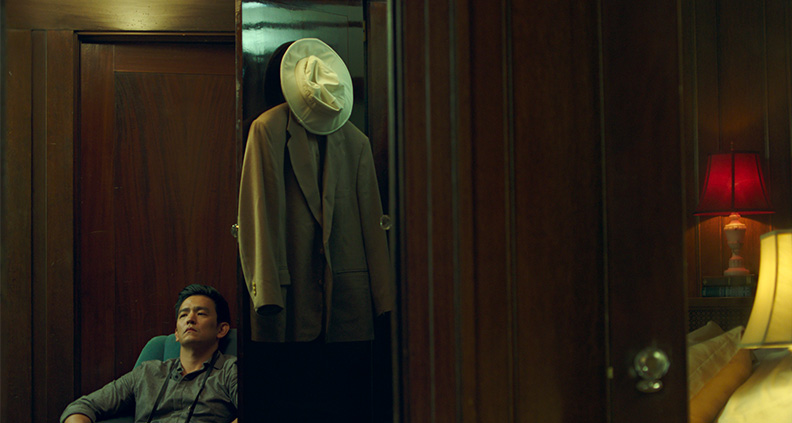 Already one of the year's most acclaimed indies, Columbus premiered to rave reviews at Sundance in January and is slowly making its way across the country in theatrical release. We recently spoke to Kogonada about making his first feature, his influences and the art of the video essay. Here's the conversation:
KOGONADA
Columbus is your first feature. I'm curious to know how long you've been working on it.
Kogonada: Around four years ago, I really started thinking about writing a feature. I was beginning to think that if I ever wanted to make a feature I should really put some attention towards it. I was kind of formulating an idea about children and children dealing with the loss or absence of their parents. When I visited Columbus—not for the film, just out of my own curiosity—I immediately felt connected to the place and wanted to film there. Of course, I'd been thinking about films for a long time and had written notes for features I wanted to make. But in regards to this specific film, it's been about a three-year process.
Was the starting point thematic or aesthetic? Your video essay work typically explores one or the other, depending on the topic.
Kogonada: Both are somewhat inseparable. I think aesthetics and attention to form is some of the magic. For me, the form I'm interested in is related to modernity. I've always been drawn to a kind of cinema where someone is trying to work something out aesthetically that feels important to them. I think a lot of my work is interested in directors who are working something out formally that feels almost existential in some way. I think the reason why I wanted to make a film is because I was really interested in that concept.
As someone who thinks a lot about other directors, have you thought about what a "Kogonadaesque" film is, or what you'd like for it to be?
Kogonada: Well, you know, this is something I hope I'm working out. If I'm fortunate enough to make other films I hope I can continue to pursue whatever that may be. There are things that matter to me and that I care about in cinema, and I think the aesthetic decisions you make are related to the things you care about. I don't think I can articulate that or have something fully formed. I just know that I'm at the beginning.
Have you considered making a feature-length video essay?
Kogonada: Yes, definitely. I've thought about it a lot and I have a few projects I'd love to do sometime in the future. I was really starting to have a desire and appetite to do something longer-form, so I was thinking about features. I thought the easiest thing for me to do [would be] a longer essay film. I have two or three that I've written a lot of notes on and some I've even begun to sort of workshop. But when the opportunity to do a narrative came up—which I inherently know would be more difficult to get financing and actors for—I shifted my attention. But I'd love to do that at some point.
Can you talk a little bit about the economics of being an independent filmmaker and/or video essayist?
Kogonada: That's the difficult thing. Especially as an essayist, I think there are people who have a gigantic audience and have figured out a way to get their work compensated in ways that are exciting to see. Mine has been more commission-based. I've worked with some people where the pay was sufficient and others where it wasn't, but I just wanted to do the work for a particular publication or organization. It becomes really difficult and it's a lot of hustle to make it your full-time job. I think it's a lot like film criticism—there are people putting together a number of ongoing assignments who are making a living. And the same way that sometimes film criticism has been a door into filmmaking, this has been as well. It did ultimately pay off and give me the opportunity [to make a feature].
Do you have any other narrative feature ideas or other projects you're working on?
Kogonada: Honestly, while there's an opportunity, my focus is primarily on narrative. I've been developing some other projects and I'm trying to narrow them down. I'm also reading scripts right now, so I'm really eager to get to work again. For me, when I'm most comfortable is when I'm thinking about something to make.
Columbus is currently playing in theaters in select cities, distributed by Superlative Films. For more info, please visit the film's website. To learn more about Kogonada (and to watch the director's video essay work) click here.
Learn how to become a Member of Film Independent by visiting our website, and click here to subscribe to our YouTube channel.