It's All About Style at the La Bamba Dance-Along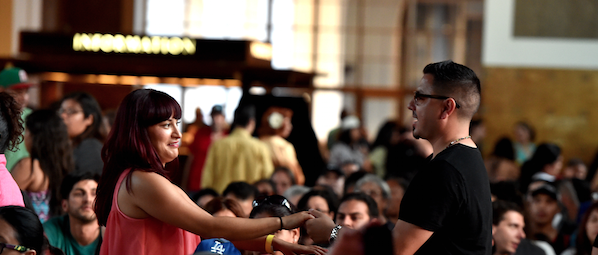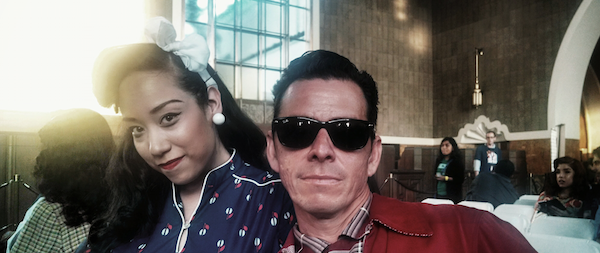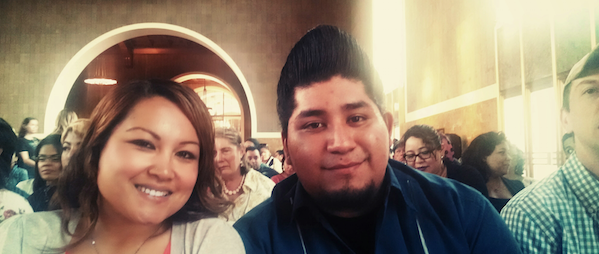 The most committed audience members at last night's screening of La Bamba at Union Station donned everything from stylish pompadours to bright red lipstick and red bandanas to celebrate the 1987 iconic film about rock-and-roll star Ritchie Valens. LA Film Fest Latin American programmer Hebe Tabachnick kicked off the evening by welcoming the at-capacity crowd and Dance Camera West dancers who taught the audience the steps to dance along to the film.
La Bamba writer/director Luis Valdez and cast members Lou Diamond Philipps and Esai Morales (wearing the same leather jacket he had worn in the film!) joined Fernanda Kelly from Univision's Lánzate for a lively conversation. Valdez called the film and Ritchie Valens' story an essential part of American history that had to be told. "Valens was a youngster, like a lot of chicanitos, a lot of young folks in America," Valdez said. "Young people who attach their dreams and hopes to music." La Bamba, Phillips said, gave him the career he has today.
Victoria Ines Rivera and Paul Aguayo are big Ritchie Valens fans they said, as well as dance-along fans, having attended last year's Hairspray event. What they like most about the dance-alongs, Rivera said, is "the fact that I can dance in public and not be criticized for it and not look like a weirdo."
Antonio Perez and Sunny Farun sat in the front row anxiously awaiting the Q&A with the directors and the film's stars. Perez, who got to ask Phillips for a picture, couldn't contain his excitement. "I got to meet one of the greatest actors who portrays one of the greatest musicians of all time, Ritchie Valens," he exclaimed. "La Bamba improved my style–I tried to get the haircut!"
Diana Buendia / Festival Blogger