LA FILM FEST 2013: My Little Pony Equestria Girls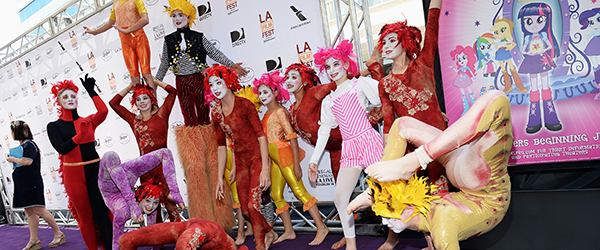 On the carpet for the premiere of My Little Pony Equestria Girls
By Jane Leigh / LA Film Fest Guest Blogger
Families and fans alike came out this Saturday to attend the premiere of Hasbro Studio's new movie, My Little Pony Equestria Girls, based on the popular television show My Little Pony: Friendship Is Magic. The theater was packed with people of all ages, some even dressed as their favorite pony. Before the show, guests had a chance to get Ponyfied, have their face painted and dance along to some popular pony tunes. My Littlest Pet Shop, Play-Doh and Transformers also had booths, which made this pre-show extravaganza a true paradise for kids.
A lovable cast of characters, a great soundtrack and a plot that connects with viewers of all ages make this film a must see for all My Little Pony fans. There's truly a pony for everyone, whether you're outgoing like Pinky Pie or reserved like Flutter Shy. While each pony has different strengths, the movie shows that when they put those strengths together, they can conquer anything.
The movie also tackles the all-too-prevalent issues of bullying in schools. The antagonist, Sunset Shimmer, is a high school bully who rules the school by picking on others. But more than that, she targets Twilight Sparkle by posting hurtful videos about her online. I was surprised that the movie tackled the issue of cyber bullying, but was so glad they did. I think movies such as this will show children that their friends are more powerful than bullies, and that most bullying stems from an inner sense of insecurity.
The movie also showed a high school divided by cliques. However, the five main characters came from various groups and were able to transcend these social barriers due to their strong friendship. Twilight Sparkles asks why everyone is separated, which I think is a question we must ask ourselves. As a high schooler myself, I often feel as if I need to fit a certain mold in order to be accepted. Equestria Girls encourages us to break those barriers.
It doesn't matter if you're a long time My Little Pony fan or a new viewer, a child or an adult — this movie has something to teach us all, whether it's to be comfortable in our own skin, to value our strengths, to stand up to our bullies, to not label others or that friendship is the most powerful force of all.
My Little Pony Equestria Girls will have select screenings in over 200 theaters starting June 16, and throughout the summer. A home media release is expected later this year.