Directors Close-Up: Script Notes from the Writers Behind 'Beatriz' and 'Ingrid'
Week two of Film Independent's 2018 Directors Close-Up series began with the introduction of acclaimed screenwriter (and sometime director) Mike White, the man behind the scripts for Chuck & Buck, School of Rock and this year's Beatriz at Dinner, among many others. Joining White at the February 14 event—titled "Storytellers: Writers and Directors"—was a relative newcomer: David Branson Smith, co-writer (with Matt Spicer) of 2017's Ingrid Goes West.
Beatriz and Ingrid are both currently nominated for multiple 2018 Film Independent Spirit Awards, including individual nominations for White and Smith for Best Screenplay and Best First Screenplay, respectively. White has already won twice, claiming the John Cassavetes award in 2001 for Chuck & Buck and Best Screenplay in 2001 for The Good Girl, both directed by Miguel Arteta, also the director of Beatriz. Talk about a fruitful collaboration!
Ingrid Goes West was the Closing Night Film at the 2017 LA Film Festival and Michael Arteta was the Festival's Guest Director, so it made perfect sense for Jennifer Cochis, Director of LA Film Festival to moderate the discussion.
Topics encompassed what a typical day is like in the life of a working writer, facing rejection, working with theme and letting work pass on to a director.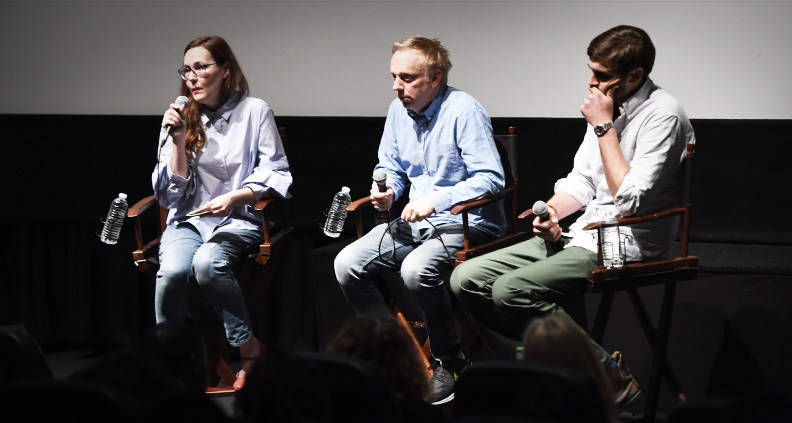 Pointer number one from White: don't believe the hype. Instead of trying to land that fancy meeting or industry lunch, instead use this time to write. "You should be spending that time building a body of work and trying to satisfy yourself," he said.
"The beauty of being a writer is that you don't need someone to ask you to do it, you can just go do it." If you've written a great script (or scripts!) this is way better than scoring yet another dead-end networking lunch—so good on you.
Of Smith—who, coincidentally, is White's former assistant—White said "Dave is a rare bird who can actually write while he's pretending to do stuff for me."
In response, Smith shared the advice White gave him. "You just told me to write three scripts in a year—which I didn't do. But the message being that, ignore the distractions and sit down and write a script." White emphasized that everything else is just "smoke and mirrors."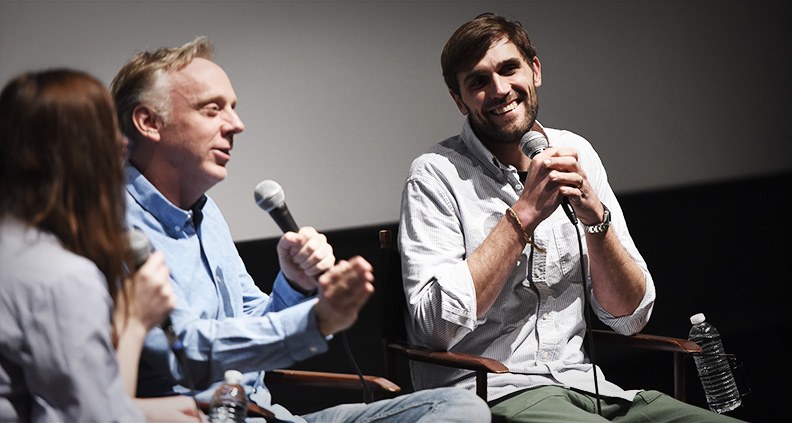 Rejection. How does one take it? "I do have a sense of, 'These people are idiots!' And you need a little bit of that," White said. "I still feel like anytime I get a no, it's like a public shaming. I've spent my life trying to figure out how to write scripts where no one's going to do that."
For Smith, though, it was a little different. "I got to a point with my scripts, even though they were just getting me into rooms and weren't selling, that the rejection felt mitigated by a sense that I was advancing as a writer," he said.
White stressed the importance of confidence. "You're trying to get people to believe in your weird dream. It's about 'I'm going to win!' You have to have a little bit of that attitude," he said.
Smith said that he worked extensively with a writing partner when first starting out in the business, and they were heartbroken after not getting job after job. "It was constantly [like] 'what's the next Pineapple Express?' There's definitely a sense of pressure to conform and to chase the ball rather than control your career." Control is key, and so is work ethic.
Cochis asked the writers how it feels to have their intensely labored-over work directed by others. White prefers to work with "somebody who knows my value to the process and doesn't have an ego about it."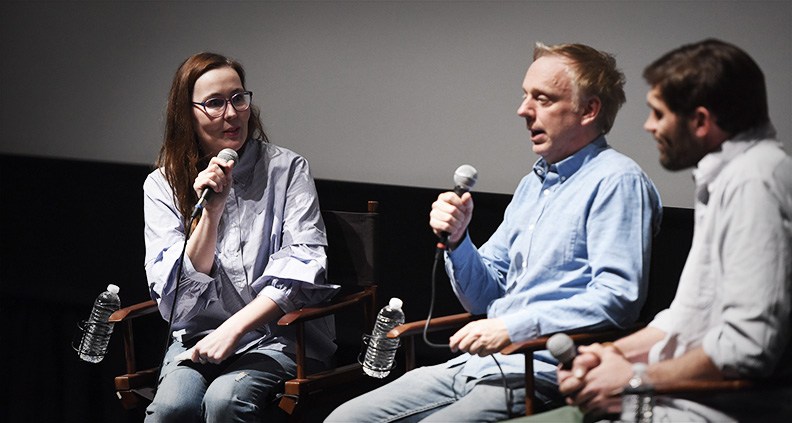 Smith said that on Ingrid, director Matt Spicer allowed him to come to set every single day. "Which I didn't realize was a rarity," he said. "I assumed that [coming to set] would be a given, and I learned that that was the exception, not the rule. Which was great." Smith also said that he thinks it's every writer's goal to ultimately direct. "I feel like once a writer crosses that threshold, they just start directing."
White, however, prefers the writer's life. "I'm not somebody who thinks, 'I've got to get back on the set,'" he said. "If a situation presents itself, like 'these are cool people, this could be fun,' I'll throw my hat in the ring as a director." Otherwise, what White really enjoys is walking to grab coffee and writing on his own terms.
On a typical day, White is writing before 10am—or else the day is over. "I feel like I want to be fully conscious of what I'm writing before I start writing," he said. "Then when I'm writing, it comes pretty quick because I've thought it through."
"I can only [write] when I have a good routine," said Smith. "Whether that's going to the same coffee shop every morning, or going in the ocean every day until I've finished because I needed to discipline myself." Six months is usually Smith's deadline for completing a script.
Discussing Beatriz, White said that he likes writing for an outlandish protagonist with a righteous cause. "I like a character who feels like the values of the world they're in don't match their own, and figuring out how to navigate that," describing Beatriz (Spirit Award nominee Salma Hayek Pinault) as "someone who's a disrupter, who isn't taking the social cues and is just trying to be truthful."
A dark satire about social media obsession, Ingrid Goes West features several scenes with minimal dialogue—always tricky to pull off effectively. Smith said, "you're trying to nail a lot of things at once, which is kind of like the happenstance of the moment and having that not feel manufactured, not having it veer too far into comedy."
"I find a weird vicarious pleasure of somebody who's willing to be as crazy on the outside that we all are on the inside," said White. Smith chimed in: "I think now it's become something that people embrace, the unlikable character."
Finally, audiences' tastes are always changing and evolving. So forget trying to make a character more "likable" and write the truth as you see it, even if it's a bit ugly. That's what White and Smith did, and it worked!
To learn more about the 2018 Film Independent Spirit Awards—happening March 3 with returning hosts Nick Kroll and John Mulaney—click here.
The 2018 Directors Close-Up is sponsored by Premier Sponsors DECENT, Directors Guild of America, Landmark Theatres and SAGindie and Principal Sponsors Citi and USA Network.
To learn more about Directors Close-Up click here. For more info about Film Independent, please visit our website. To learn how to become a Member of Film Independent, just click here.