Lena Waithe on 'The Chi' and How Nostalgia Defines You
Though it happened on April 1, Monday's Film Independent Presents screening of the Season Two premiere of Showtime's critically acclaimed series The Chi was anything but an April Fools' Day joke. The ArcLight Theater in Hollywood was packed wall-to-wall with fans of the show created by Lena Waithe and starring Jason Mitchell (Straight Outta Compton), Jacob Latimore (Sleight), Alex Hibbert (Moonlight), Yolonda Ross (The Letdown), Ntare Guma Mbaho Mwine (Queen of Katwe), Armando Riesco (Bull) and Tiffany Boone (The Following)—plus Barton Fitzpatrick, Shamon Brown Jr. and Michael V. Epps.
The timing of the screening—the day after rapper and community bridge-builder Nipsy Hussle was shot and killed, not far away, in Los Angeles—only seemed to reinforce the series' emphasis on neighborhood pride, familial loyalty and taking responsibility for one's city.
"The timing is crazy," Waithe said in an incisive post-screening Q&A, to Film Independent Presents Curator Elvis Mitchell. She continued: "My heart is heavy for our fallen soldier, Nipsy. He left so much behind. But when we look for him, we look at his music." Waithe identified with the impulse to leave her own legacy, through her writing and through The Chi.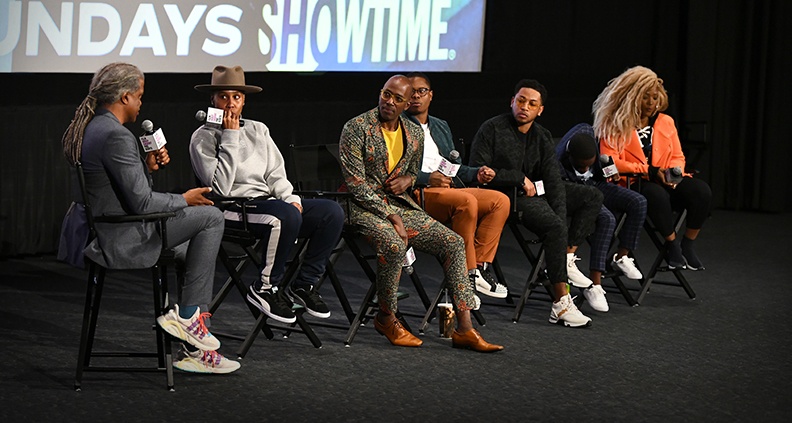 The Chicago-set drama focuses on a group of residents who, on the surface, are linked by coincidence but who become bonded by the need for connection and redemption. But ripples of recognition and resonance swept over the audience as the slices of life and specificity of location hit close home, again and again. These were stories that they shared, that they remembered and that they understood.
That effect is intentional, according to Waithe. "I think there's this thing when people want to write about the urban community—'a young black man uses basketball to get out of the hood.' [But] when he leaves the hood, the hood is missing something. I was born in the Chi, but the Chi is inside of me," a statement to which the crowd murmured in agreement.
Waithe's connection to her hometown and its manifestation in her art echoes a scene in the Season Two premiere, in which Mitchell's Brandon cooks for a visiting Nigerian chef (Lily Mojekwu.) Chef Amina recognizes his gift with flavor but challenges him on his storytelling, stating that her food is connected to her longing for home, that there's meaning behind each dish. "Nigeria isn't just where I'm from," says the chef, "It's who I am."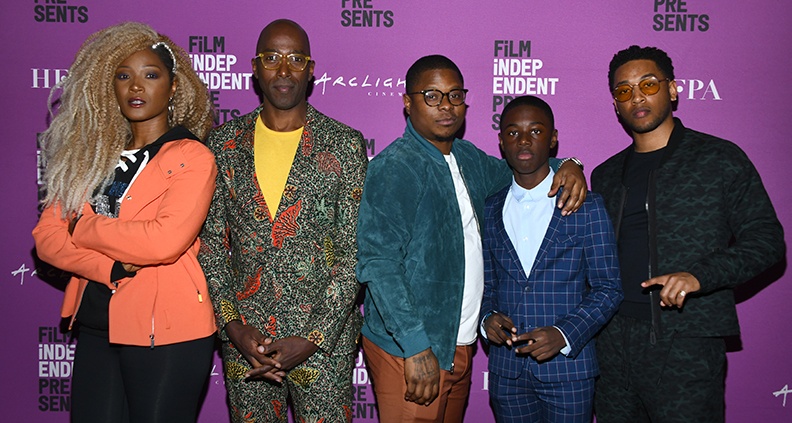 Waithe likened the scene to her own writing, saying that every character and place in The Chi is an extension of herself. In initial development talks, one exec commented that Brandon's character was hard to crack. "He's a black man with a dream," was Waithe's response, adding: "Why is that so foreign?"
But even in The Chi, dreams are sometimes difficult to imagine for characters like Kevin (Hibbert), who we find saying things like "if I grow up" and Emmett (Latimore), who's still in his teens but already has a child and is seen sleeping through meetings with a student financial aid advisor. Said Hibbert: "A 14-year-old saying 'if I grow up' is a problem." Yolanda Ross—who plays family matriarch Jada—added: "There's no time ahead to think. For Jada, she's alone. It's always work/son, work/son. Now she has to deal with the past so she can move forward."
By the end of the Season Two premiere, Brandon eventually begins to understand the meaning behind his own cooking—connecting his motivation with his, brother Coogie (Jahking Guillory). "Brandon is easy to love, and then he does something stupid," said Mitchell, "That's most people's lives: it's about having consistency in life, but then inconsistency is human. It's exciting to dig into [a character] who has flaws like that."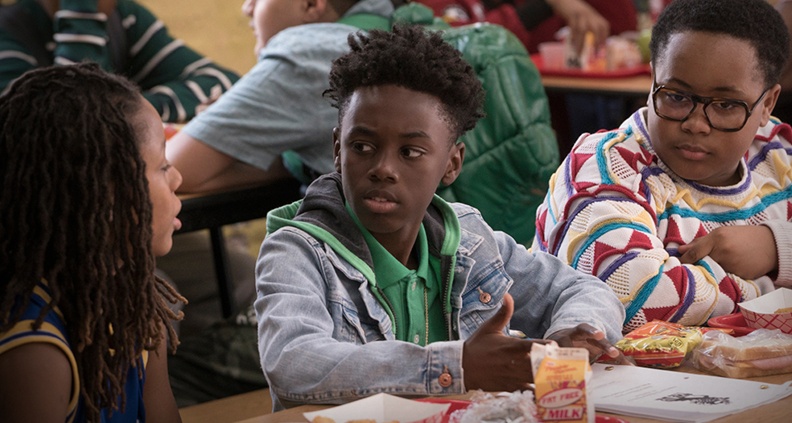 Waithe celebrated the lighter moments enjoyed by her characters, but lamented the incessant chain of events that stop them from joy: "Trauma, that cycle, how fleeting black joy is," she mused. Latimore picked up the thread in relation to Emmett and how his character needs to take some responsibility for his current trauma. "Now that he has to deal with the world on his own. His approach has to be different. He has to calm himself down, which a lot of men have to do."
In the new season, Waithe looks forward to exploring fatherhood—the impact of fathers on her characters, the dynamics of black men and black women and the difference between what it means to be a man and what it means to be a black man. "There's so much more pressure to provide, to be noble and survive." She wonders how much of Emmett's failure to mature is the result of his mom making him the man in her life. "It's hard in the writer's room," she admitted.
"Emmett's going to learn a lot from his father," said Latimore. "Things his mother couldn't teach him." For Mitchell, Brandon's trauma comes from spreading himself too thin. "He wants to do right for everyone else, and he's not being right for himself. We'll see him get stripped, and then be a man and pick up the pieces." Ntare Guma Mbaho Mwine underscored the theme of forgiveness, and how his character Ronnie can't accept or extend it: "He has to make a decision."
Through it all Waithe feels that she and her characters are similarly defined by life in the Chi, including the opportunity for Waithe to use the show to explore the effects of her own father's absenteeism. "I'm always searching, always looking, always asking. I'm always wondering… I think it comes with the territory of being an artist. I believe true artists are literally using their art form to work through their trauma," she said. "That's really all I'm doing."
Season Two of The Chi premiered on Showtime on April 7 and airs on Sunday nights. Want to see Waithe and Brian Tyree Henry host the 2018 Film Independent Spirit Awards Filmmaker Grants and Nominee Brunch from January? Click here.
Coming up at Film Independent Presents…
An Evening with… 'Deadwood' (Wallis Annenberg Center for the Performing Arts in Beverly Hills, conversation with producer Carolyn Strauss and actors Ian McShane and Timothy Olyphant) April 23
For more information about upcoming Film Independent events, click here. To learn more about Film Independent Presents, click here.