Recap: Ben Schwartz Leads an All-Star 'Back to the Future' Live Read
"I guess you guys aren't ready for that yet," so says Marty McFly—he of the far-off future of the 1980s—after performing a raucous, Chuck-Berry-presaging guitar solo in front of crowd of Bobby sox era teens in 1955, "But your kids are gonna love it."
Star Michael J. Fox and screenwriters Robert Zemeckis & Bob Gale might've known at least that much about the future of popular music when making their iconic 1985 film, but could they have anticipated that said kids, their kids (and their kids' kids) would still love Back to the Future so passionately nearly 40 years later?
If there was any doubt about the enduring appeal of the Zemeckis-directed sci-fi comedy blockbuster in the year 2023, look no further than Film Independent Presents' Back to the Future Live Read. The classic film was given new life at the Wallis Annenberg Center for the Performing Arts on June 24. The Live Read was directed by Ben Schwartz (Renfield, Parks & Recreation), who also starred as Marty McFly. After being introduced by Film Independent President Josh Welsh, Schwartz expressed to the packed house: "This movie made me fall in love with movies."
A writer himself, Schwartz said it was a dream come true for him to lead a dramatization of one of his most cherished stories. After introducing the wickedly hilarious cast, narrator Scott Aukerman (Comedy Bang! Bang!) asked the cast if they should say a prayer before starting; an ironic joke seeing as the story exudes pure sci-fi magic.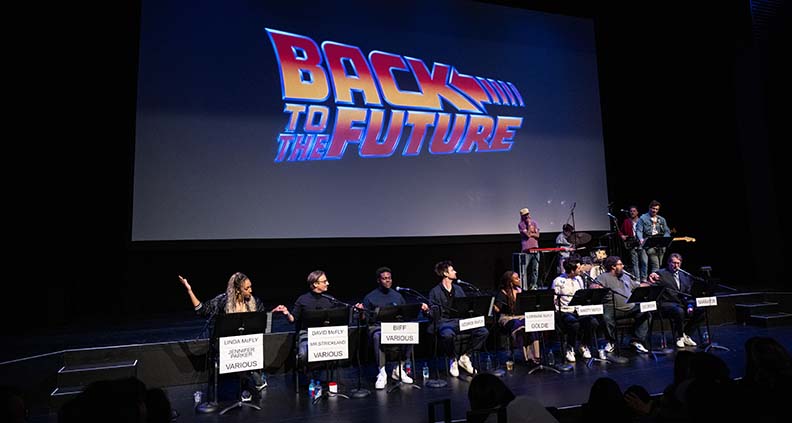 But before jumping into the reading itself, we should note the liveliness of the pre-show atmosphere. First off: the DeLorean! That's right, cast and attendees were able to snap some cool photos outside the Wallis of and with the famous screen-used vehicle. Walking through the lobby before entering the Bram Theater guests were greeted with splashes of light blue decorum on the walls, jellyfish hanging from the ceiling—dancing from the vents!—and a huge banner that read Enchantment Under the Sea.
There was even a photo booth to take '80s inspired photos. Lastly, guests had the opportunity to dress up for the chance to enter the costume competition and win a signed poster. It was an immersive experience from the very start.
After the second or third typo in the script was read, Schwartz commented, "We gotta fight for the strike, guys." A joke with a message, addressing the current situation between the unions representing the Writers Guild of America (WGA) and the major Hollywood studios. The audience laughed, and proceeded to cheer in support of the message, also noted by Film Independent's Josh Welsh in his opening remarks:
Whoever didn't quite remember the loud-and-proud anthem "The Power Of Love" by Huey Lewis & The News was wonderfully reminded by the live band onstage, who not only performed the chart-topping song perfectly but also acted as Marty's band The Pinheads as well as performing the "Enchantment Under the Sea" dance's iconic oldies.
A number of elements helped bring the reading to life. One of those elements was the projector that showcased a series of stills from the film, offering a further visualization of each scene unfolding onstage. One still earning big laughs was the photo of Marty and his dissapearing-and-reappearing siblings, Photoshopped to feature the Live Read actors' faces in place of the film cast.
Another still drew a very heartwarming "Awww" from the audience: the hand-written note Jennifer, played by Tawny Newsome (Space Force), gave Marty that simply said, "I love you." Considering we live in a rapidly increasing era of technology, perhaps the fuzzy reaction came from a place beyond just nostalgia for analogue teen communication.
Of course, nothing gets quite as fuzzy as Doc Brown's hair! The estimable Dr. Emmitt Brown was played by the hysterical Bobby Moynihan (Saturday Night Live). With every "Great Scott!" his head shook with excitement, his eyes demanded attention and his jaw dropped with astonishment. It was as if he had impersonated Doc all his life—and on this night he truly let his marbles go.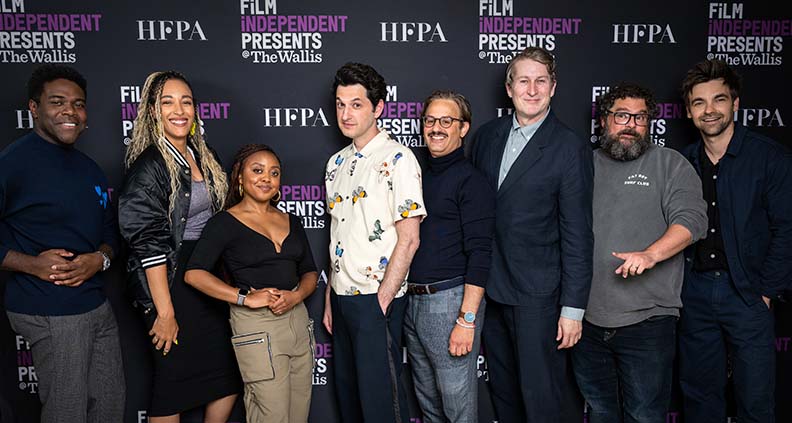 Sam Richardson's (The Afterparty) Biff Tannen had the right combination of mean and foolishness, fittingly contrasting the meekness of Drew Tarver's (The Other Two) George McFly. Their relationship was that of a seesaw, keeping everyone at the edge of their seats.
Another relationship that undoubtedly kept everyone at the edge was Marty and his mother Lorraine, played by Film Independent Spirit Award winner Quinta Brunson (Abbott Elementary). Brunson's swift character transitions between older Lorraine and younger Lorraine was nothing short of masterful, which alongside Schwartz's boyish humiliation and determination made for a series of hilariously cringeworthy moments.
As the reading went on, it was clear that the script had a few poorly-aged jokes that both the performers and audience acknowledged together. It was when the narrator read the description of Lorraine, "a 47-year-old-woman who was once attractive," that the audience let out a classroom "Ooo…" and understandably so—who wants to hear they were once attractive?! Aukerman then proclaimed: "I think 47-year-old-women are attractive. That's not in the script!"
Moments later there's another eyebrow-raising description of a character, "a buxom 14-year-old girl." This time it's more of an "Ohhh…" from the audience, the brief uncomfortability alleviated by Richardson, who jokingly got up from his seat and walked offstage.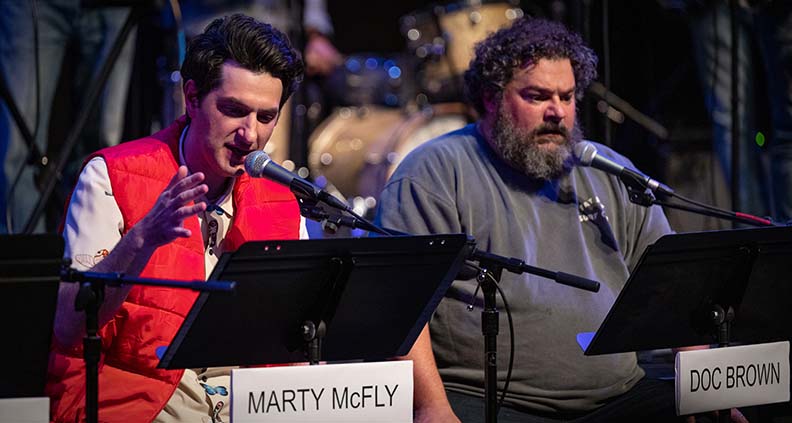 A highlight was in the scene where young George gets a visit from Marty disguised as Darth Vader to convince him to take Lorraine to the dance. The audience was naturally expecting a funny impersonation of the famous Star Wars villain by Schwartz. But what they got instead was something a bit out of left field—Bane. The voice is very distinct for sounding like running-out-of-oxygen, made famous by Tom Hardy in The Dark Knight Rises. It was a pleasant surprise, and the crowd laughed uncontrollably.
Some may argue it's a lot more difficult to play a variety of characters instead of a single or two. If that's the case Newsome and Gil Ozeri (Big Mouth) make it look incredibly easy. Newsome's matter-of-fact TV Newscaster voice at the beginning and her relaxed Starlighter member voice later on could not be more different, yet fully realized. As for Ozeri, his jump from loud passionate Clock Tower Lady to Dave McFly's goofy persona was pure sketch comedy.
A big thank you to the Wallis, HFPA, MUBI, and the entire Film Independent Programming and Events team for ending Film Independent's current season of Wallis programming with a plutonium-filled bang! Be sure to keep up with future Film Independent Presents Live Reads, screenings, Q&As and special events on our website.
Film Independent promotes unique independent voices, providing a wide variety of resources to help filmmakers create and advance new work. Learn more online and become a Member of Film Independent today.
Keep up with Film Independent…