Live Read Recap: Nick Kroll Hits the High Octaves as Tootsie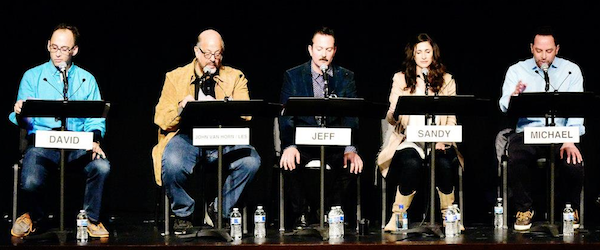 Elvis Mitchell, Film Independent at LACMA flm curator, prefaced this month's Live Read at LACMA's Bing Theater, guest directed by David Wain (Wet Hot American Summer), with a telling fact: Tootsie was the genius creation of about 14 different writers, he joked, who couldn't stand each other. Wain agreed with the "genius" description, as do so many other impassioned comedy devotees. When Jason Reitman offered him the opportunity to guest direct the Live Read, Wain quickly responded: "Yes! Tootsie!"
The film, directed by Sydney Pollack and written by Murray Schisgal, Barry Levinson, Elaine May, Larry Gelbart and Robert Garland, is one of the most successful American comedies in history. The American Film Institute voted the 1982 comedy the second funniest film of all time (first is Some Like It Hot) and it was nominated for 10 Academy Awards, 5 Golden Globes and numerous other accolades. Audiences loved the film, keeping it in theaters for 20 weeks straight and celebrate it to this day as one of the most quotable films ever.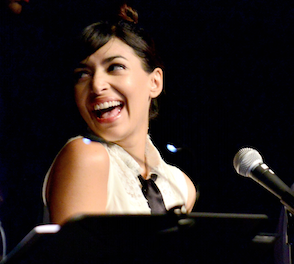 The plot revolves around Michael Dorsey (originally played by Dustin Hoffman), a struggling actor with a notoriously forceful personality who has failed to land a job in two years. Taunted by his agent George Fields, who deems him a "cult failure," Michael decides to dress up as a woman (Dorothy Michaels) to prove his agent wrong, landing a role in a cheesy but highly-rated soap opera. Viewers love Dorothy and when Michael falls for his cast mate Julie, complications and hilarity, obviously, ensue.
Nick Kroll (The League and Kroll Show), a seasoned Live Read participant, was center stage as Michael. It was Kroll's enthusiastic delivery of the film's manic dialogue—switching seamlessly between the high-pitched voice of Dorothy and the lower register of Michael—that made this Live Read such a thrill. Though the movie's humor relies so much on the visual transformation of Dorsey from man to woman, Kroll's performance and the intensity of the script rendered those visuals irrelevant—although Wain did offer a snapshot of himself dressed as Tootsie for Halloween several years ago before they kicked off the reading.
Adult Swim's Rob Huebel as Michael's agent, could not keep to his chair while bantering with Michael. He jumped up, he gestured, and more than once the audience responded with enthusiastic applause. It was obvious throughout the performance that this was a movie the invited actors were not only fans of, but it was a film they had studied, watched multiple times, and loved every minute of it.
By Diana Buendia / Marketing Assistant