Meet the Winners of the Someone To Watch, Producers and Truer Than Fiction Awards
You don't have to be the recipient of the Fast Pass privileges enjoyed by owners of low-emission vehicles on our lovely Southern California highway system in order to appreciate the benefits of a hybrid. In the juicy, plague-free years between the Spanish flu and COVID-19, the Film Independent Spirit Awards were, of course, enjoyed in-person—including an annual brunch to honor the recipients of the Emerging Filmmaker Grant Awards: the Someone to Watch Award, Producers Award and Truer Than Fiction Award.
Last year, in order to avoid transmitting coronavirus via a series of scrambled egg platters and carafes of mimosa, these awards were handed out virtually. Such is the case again this year—though the 2022 Spirit Awards ceremony itself is due to return to its home on the Santa Monica beach on March 6. Thus the "hybrid model" our tortured lede presently alluded to.
This morning, the first three awards of #SpiritAwards season were bestowed. Watch the entire presentation video below and keep reading to learn more.

"We can't wait to see what they do next," says Josh Welsh, President of Film Independent. "With the announcement of these three new Grant recipients, we celebrate some of the most talented emerging writers, producers and directors working today in fiction and nonfiction."
The winners are…

SOMEONE TO WATCH AWARD
Presented by Msangi, Alex Camilleri, director of Luzzu, received the 28th annual Someone to Watch Award, which recognizes a talented filmmaker of singular vision who has not yet received appropriate recognition. The award includes a $25,000 unrestricted grant. Finalists for the award this year included Michael Sarnoski, director of Pig and Gillian Wallace Horvat, director of I Blame Society.

PRODUCERS AWARD
Presented by Kim, Lizzie Shapiro, producer of Shiva Baby, won the 25th annual Producers Award, honoring emerging producers who—despite highly limited resources—demonstrate the creativity, tenacity and vision required to producer quality independent films. The award includes a $25,000 unrestricted grant. Finalists included Brad Becker-Parton and Pin-Chun Liu.

TRUER THAN FICTION AWARD
Presented by Bratton, Jessica Beshir, director of Faya Dayi, won the 27th annual Truer Than Fiction Award, presented to an emerging director of nonfiction features who has not yet received significant recognition. The award includes a $25,000 unrestricted grant. Finalists included Debbie Lum, director of Try Harder! and Angelo Madsen Minax, director of North By Current.

The Film Independent Spirit Awards are supported by Premier Sponsor IFC and FIJI Water, the Official Water. To join Film Independent and vote on the Spirit Awards, please visit filmindependent.org/join.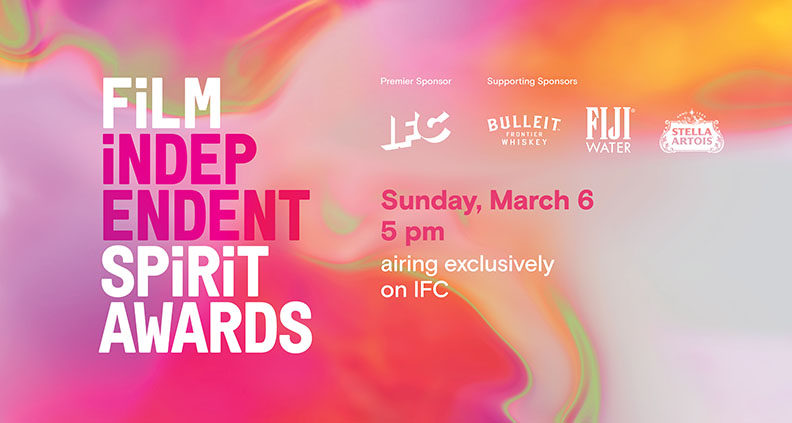 The Spirit Awards are the primary fundraiser for Film Independent's year-round programs, which cultivate the careers of emerging filmmakers and promote diversity and inclusion in the film industry. Support our work with a donation.
Keep up with Film Independent…