We The People: "We Got Receipts" and Why Inclusion Means Big Box Office
If, like us, you're the sort of movie fan who pours over box office numbers the way fantasy football owners pour over downfield completion percentages, then you've probably noticed some intriguing commonalities among several of 2018's top performing films. Like Black Panther, which to date has tallied a whopping $1.3 billion worldwide (that's billion, with a "B") worldwide, or Crazy Rich Asians, currently at $236 million worldwide against a thrifty $30 million budget.
With these hits has come a shift in Hollywood's conventional wisdom: that films with diverse casts and creators are succeeding not despite inclusive representation and themes but because of them. Such was the subject of the September 23 We The People Inclusion Summit panel "We Got Receipts: Black Panther and Beyond," appearing at the 2018 LA Film Festival.
Moderated by Kate Hagen, writer and Director of Community at The Black List, the panel featured Black List Founder Franklin Leonard, The Big Sick co-writers (and Film Independent Spirit Award winners) Emily V. Gordon and Kumail Nanjiani, filmmaker Kay Cannon (Blockers), writer Marc Bernardin (Castle Rock) and casting director Leah Daniels-Butler (Empire).
We The People took place over two days at the Writers Guild Theater in Beverly Hills. Watch the full panel below and read up on some of the highlights below:
WE GOT RECEIPTS
Bet on inclusion. "It was conventional wisdom that you couldn't sell diverse films, but [there weren't] any facts to support it, it was just assumed to be true," said Leonard. The lesson of Crazy Rich Asians, he said, was that the film "wasn't a risk in the first place." Later he said: "On a movie that's not about white men, always take the over on the [box office] projections—I've never been wrong," stating that so-called such films are continually underestimated.
Under pressure. The couple behind sleeper hit The Big Sick expressed concern that despite their success, films with non-white casts are still asked to bear the weight of entire communities. "It kind of scares me," said Nanjiani, "Each of these movies has so much pressure. What if Crazy Rich Asians wasn't good or wasn't successful?" Observed Gordon: "Movies that are predominately white/male/cis aren't under the same microscope."
Widening what "diversity" means. The panelists were also critical of Hollywood's narrow view of diversity, usually boiled down to broad pillars of race and gender. "One of the most surprising things for me was how myopic people's views of diversity could be," said Bernardin, who called for "widening your gaze on what can be diverse"—eg, not just "Asian," but South Asian, East Asian, etc. Said Daniels-Butler: "There are so many things that actors come up against—[actors who are] handicapped or transgender—everyone should see themselves reflected onscreen."
Let the bastards fail. Leonard had a blunt message for power players dragging their feet on becoming part of the solution. "My thing is, if you don't get diversity or inclusion, if you don't get equity, then please make as many non-inclusive decisions as you can as fast as possible," he said, "so that you'll lose your job or run your company into the ground—and people who do get it can replace you."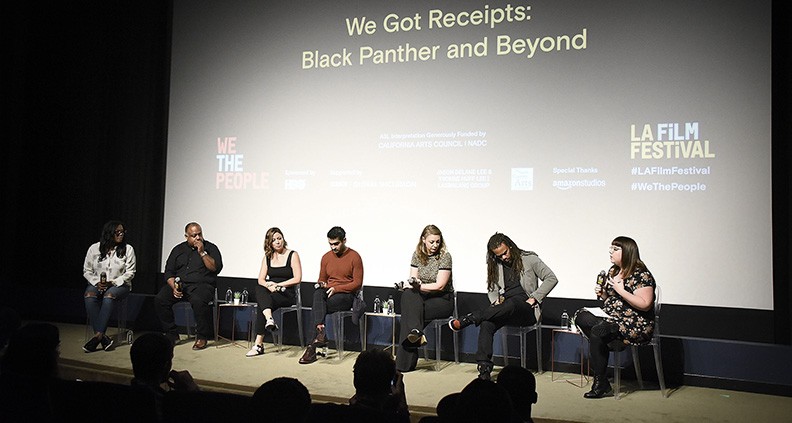 Casting a wider net. To her surprise, Cannon said she actually received a directive from studio brass to make sure Blockers was appropriately diverse—which she was thrilled about. Said Daniels-Butler: "The studios I've worked for, they all have some sort of diversity something," she said, though regarding studio inclusion initiatives—particularly for writers—Bernardin observed: "Baby writers are paid for by the studio. The next yeah, uh oh, now they cost [the show] something," and that such writers often have trouble advancing to the next level.
More platforms, more opportunity. Daniels-Butler noted that there's been far greater exploration of non-traditional audiences and talent on emerging digital platforms and in original content for streaming services. Said Gordon: When you're doing something for streaming, you're able to take more risks because you don't have the overhead." She added: "My hope is that streaming is where we're workshopping things and seeing what people like."
The trickle-down theory of Hollywood economics. "Every freelance black journalist I know has never been busier than they were between February and March," said Bernardin, on to the explosion of commentary and content wrought by Black Panther's blockbuster early-year release. And while he's glad to see more black writers lending their voice to the conversation, he said, "We need black journalists to write about black movies, but they [the outlets] shouldn't forget about them when there are no black movies out."
The lucrative side of identity. "There's a sense that if a movie does well, it does well in spite of having a person of color as a lead," said Nanjiani. "Which is why I like that Black Panther and Crazy Rich Asians are proclaiming what they are and huge hits. We should have named our movie The Big Brown Sick," he joked. "We would've made 100 million dollars!"
For more information about upcoming Film Independent events, click here. To learn more about our Film Education programs, click here.
Learn how to become a Member of Film Independent by visiting our website. The 2018 LA Film Festival took place September 20-28. See more of Festival coverage on Film Independent's  and YouTube channel.