Member Lens: Mye Hoang on Wrangling 'Cat Daddies' and Directing Her First Feature
In our Member Lens series, we're spotlighting a cross-section of current Film Independent Members to see how they got where they are now, what they hope to do next and what being a part of Film Independent means to them. This profile of Mye Hoang originally ran in 2021. The documentary Cat Daddies is now available for rental on all major platforms.
May is for Members! This week only: 10% off General Membership. This month, we're celebrating our Membership experience for filmmakers and film lovers all over the globe. All month-long you can enjoy an array of special discounts on Membership. This week, you can join and save 10% on all levels of General Membership. Join or renew today!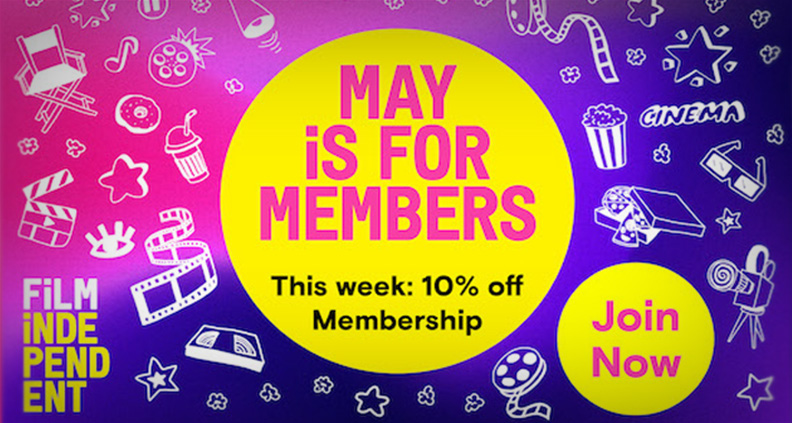 There's something unique about the bond between a man and his cat. At least according to filmmaker, festival programmer and Film Independent Member Mye Hoang, whose new documentary feature Cat Daddies seeks explore themes of evolving gender roles, animal companionship, feline overpopulation and—by necessity—disaster response; to both the ongoing COVID-19 pandemic, as well as last year's devastating California wildfires. Pretty weighty stuff for what was initially intended as a lighthearted portrait of dudes and their kitties.
Originally from Dallas, the now LA-based Hoang has been deeply enmeshed in the independent film world since she was a teenager, working at art house theaters and founding the Asian Film Festival of Dallas (AFFD). Eventually, she began co-producing an array of microbudget indie favorites, including 2015 John Cassavetes Award nominee Man from Reno and 2020 SXSW premiere I Will Make You Mine—the final installment of a trilogy begun with Reno director Dave Boyle's Surrogate Valentine (2011) and Daylight Savings (2012).
We recently spoke to Hoang about how her interest in film developed, her first feature as director and the importance of responding positively when unexpected challenges arise during production. Here's the conversation…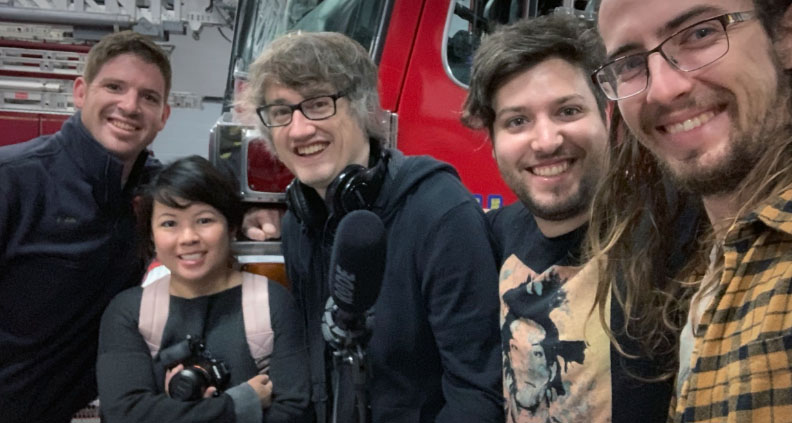 To start, how you first began to develop an interest in filmmaking?
Hoang: I grew up in Texas with very strict parents who immigrated from Vietnam before I was born. They had lived through war and were always concerned about my safety, so there was very little that I was allowed to do. Growing up, my parents didn't really encourage sports or outdoor activities, but they did allow us to go to the movies. So going to the movies has been a big part of my life—and that's where it started.
Did you study filmmaking at any point?
Hoang: I studied film at SMU in Dallas, close to home. I also worked at the local art house movie theater, starting in high school. So a big chunk of my life was just being immersed in cinema. I was always making movies with my friends, and I knew that was what I wanted to do with my life—just something pertaining to film. My parents didn't exactly approve, but I did it anyways. I also founded the Asian Film Festival of Dallas, showing these Asian international box office hits along with these independent Asian American films.
Oh wow, I didn't know you did that.
Hoang: Yeah! I actually started that right out of college as a way to bring films to town that no one else would. This was back when Wong Kar-Wai was in his heyday and most moviegoers were like, "Why would I want to read a movie?" Subtitles are a little more accepted now than back then. And in regards to Asian American filmmaking, prior to AFFD, hardly anyone in Dallas knew that it existed or what it meant to be Asian American. That film festival is still running—its 20th year. So I was a curator for film for a long time. And I only dabbled in filmmaking. You know, we have our survival jobs and we make what we can; I was making shorts and I helped produce a lot of microbudget features.
How did you start producing? What are the key skills you feel you developed in that role that you've taken into your projects as director?
Hoang: I got on board starting with Man from Reno and then I Will Make You Mine. Actually, being the director of a film festival really helped prepare me to produce, because you're basically just a nonstop problem-solver; there's just so much you learn along the way. It's all events planning, really. Most of the hard work is done before you shoot the movie.
Is that how you became familiar with Film Independent?
Hoang: I had friends that had been through some of Film Independent's programs. It always seemed like Film Independent was inclusive even before it was the cool thing to do. And then especially with [Film Independent's] interest in Man from Reno, first with the LA Film Festival and then through the Spirit Awards. All of that really helped us tremendously. So I became a Member and I've really enjoyed all of the perks of Membership.
Is there one particular Film Independent service or event that sticks out as your favorite?
Hoang: I would always go to the screenings for the Spirit Award nominees. That was really cool—just night after night and seeing the same people in the audience, again and again. I just felt like I was part of a community. It's something that we've not had the benefit of this past year, but that hopefully will come back.
As far as what you're working on now, tell us about the documentary Cat Daddies.
Hoang: I've always been a cat lover, and my husband was not—not even a little bit. But then a cat walked into his life and that completely changed. At the same time, there was just this surge of internet cat activity. And if you follow any of these accounts or the catdad hashtag, you'll see images and images of men with their cats. And, like many other people, I found that this sparked joy in me. I was looking at my husband becoming this cat guy, and I thought, "How many other guys out there don't know they're a cat guy?" So I wanted to make a film to explore masculinity and gender roles and how some of these things are changing. I was thinking maybe it would help break some of the stigma around men owning cats, and at the same time help with the cat overpopulation problem we have. That's how the movie was born. And also Kedi, the Turkish documentary, proved that there was an audience out there, so I wanted to make this documentary for the big screen to bring people together.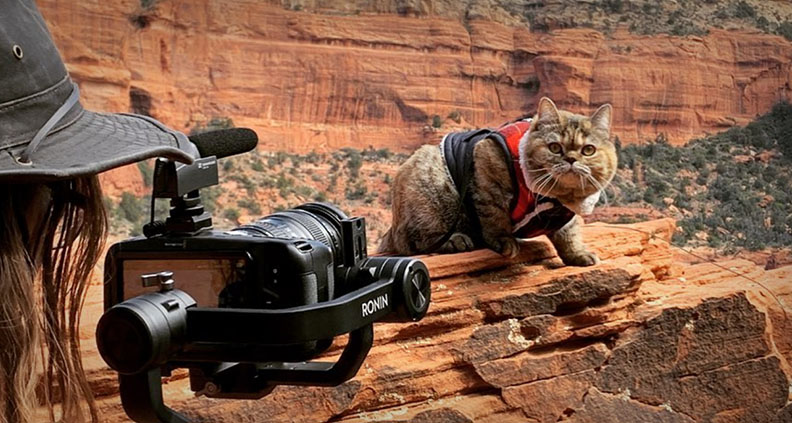 I heard that once you got underway shooting the project went in some unexpected directions. Tell us about that.
Hoang: I had plans from the beginning to make a very light, funny film—knowing at the time that things would probably change. And that's exactly what happened. I was somewhat prepared, but I still had to deal with letting go of what the original vision was. Basically I cast the whole movie, and we'd been shooting off and on over a period of, like, six months. Then the pandemic hit and there were shutdowns and subjects who we couldn't travel to because they were international. There were some [subjects] that fell out of the project; all these things that were happening, I just don't think they were in the mood any more—police brutality, civil unrest and on top of that the wildfires on the West Coast.
I can understand, totally.
Hoang: We just ended up shooting more of one of the stories, and we went in a little bit of a different direction with the movie as a whole. So although I wanted a film that was timeless, it actually became more of a time capsule. But I think we made it work, tonally. We just kept going and we made a really good movie. We're finishing post now and it will be ready for the world later this year.
Last question. Why do you think it's important that people support an organization like Film Independent?
Hoang: It's always been important to me. We see now what happens when filmmakers don't have a platform or a venue accessible to showcase their work. Without those screenings and those audiences, filmmakers can't work on their craft. These organizations are more important now than ever, because the screenings that an organization like Film Independent does, that might be the only way that a filmmaker can see their work with an audience.
Film Independent promotes unique independent voices by helping filmmakers create and advance new work. To become a Member of Film Independent, just click here. To support us with a donation, click here.
Keep up with Film Independent…
(Header: Cat Daddies)