Old v. New: Evoking Classic Hollywood in 'Allied' and 'Casablanca'
In our regular feature Old v. New, Kimberly Marcela Duron compares a newer independent release with an older classic to see what similarities they share, how they diverge and hear what the conversation between the two films says about filmmaking as the art form continues to innovate and evolve.
***
When you think of the Golden Age of Hollywood, perhaps the most iconic film that comes to mind is 1942's Casablanca. Countless films across the following generations have paid homage to Casablanca, either by quoting it directly or by taking inspiration from its visual aesthetic or plotlines. But perhaps no film homage has gone quite where director Robert Zemeckis has in his 2016 period romance, Allied.
In fact, the whole first act of Allied takes place in Casablanca itself and the film is riddled with nostalgic nods to its predecessor, including a glamourous gin joint (though not Rick's Café Américain), a bustling marketplace and the spark of a star-crossed relationship set against the backdrop of WWII. Canadian spy Max Vatan (Brad Pitt) literally parachutes into his mission in the French Moroccan city, where he must pretend to be Marianne Beausejour's (Marion Cotillard) husband. Both are undercover operatives tasked with carrying out the assassination of a German ambassador. But in pretending to be Marianne's cosmopolitan spouse, Max slowly begins to fall for her, and (presumably) vice versa.
While their love story begins much differently than Rick Blaine and Ilsa Lund's romantic Paris affair, Max and Marianne's initial meeting is still evocative—what could be more "classic Hollywood" than a close-up of a man seeing a woman for the first time in a crowded room, intercut with a shot of said woman catching his stare, sparkling eyes and all? In Casablanca, director Michael Curtiz's uses the chance reunion between Rick (Humphrey Bogart) and Ilsa (Ingrid Bergman) to tell the story of a man overcome with regret about the past, while Robert Zemeckis uses the same ingredients to tell the story of a man exposed to his present and the promise of a possible happy future.
Once Allied's plot has been set up we break into Act Two. Max proposes to Marianne in the getaway car after blowing up the German ambassador's party, and Casablanca is left behind as the couple relocates to London and has a baby girl. However, the similarities to Casablanca have only just begun. For starters, Pitt's portrayal of a Canadian intelligence officer coping with the pressures of world war give him the same semblance of world-weary stoicism that Humphrey Bogart maintained throughout Casablanca. Eventually, though, Max is tipped off about his wife potentially being a German spy. This is where Pitt departs from the classic Hollywood "suave gentleman" archetype and loses his cool, transforming to a more modern cinematic hero—one who gets his hands dirty in the name of the woman he loves.
On the other hand, the femme fatale (of sorts) in each film differs quite drastically. Marianne is much more assertive in taking the lead in her and Max's mission. She's capable with guns, wears pants and is not restrained in her sexuality. There's a depth to her character that far exceeds what is explored in Casablanca, where Ilsa is a quiet hero who lets loyalty and love speak for her. This is a small sign of the progress in female characterization in modern movies, where being an innocent and wholesome is no longer the only way to portray a sympathetic female protagonist.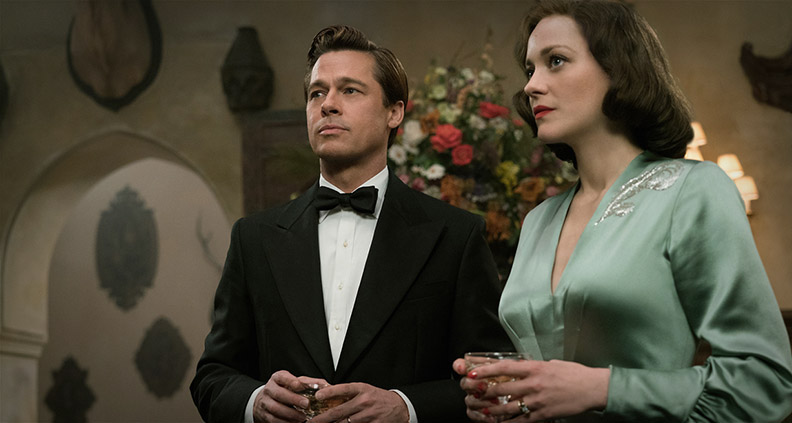 Aside from the characterization of its leads, all the textbook bullet points of classic Hollywood are in evidence in Allied: three-point lighting, the camera perspective almost always being from a characters' implied POV, linear continuity editing, etc. One stylistic choice that works well in moving Allied's story along was the use of mirrors, from the rearview mirror in Max's first ride into Casablanca to the mirror through which he first sees Marianne undress, to the three-part mirror in their London bedroom. Each of these shots gives some insight as to what the character seen in them is feeling in the moment. The bedroom mirror is key in relaying the subtext of trust in their story. In Casablanca, Curtiz opts more for more shadows, though one particular scene does show Ilsa and her reflection in a mirror, almost as if to show her divided love for the two men competing for her.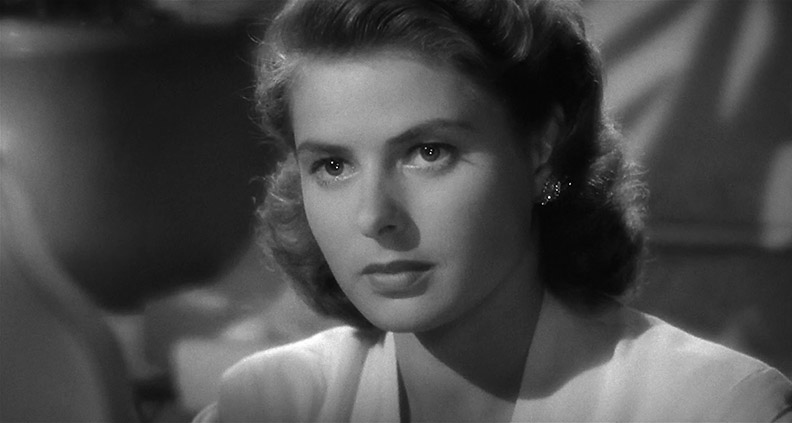 There are other subtle (and not so subtle) similarities between Allied and Casablanca, such as a nod to the infamous "Le Marseillaise" piano scene in the pivotal moment between Max and Marianne, or the film's final scene, which also involves a plane and an officer who is willing to lie to help the hero out in a final moment of empathy. It may not be "the beginning of a beautiful friendship" but it's a moment of friendship nonetheless.
But ultimately, what makes Casablanca a classic Hollywood film isn't going to make Allied a classic Hollywood film. That golden era is gone, and the era of CGI and 4K is in. The characteristics that make Michael Curtiz's film so successful owed in large part to the zeitgeist of the times: an anti-German romantic propaganda film doesn't bear the same weight or significance in 2016. But Zemeckis did manage to weave modern elements into his Hollywood homage, like a lesbian couple whose open relationship goes unquestioned, a male lead who shows emotion (and even cries) and a female lead whose faults are the very things that make her more heroic. Mix all of the above with smooth and distinctive cinematography and an engaging musical score, and you've got yourself an old-school Zemeckis success.
---
To learn more about Film Independent, subscribe to our YouTube channel or follow us on Twitter and Facebook. You can catch up with the rest of our blog here. To learn how to become a Member of Film Independent, just click here.