"Let's Dream Big—This is Our Time!" Recap of the 2023 Film Independent Spirit Awards
Watch a full rebroadcast of the 2023 Film Independent Spirit Award livestream on our YouTube channel.
***
Under intermittently overcast skies on a late-wintry afternoon that thankfully warmed up once guests arrived for the pre-ceremony cocktail reception, the 38th Film Independent Spirit Awards returned to the beaches of Santa Monica. Inside the giant white tent adjacent to the Santa Monica Pier, we were there to honor the crème de la crème of independent films made under Fi's $30M budget cap.
With Fi's Artist Development celebrating its 30-year anniversary, one of the networking tents was dedicated to spotlighting success stories birthed from Film Independent's various programs, including the Directing Lab, Project Involve, Fast Track, Documentary Lab, Global Media Makers and many more.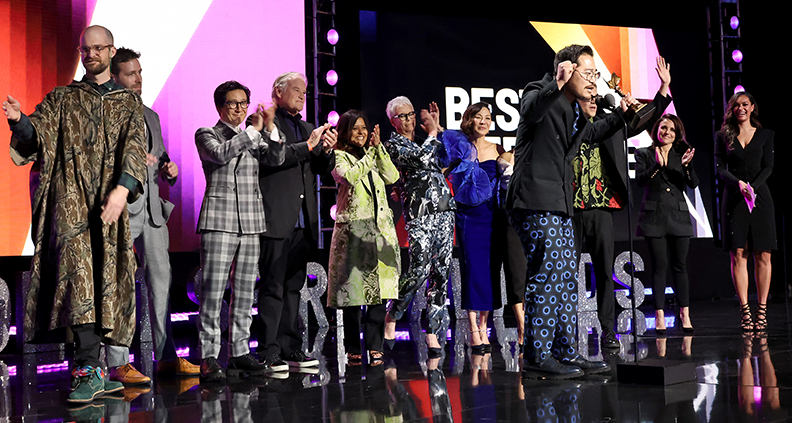 Bulleit Frontier Whiskey was back with several stations ("Yay!" to open bars) along the converted parking lot on the pier. And for guests who needed some caffeine to power through the exhilarating hours to follow, there was a coffee station dishing out killer lattes and mochas decorated with the #SpiritAwards logo on the foam. Prior to this year, the most Spirit Award trophies that any film had walked away with were six, and the few films to have that honor are: Moonlight, Sideways and Pulp Fiction.
But this year, not unsurprisingly, the undefeated award season juggernaut that has swept all the awards in its path all season—the absurdist sci-fi dramedy Everything Everywhere All At Once—had taken home a grand total of seven prizes by the time the 2.5-hour ceremony was over, including Best Feature.
But first, let's get to first-time Spirit Awards host Hasan Minhaj's monologue, that dished out his brand of hilarious and unflinchingly blistering observations on just about every facet of life; this time, his attention is laser-focused on indie filmmaking.
The Daily Show alum first took aim at this year's lack of a broadcast partner for these Spirit Awards, which was streamed live on IMDb's YouTube and across other social platforms, including Film Independent's own YouTube channel and Twitter.
"We're doing this super independent—we literally don't have distribution," the two-time Peabody Award-winning comedian deadpanned. Elaborating on the former broadcast partner, he added: "Let me reiterate how bad this is: the Independent Film Channel did not want the Independent Film Awards!"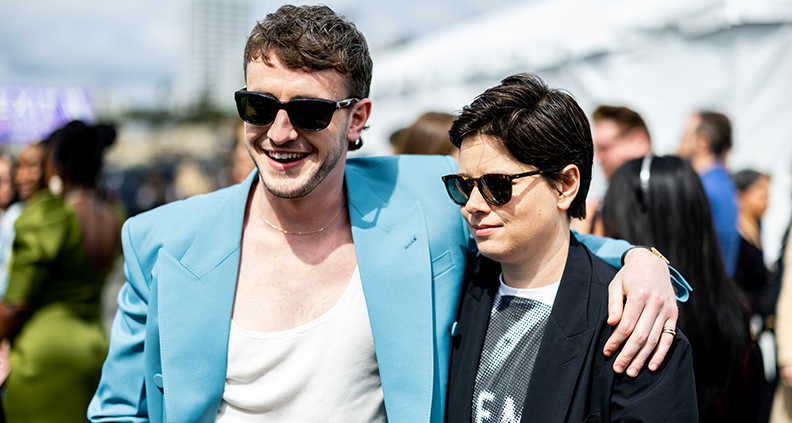 Poking fun at the famously low-key Spirit Awards, Minhaj continued: "When you all told your parents you wanted to move to L.A. to make it, this is their worst nightmare—they were afraid you would end up in a tent with a brown man with a webcam!"
This year's Spirit Awards is one of the few awards shows stateside that have embraced gender-neutral acting categories. For his part, Minhaj is thrilled about this trend: "For the first time in history, all the men will know how all the women feel when they find out they are competing against [Best Lead Performance nominee for Tár] Cate Blanchett."
The first presenter of the afternoon—Best Lead Performance nominee for Emily the Criminal, Aubrey Plaza—also joined in on the jokes about this year's lack of broadcast partnership. In fact, she thinks we should up the ante next year. "That's right. Next year, no cameras! No crew! And the award itself is a dixie cup with broken glass that we should all take a sip from!"
The first award of the afternoon—Best Supporting Performance—went to Everything Everywhere All At Once's Ke Huy Quan, who thanks directors Daniel Kwan and Daniel Scheinert and the producers for making it so that everyone in the production felt equally important. "In that spirit, I want to show my love for our crew members. I wish to name all of them but today, given that we don't have the luxury of time, I want to mention a few names. I want to thank Jenny Choi, Logan Laskarzewski, and Connor Mutter and all of our production assistants."
Backstage, Quan revealed that when he had stepped away from acting for a few years, he went to film school, which—along with having worked as an A.D., boom operator, and other crew on set—opened up his perspective about what it truly takes to make any film. "Before when I went on set, I only saw my fellow actors, director, producers. But now when I walk on set, I see everybody, the production assistants, that's why I wanted to thank them today. They are the unsung heroes of our movies."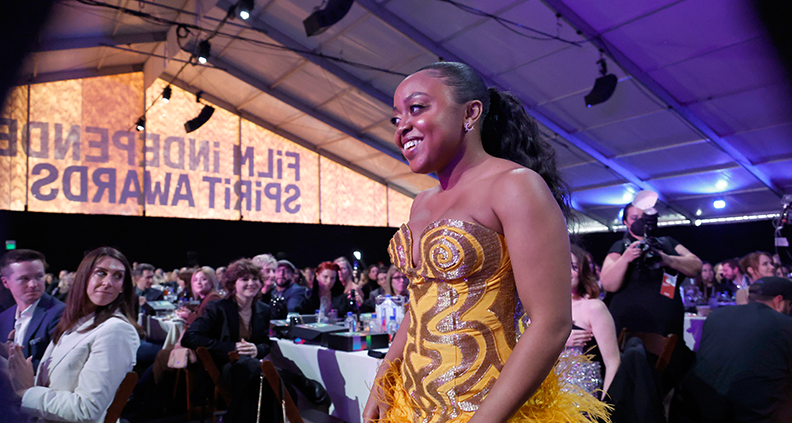 A nominee this year for doc series We Need to Talk About Cosby, W. Kamau Bell presented the Best Documentary prize to All the Beauty and Bloodshed, which centers on photographer and activist Nan Goldin's efforts to hold the Sackler family and Purdue Pharma accountable for the opioid crisis in this country.
Grateful for the opportunity to make such an impactful film, director Laura Poitras thanked the creative community as a whole: "The great artist and writer David Wojnarowicz talked about the concept of pre-invented existence, which is the world that we were born into. What every artist in this room does is to reject that existence and make a different world. So, thank you."
Accepting the Best International Film for Pakistan's transgender love story Joyland, director Saim Sadiq was especially grateful for all the people who backed the film, including British-Pakistani actor Riz Ahmed and Pakistani female education activist, Malala Yousafzai.
"To support a film from Pakistan that's in Urdu and Punjabi that talks about what this film talks about. It was easy for me to say I want to make the film, but perhaps pretty hard for them to put their might behind it. They deserve so much credit for it." Backstage, he also imparted the notion that "if a film isn't divisive, it probably wasn't saying much."
After Ayo Edebiri won the Best Supporting Performance in a New Scripted Series for her role in The Bear, the FX networks dramedy series went on to score the Best New Scripted Series prize. The Bear team was especially grateful for the Chicago culinary community. "Thank you to the entire restaurant community, we wouldn't be able to do this without you. [Thank you to the] front of house, back of house, all the chefs, the restaurateurs."
Winning the Best First Screenplay prize for Emily The Criminal, writer-director John Patton Ford gave a special shoutout to lead Plaza for taking a chance on him. "Aubrey Plaza could've done whatever she wanted to do. Instead, she spent 20 days in August in 100-degree heat making this insane movie for zero money with some rando. And it's character like that that is the entire reason that independent movies exist. So, thank you!"
After accepting the Best Editing prize for Everything Everywhere All At Once, editor Paul Rogers came backstage to credit his assistant editor Zekun Mao, who was instrumental in helping him keep track of everything in the wide-ranging metaverse-centric story. Working on the film one week into the COVID-19 lockdown with a two-year-old son, he was grateful that the Daniels fostered an environment that was conducive to worklife balance.
"It's an incredible thing when the people you work with want to make a better place, instead of just getting something across the finish line."
Working on the film during a time of collective isolation, tension, nihilism, cynicism, and longing in 2020 helped make it what it became. "This film is all about that stuff. So, this film sort of helped us redirect the nihilism as a weapon for good and hope."
Director Nikyatu Jusu won the Someone to Watch Award, now in its 29th year, for her work on the psychological horror Nanny. Backstage, she went into why she loves working in the horror space: "Horror is a conduit to the truth in the way that other genres don't allow you to tell truths. We're all navigating the monsters within us and the monsters in society, so I love staying in this genre and staying true to humanity."
When asked what she thinks about where inclusion efforts are as it relates to the awards landscape, Jusu would prefer not to focus on "which minoritized group white people choose each year as their favorite. We need to think about sustained change as opposed to who's let in when. But I'm very excited for the people who got the platform this year."
Created in 2008 in honor of iconic director Robert Altman, the 15th annual Robert Altman Award was presented by Spirit Awards alum Marisa Tomei to the ensemble cast of Women Talking, a film also nominated in three other categories: Best Feature, Best Director and Best Screenplay.
Casting Director John Buchan took to the stage first to thank Film Independent for including casting directors in this award. Before thanking novelist Miriam Toews for her "searing bullet of a novel," writer-director Sarah Polley was especially moved by her cast for working immaculately together: "Watching the way this group of people supported and helped each other and worked as a collective changed my feeling about the world and what we're capable of as human beings."
With the budget cap increased from $500,000 to $1,000,000 this year, the John Cassavetes Award went to The Cathedral, which writer-director Ricky D'Ambrose and producer Graham Swon made with just $200,000. Recalling the first film he made with D'Ambrose several years ago for only $27,000, Swon dedicated the award to "everybody who is making a movie right now for under $200,000. Keep making them!"
Aside from Quan and Rogers above, Everything Everywhere All At Once also went on to nab the prize Directing, Writing, Best Lead Performance for Michelle Yeoh, and Best Breakthrough Performance for Stephanie Hsu, culminating in the Best Feature trophy.
Co-director and producer Kwan praises the scrappy nature of independent filmmaking as a strength because that makes it easier to be flexible and nimble in an industry fraught with constant change, whether it be the streaming vs. theatrical battle, pay inequities, or tough working environments that are often not family-friendly. "What we do here flows upstream to the rest of the industry. We have a special power."
Kwan also acknowledges the sense of uncertainty and identity crisis permeating the indie space these days. But he offers a way to reframe the crisis.
When things are turbulent, "it is the best time to plant seeds. It is our job not just to adapt to the future but also to actively dream up what kind of future we want to rewrite, what kind of future we want to be working in. How can we make a movie set more human-friendly? Can we get to net zero on a film set? I don't know, but let's dream big! This is our time to do it."
For more on this year's Spirit Awards, check out the complete list of winners and revisit your favorite #SpiritAwards moments on YouTube.
Keep up with Film Independent…
(Header: The team behind Everything Everywhere All At Once after winning a record seven Spirit Awards prizes.)