'Shot in the Dark' Filmmakers on Doc Film Post-Production and Their $50K Grant
When you hear the words Chicago, basketball and documentary spoken in tandem it's impossible not to think of Hoop Dreams, Steve James' iconic 1994 chronicle of prep school b-ballers on the Windy City's South and Near North sides. Now, an analogous portrait of young athletes has emerged, separated by just 23 years and a slight shift in geography. The film: Shot in the Dark, director Dustin Nakao Haider's upcoming feature about the West Side's Orr Academy.
Produced by Daniel Poneman, Daniel Dewes and Derek Doneen (Haider, Dewes and Doneen are 2015 Fast Track and 2016 Documentary Lab Fellows), Shot tells the story not just of a single team, coach or school, but of an entire neighborhood.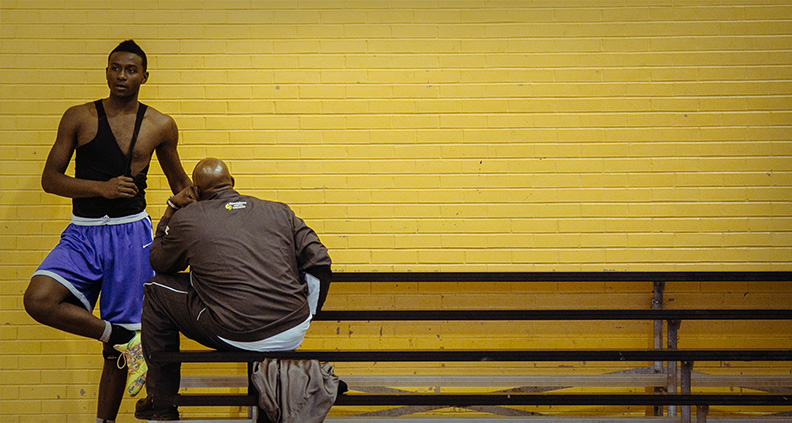 The film (yet to be released) was last year's recipient of Film Independent's yearly EFilm | Company 3 Feature Film Grant, which awards $50,000 in color correction and digital intermediate services to a qualified Film Independent Fellow.
The deadline to apply to receive this year's grant is October 2, so you still have plenty of time to submit your project—learn more here. We recently spoke to Haider about the film, the production process and what role color correction played in creating the look and mood for this remarkable story. Here's the conversation:
SHOT IN THE DARK
Tell us about Shot in the Dark.
Haider: Shot in the Dark is a coming-of-age story centering around Tyquone Greer, a high school basketball star on the West Side of Chicago. Under the tutelage of his coach, Lou Adams, Tyquone hopes to bring a championship to the historically mediocre Orr Academy Spartans. The film follows Tyquone as he navigates the structural limitations impeding him from achieving his goals. The summer I graduated from NYU, I knew I wanted to make a short film around the high school basketball scene in Chicago. So I reached out to Daniel Poneman, a basketball scout who ended up being a producer on the film, and he sent me a list of players I thought might be a good fit. Tyquone's name jumped off the page. Six years later here we are!
Why did you feel that it was important to tell this story?
Haider: Living in New York City, I've seen two pervasive media narratives engulf the city of Chicago. On one hand, there's this "Golden Age of prep hoops" that started with Derrick Rose and then extended to Jabari Parker, Anthony Davis and countless others—these neighborhood heroes who've become larger-than-life superstars. On the other hand, there's the coverage of the seemingly endless gun violence that's strangled the South and West sides—the same neighborhoods where these basketball stars were being born. Our film sits at the cross-section of these two narratives.
Tell us about building your filmmaking team.
Haider: At the outset we had a modest team that consisted of just myself, Daniel Poneman and our cinematographer, Ben Vogel. However, as we transitioned into post my longtime collaborator Daniel Dewes came on board, as did Derek Doneen. From there we connected with Michael Gottwald and Josh Penn, who have been our mentors and filmmaking big brothers throughout the entire process. Then, after about 16 months of searching, we partnered with the Los Angeles Media Fund, LAMF, headed up by Jeffery Soros and Simon Horsman. Their partnership has allowed us to not only make the film that we wanted to make, but also to do it in the right way.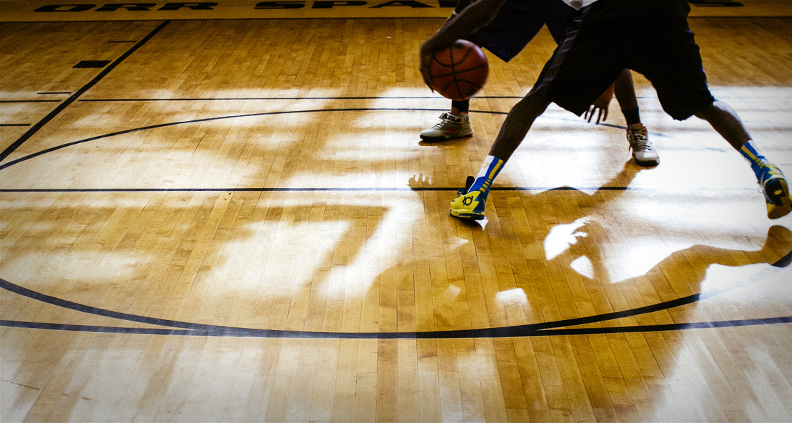 When you began post-production, did you imagine you'd be finishing at EFilm? How did this come about?
Haider: No, I never thought we'd be able to collaborate with EFilm on finishing the film [laughs]. In the summer of 2015 we participated in Film Independent's Fast Track program, which is also where we first met LAMF. There's honestly no way we would've ever made it this far had not been for their [EFilm's] guidance and help throughout post. So it was through Film Independent that we got wind of the grant, we applied and were lucky enough to win!
Did you or your DP have ideas about how you wanted the film to look?
Haider: Despite the perceptions of Chicago's West Side, my DP and I found a lot of beauty within the city. Our goal was to capture that natural beauty and elevate it cinematically, whether that was the lush landscapes of the summer or the cool blue of the lonely, isolating winters.
What documentaries would you say have inspired the look of Shot in the Dark?
Haider: Stylistically, my DP introduced me to Les Blank's The Blues Accordin' to Lightnin' Hopkins which we both love for its fluid naturalism and beautiful long takes. Then there are the classics Harlan County, USA and Paris Is Burning. They're both great examples how to capture a place. And of course we wouldn't be anywhere if it weren't for Hoop Dreams or Undefeated, which are both first ballot hall-of-famers in the Sports Doc Hall of Fame.
How did the final color treatment take shape? What was it like collaborating with EFilm?
Haider: Collaborating with EFILM/Co3 was an absolute dream come true. We somehow were able to pry the talented Drew Geary away from Transformers and Planet of the Apes to come work on our little film and he made or lives so much easier. We had a great creative conversation ahead of our session with Drew. He totally understood what we wanted to accomplish. Together through color treatment, we helped turn the gym into a sanctuary and took the harrowing Chicago winter and connected it to Tyquone's own struggles. By being awarded the EFILM Feature Film grant, we were able to allocate some of our budget back towards the edit. Documentary editing is not all that different than writing and we needed to take the extra time to really hone and craft the story. To give our film the type of professional care and attention that we got through EFILM was truly special. The entire style and feeling of the project was elevated to a level I don't think we ever expected.
What do you feel is the biggest misconception independent filmmakers have about color finishing?
Haider: I feel like independent filmmakers are often so focused on immediate tasks at hand, like camera choice or finding the right editor or whatever the case may be. Choices that are, of course, super important, but mean that color might end up being an afterthought. If I've learned anything, it's that color is what brings everything together. It's the final step to congeal the style and world you're trying to create, so it's important to make sure it's a priority!
Where can people watch the film?
We're gearing up for some festival appearances in the fall and are hoping for a wider release after that.
---
To learn more about the film, click here. Learn more about the EFilm | Company 3 Feature Film Grant, including how to apply, by clicking here.
To become a Member of Film Independent, please visit our website. No tryouts or speed trials—we just want you on our team!