'Lowriders' Opens the 2016 LA Film Festival: Star Theo Rossi Talks Indie Film, Family and Festivals
Actor and filmmaker Theo Rossi is probably best known for playing "Juice" on the hit TV show Sons of Anarchy. But beyond his work on the long-running FX series, the Staten Island native is no stranger to complex characters, as demonstrated by his performance as prodigal son "Ghost" in the East L.A. family drama Lowriders, which premiered Wednesday as the Opening Night film of the 2016 LA Film Festival at the ArcLight Cinemas Cinemrama Dome in Hollywood.
Rossi's work in Lowriders and elsewhere proves he's the quintessential indie actor. Throughout his career, Rossi has gravitated toward roles that allow him to tell the "intimate" stories he wants. Back home in New York, Rossi has cultivated a community of likeminded "blue collar" collaborators he knows and trusts, working together with his team on a variety of creative ventures.
This circle of trust helped Rossi to produce and star in Bad Hurt through his new production shingle Dos Dudes Pictures—an experience which also gave Rossi insight to why actors should also consider themselves filmmakers, the benefits of working within your inner circle and the utter importance of Film Festivals.
Rossi recently spoke with Film Independent about what these indie roles mean for his career, making Lowriders, why he gravitates toward stories revolving family—makeshift or otherwise—and why he sees Sons of Anarchy as an independent film.
---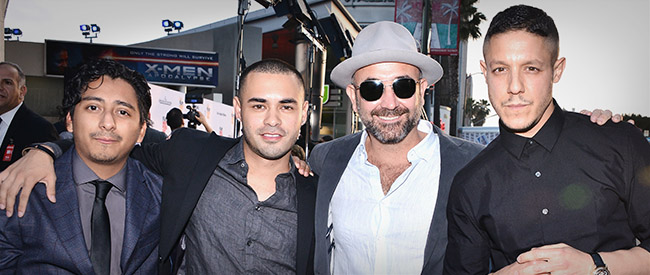 So as you know, we're showing your film Lowriders at the LA Film Festival. Could you tell me a little bit about what drew you to this particular project?
My manager passed it on. I was on the final season of Sons of Anarchy and he passed me the script. Everyone says this—and it's about to drive me nuts that I'm about to say it—but it was like nothing I'd ever read at that point. Again, everybody says that. But it really was. For someone like me, who was a car and motorcycle guy and kind of living in LA at that point, I knew the lowrider community and how it was very similar in a way to the motorcycle community. I was knee-deep in the motorcycle community with Sons of Anarchy, and I've always been intrigued by subcultures. With Lowriders, I thought it was so cool that they're looking into this culture—and then I was like, "Oh my God, it's really about the relationships of the family."
How do you think those kinds of familial bonds are borne in those kinds of cultures and environments? What do you think creates those connections? 
I think it's a love for a specific thing. That commonality. We're so all over the place now, there are so many things being thrown at us. Very rarely are you involved in a group where there's just this one thing you have a common interest in. It's almost like back in the day with stamp clubs or rotary clubs, or whatever they are. Whenever you find this common group, it's like one huge part [of making a connection] out of the way. It's like, "I'm into this and you're into this, great!" And when there's family involved, it's like this whole other level. It's also cultural history. [The lowrider community] is really is borne from the culture, and that's really even a stronger part of this all. So I think that commonality, but also that specific love. When you have a love for something it can, you know…you hope it goes great, but it can also go a little sideways at times.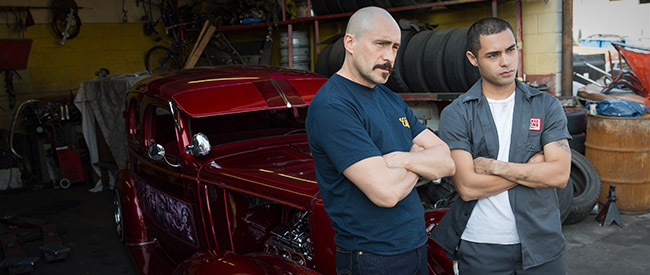 Sons of Anarchy was a major show. Can you describe the difference between acting in a major show like that versus some of the independent film work you've done? 
It's funny. I've said this from day one and I don't think it's ever changed, but Sons of Anarchy was an original independent film. I think it was an independent film from the first day we shot to the last day we shot. You know, we'd shoot our episodes in not that many days—we were just hammering them. It felt to me always like there was absolutely no difference.
There's clearly something that attracts you to that grittier independent world. Do you have any idea of what that is?
I think for me it's always about the realism of it. We get to tell intimate stories. With certain independent stuff, the reason why it's probably independent is because you get to tell intimate stories. Those stories really appeal to family and relationships and differences. Usually they're based in some kind of anger, and there are a lot of issues you have to deal with that you might not get to touch on in more mainstream stuff—you've got to be careful because you're trying to appeal to a broader audience.
When you're trying to do an independent film, you're not trying to appeal to the masses. You hope you do, and there are things that cross over, but I think originally you're not trying to do that. You're trying to tell your story, and people will gravitate towards it if it's great. That's what attracts me, the intimacy of it.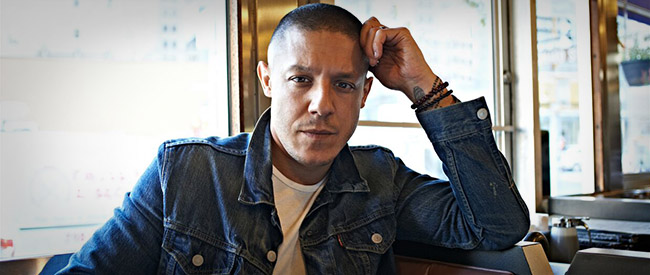 You mentioned that your production company Dos Dudes Pictures just made the film The Bad Hurt. This was your first time producing—what was that like? 
It was like nothing else. It made me a hundred times better of an actor. It made me look at the business with a completely different set of glasses. Like, I look at it so differently now. Every actor should try to produce something on any level. Even if it's just a YouTube video, they should try to produce something just to see what it actually takes to get them in front of the camera.
You also made the film in your hometown of Staten Island. Was it important to you to film where you grew up?
I that I knew the only way I'd be able to make [the film] was if I did it here, in Staten Island. Because independent film, by nature, is a communal thing. It's a family thing. I'm really luck to have grown up in this very blue collar place where everybody has your back and really comes together as a community. I knew that wen I was going to do this there was no other way. We had to do it here. Staten Island is such a unique place. It's one of the boroughs of New York City and it's considered New York. But compared to Manhattan it's its own little world.
The film had quite a successful festival run, and now with Lowriders opening the LA Film Festival, I'm wondering—what's your impression of film festivals?
Oh yeah, they're so important. They're more important than they've ever been, and that's why they really need to be supported and nurtured. I was lucky enough to be a juror at TriBeCa, so I really got to see the inner working of it all. You know, it's so incredibly important for the art form and there's so many other things happening at film festivals now, not just shorts and features. People are showing their TV shows, there are people doing different things with technology. You've got people who are finding these incredible future filmmaker and actors at Festivals. We're finding some really great talent there on all levels.
---
This year's 2016 LA Film Festival is currently happening at the ArcLight Cinemas in Culver City as additional venues citywide through June 9. Buy your tickets to all of our great screenings and special events today. Click here for more information.
To see our full lineup and Festival Guide, please visit our website, stay tuned to this blog and subscribe to our YouTube channel. Learn how to become a Member of Film Independent by clicking here.