How to Submit Your Project to the Film Independent Spirit Awards
Just a reminder that today, October 4, is the Final Deadline to submit your 2022 features and episodic projects to the 2023 Film Independent Spirit Awards. The extended Member Deadline is Friday, October 7. Editors note: this blog originally ran in August.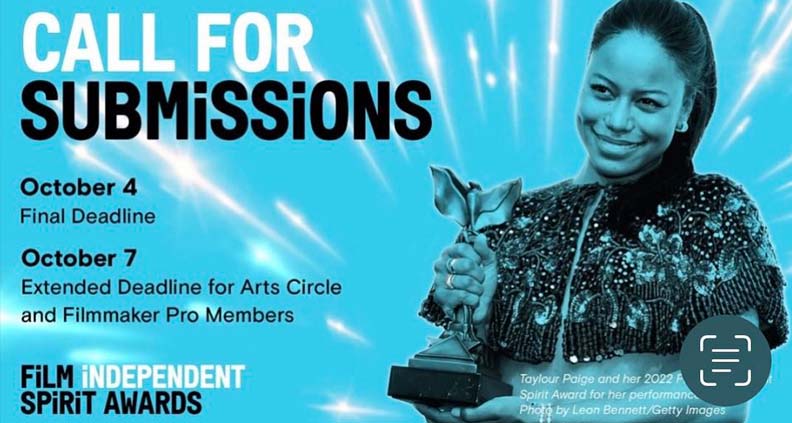 Well, look at you. The independent filmmaker, your project completed. Sitting there utterly dazed, short of breath, atop of a pile of warm DCPs — a ticker tape Elder's scroll of SVOD rental receipts choking your ankles like a low coastal fog. You ask yourself: What the hell just happened? And: How did we pull that off? And possibly: What's next? Why? Because! Just when you thought your obligations as a steward of cinema were nearing the finish line, there's still a long and winding road to travel paved with awards season gold, glass and bronze.
That's our fancy way of saying SUBMISSIONS FOR THE 2023 FiLM iNDEPENDENT SPIRIT AWARDS ARE NOW OPEN. And even if you've been down this path with a project or two before, this year it's a whole new ball game, with increased budget caps and the addition of gender-neutral acting categories—all of which you can read about in today's press release.
But before you dig into the weeds of what's new and different versus what's still the same, it bears repeating: you can submit your film or groundbreaking series, get nominated for a Spirit Award and win — in precisely that order — starting today.
So! With this exciting news in place, we thought it'd be fun to look back at five of our favorite Spirit Awards moments from the 2022 ceremony earlier this year — and hey, maybe next year your speech will be here instead — submit now.
'LOST DAUGHTER' WINS BIG
Why We Love It:  Actor-turned-auteur Maggie Gyllenhaal, for one, certainly seemed appreciative of the time taken by her Lost Daughter producers to submit the film — her feature directorial debut—for Spirit Awards consideration. The result was miles of smiles and a glamorous sharp-shouldered fashion moment behind the Santa Monica dais to gush over her incredible team.
SIMON REX'N EFFECT
Why We Love It: One-time MTV VJ and 2000s trash-culture icon Simon Rex was one of the most improbable comeback stories of the 2022 Spirit Awards. But his turn as Red Rocket's trainwreck antihero speaks for itself, leading to Rex's simultaneously funny, self-deprecating and utterly sincere acceptance speech for Best Male Lead — an all timer by any measure of girthy tumescence.
TAKING A PAIGE
Why We Love It: Janicza Bravo's @Zola was an arresting, formally innovative deep-dive into Florida sleaze well befitting distributor A24's long-term preoccupation with the Sunshine State's dark side. And in her lead turn, Taylour Paige supplied a performance as multi-hued as the kaleidoscopic strip club stage lighting, netting her a well-deserved Best Female Lead statuette.
GO RESERVATIONS
Why We Love It: Sure, repeat Thor helmsman and Reservation Dogs producer Taika Waititi popped eyeballs on the Spirit Awards arrival carpet with his arresting coral playsuit, but it was the FX original series' creator, Sterlin Harjo, and the show's incredible ensemble cast who made the day truly unforgettable, taking home only the second-ever Spirit Award for Best New Scripted Series.
'MASS' APPEAL
Why We Love It: Franz Kranz's directorial debut Mass isn't exactly a "feel good" movie, but it arguably a "feel better" movie—a fraught, character-driven ensemble drama about the attempted reconciliation between two families in the wake of a horrible tragedy. With his core troupe of performers flanking him on either side, Kranz deservedly took home the 2022 Robert Altman Award.
And while you can expect a repeat of the Spirit Awards' signature brand of humor, irreverence and deep and abiding love of cinema and its makers to continue, it's time for the show to evolve in other key ways.
"We're thrilled to join the other festivals and award shows already moving to celebrate great acting without reference to gender. We're also happy to welcome non-binary performers into the Spirit Awards without forcing them to choose to identify as male or female," says Film Independent President Josh Welsh.
Welsh added: "Additionally, it has been a long time since we substantially increased the budget limit for eligibility. This new cap allows us to continue to celebrate the same breadth of work that we have in the past." The budget cap for eligible films has increased to $30 million, with the budget cap for the beloved John Cassavetes Award now at $1 million. If gas can tick up unabated, why not us?
Film nominations for the 2023 Spirit Awards will be announced virtually on November 22, 2022. Television nominations will be announced on December 13, 2022.
The Spirit Awards will be held on March 4, 2023. Film Independent promotes unique independent voices by helping filmmakers create and advance new work. To become a Member of Film Independent, just click here.
Keep up with Film Independent…
(Header: Maggie Gyllenhaal at the 2022 Film Independent Spirit Awards)