How to Submit Your Project to the Film Independent Spirit Awards
Just a reminder that tomorrow, September 18, is the Regular Deadline to submit your 2023 features and episodic projects to the 2024 Film Independent Spirit Awards. The extended Member Deadline is Tuesday, October 3. See you in Santa Monica!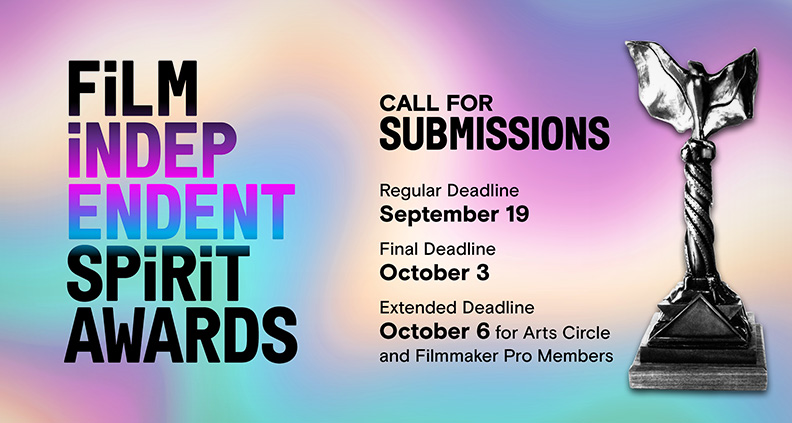 Well, look at you. The independent filmmaker, your project completed. Sitting there utterly dazed, short of breath, atop of a pile of warm DCPs—a ticker tape Elder's scroll of SVOD rental receipts choking your ankles like a low coastal fog. You ask yourself: What the hell just happened? And: How did we pull that off? And possibly: What's next? Well, just when you thought your obligations as a steward of cinema were nearing the finish line, there's still a long and winding road to travel paved with awards season gold, glass and bronze.
Basically that's our fancy way of saying SUBMISSIONS FOR THE 2024 FiLM iNDEPENDENT SPIRIT AWARDS ARE STILL OPEN. And of course, the Spirit Awards Ceremony is our largest annual fundraising gala, which support our year-round efforts to champion and support diverse, inclusive and innovative voices in visual storytelling.
It bears repeating: you can submit your film or groundbreaking series, get nominated for a Spirit Award and win. So to encourage this line of virtuous thought, we thought it'd be fun to look back at five of our favorite Spirit Awards moments from the 2023 ceremony earlier this year—and hey, maybe next year your speech will be here instead…
REID DAVENPORT ON A ROLL
Why We Love It: Doc director Reid Davenport's first-person chronicle of life as a wheelchair-bound artist is contextualized via a historical exploration of the seeming invisibility of the disabled class throughout modern society. His heartfelt and enthusiastic speech upon receiving 2023's Truer Than Fiction Award brought the house down, after which rolled back down to the Spirit Award floor at took his rightful place at the winners' table.
WOMAN TALKING
Why We Love It: Each year the Spirit Awards' Robert Altman Award recognizes an exemplary ensemble cast. Who else would you give such an award to in Q1 of 2023 than writer/director Sarah Polley and the performers who brought her arresting, often dreamlike and proudly feminist drama Women Talking to intense, starkly rendered life. Co-awardees included Rooney Mara, Claire Foy, Jessie Buckley, Frances McDormand, Ben Wishaw and others.
IF THE HSU FITS
Why We Love It: When the Spirit Awards (always on the vanguard of such things) moved to genderless acting categories last year, an additional BEST BREAKTHROUGH PERFORMANCE acting category was added—or possibly reintroduced, depending how bit of a deep-dive Indie Spirit Awards history buff you are. And no one "broke through" like Everything Everywhere All At Once's Jobu, who crashed through walls, tables and alternative dimensions as the Best Feature winner's complex and ultimately redeemed antagonist.
MESS REHEARSAL
Why We Love It: The Rehearsal creator and overall comedy weirdo supergenius Nathan Fielder is not generally known for his effusive affect. So for him, the mildest bit of awkward gratitude expressed at the HBO show's win for Best New Non-Scripted Docuseries practically counts as Roberto Benigni jumping over rows of Oscar seating. He noted that he met Fi President Josh Welsh backstage, and that the catering was pretty good, and then everyone laughed hysterically. That's it!
JOSH LAUNCHES #AD30
Why We Love It: Speaking of Mr. Welsh, the Film Independent majordomo claimed some stage time on behalf of the Spirit Awards' parent organization to thank its supporters, new and continuing, for helping sustain a nurturing and creative environment. The speech also launched the start of Fi's year-long celebration of the 30-year anniversary of its Artist Development programs, whose alumni list boasts some of Hollywood's best, brightest and most well-decorated.
The Spirit Awards will be held on March 25, 2024. Film Independent promotes unique independent voices by helping filmmakers create and advance new work. To become a Member of Film Independent, just click here.
Keep up with Film Independent…
(Header: DANIELS win big at the 2023 Film Independent Spirit Awards)