'The Eyes of Tammy Faye's Jarring Hair, Makeup and Wardrobe Transformations (Part Two)
In Part One of our interview with the Oscar-nominated costuming and makeup teams of The Eyes of Tammy Faye, craftspeople Linda Dowds, Justin Raleigh and Mitchell Travers shared their process for transforming Jessica Chastain into the late televangelist Tammy Faye Bakker. Today, we delve into what it took to bring her husband and fellow televangelist Jim Bakker (played by Andrew Garfield) to life alongside her.
Linda, were you able to find details on which makeup lines Tammy actually used in real life?
Dowds: Actually, yes. In the documentary, she talks about some of the specific items she used for her lashes, which were Ardell individual lashes. She would put them on in a way that looked like little clusters and then add a lot of mascara on them. She stuck with those lashes until each one fell out, and then she would replace them. To get that look, we'd use some of the lashes from the day before because they were a little clumpier in an authentic way. That's how we got Tammy Faye's lash look. She tells you a lot about the brands that she used–she loves makeup, it made her happy. When she was sad, she would add more as a way to cheer herself up. With the documentary, all the other research we had done and learning some of this from her family as well, we tried to be very specific about honoring her.
Justin, what were some of the makeup considerations that you had to work with when it came to the prosthetics?
Raleigh: It's a dance between Linda's team and ours. Sometimes, the eye makeup was so intense that Linda would put the eye makeup on Jessica first. As we got into stages two and three [see Part One], sometimes over half of her face would be covered with prosthetic. So a lot of the overall foundation established in the prosthetic application are intrinsically colored to match Jessica's own skin tone. The silicone has a certain level of translucence: it has a membrane that's on the surface, so it moves very much like real skin. Once the prosthetic pieces are on, we may add a couple of airbrush colors–reds, some brown, some blue tones–all the colors that we need to match Jessica's skin tone. Once Tammy starts to darken her skin, we mixed in the Mac Face and Body airbrush color, a silicone-based airbrush makeup. We used that as a tanner or bronzer tone, which we airbrushed all over her face to tie everything together. We also used RCMA illuminating sticks, which is like a silicone color, to reflect her style in the '80s and '90s.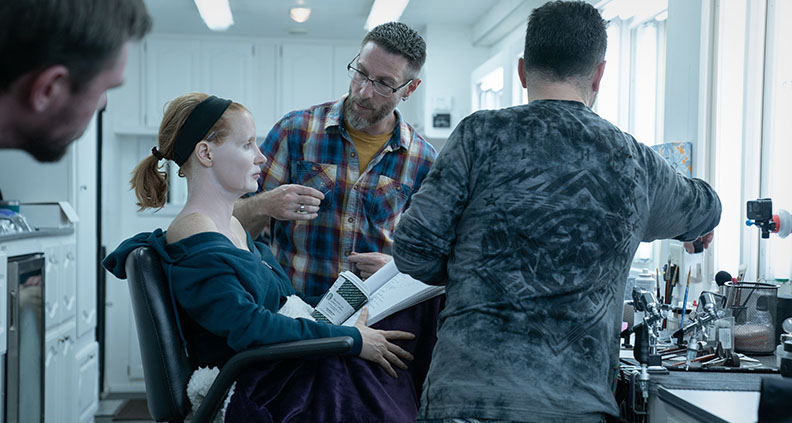 I've read somewhere that Jessica's makeup often took 4-7 hours a day to complete?
Raleigh: The only time it ever took seven hours was when we had to do multiple looks in one day. The most extreme looks took about four hours going through all the departments. But usually, it was more like 2.5 to 3 hours.
Are the prosthetics single-use only?
Raleigh: Yes, they go into the trash at the end of the day. Because of how it has to be applied to the skin, you only get one shot each time.
One of my favorite looks on Tammy is during the 1960s. Can you talk about dressing her during that era?
Travers: I think we all fell in love with her while researching the project. She always had a sense of joy about her: she was an eternal optimist and a lot of that carried over into the way she presented herself to the world. When you look at young photos of her, she was not necessarily following trends, but trying out different styles on her own. She wore loud prints, colorful combinations, exaggerated collars and big coats. There was always a playfulness and a sense of fun with the way she dressed. Some of the audience may have had a one-dimensional impression of this woman and we wanted to flesh that out to show that she had this larger-than-life aesthetic. It was genuine and that came from a place of joy and a sense of fun.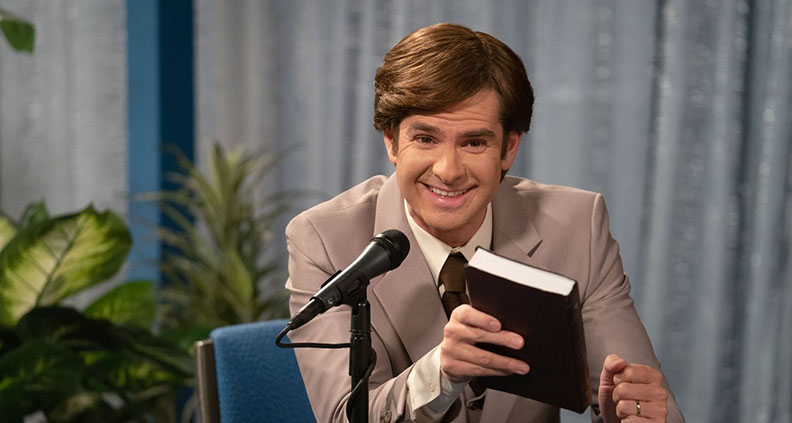 With all the focus on Tammy, let's talk about dressing Jim for a few minutes.
Travers: Whereas there was a real authentic presence about the way Tammy dressed, Jim was always trying to pitch who he was to the world. We had his "Bob the Builder phase" when he was creating the water park, where you see the idea of a foreman or a contractor. During the early days with the puppets, that was very Jim-Henson-inspired. Then we get to his days in PTL, which was inspired by Johnny Carson. So, we tried to show all these emulations through Jim's wardrobe to depict the difference between someone who was authentically dressing for their own spirit versus someone who was trying to sell an idea of who he was.
What were the challenges on the prosthetics front when it came to Jim?
Raleigh: Andrew has a much leaner face compared to Jim. So, in every single shot, he has some form of chin prosthetics. They start as smaller cheeks in the early '60s up until the beginning of the '80s, when he starts to gain weight. In stage two, he gets more of a wattle and later, fuller cheeks. When he is in prison after the scandal broke, he has a receding hairline and a full stretch and stipple on his forehead, around his eyes, full cheeks, chin and a full neck piece. Basically, Andrew's whole face is covered by that point.
Circling back to the major transformation needed to bring Tammy to life, what was that experience like for you?
Travers: It was a wonderful opportunity to study a character through the many phases and eras of their lives. For us, it was a joy to really flesh out a person who I think had been unfairly depicted in the media. So this was a chance to show the whole vision of her life rather than just these little snippets. I didn't really know Tammy until we started this project–I think there's a whole generation of people who never got to appreciate who she was. This film tries to honor someone who was incredibly kind and empathetic. We all felt very protective of Tammy, in a way, which made us go the extra mile every day to respect and honor who she was as a person.
The Eyes of Tammy Faye is available on HBO Max and other streaming platforms. Check out our Film Independent Presents Q&A with Jessica Chastain and the filmmaking team below:
Film Independent promotes unique independent voices by helping filmmakers create and advance new work. To become a Member of Film Independent, just click here. To support us with a donation, click here.
More Film Independent…