The 2021 Film Independent Spirit Awards Virtual Show and Full Ceremony Recap
Throughout an unparalleled awards season dominated by COVID-19, the film industry has epitomized the maxim "The show must go on," with most awards ceremonies pivoting to some version of a virtual celebration. For its part, Film Independent teamed up with virtual venue Looped as its platform to deliver a festive, irreverent and interactive Spirit Awards Virtual Show on April 22 to amplify the at-home livestreaming experience—the closest possible approximation to actually being inside the signature Spirit Awards beach tent.
Gift baskets with wine, snacks and Spirit Awards branded beach balls and sunglasses were delivered to guests ahead of the festivities, while premium baskets for Arts Circle Members included a cheese board and bottles of Landmark Wine, Fiji Water and Bulleit Frontier Whiskey. Minus the sultry ocean air of the Santa Monica beach of years past, the 2021 Film Independent Spirit Award festivities kicked off at 6:00pm PT with a virtual pre-show cocktail reception, where attendees were treated to the tunes of DJ Dan Wilcox as they mingled in virtual breakout "suites" with fellow guests and nominees.
While a Napa winemaker chatted up guests and shared Spirit Awards wine pairings in the Wine Bar, Premier Sponsor Bulleit Frontier Whiskey's mixologists concocted Best Feature Nominee-inspired cocktails for guests in the Whiskey Bar. Chloé Zhao's moving ode to modern-day American nomad culture (and eventual Best Feature winner) Nomadland inspired the "Nomadic Vanguard" (Bulleit Rye, Coffee Liqueur and a couple of dashes of Black Walnuts Bitters), whereas Lee Isaac Chung's semi-autobiographical retelling of the classic American immigrant story, Minari, inspired the "Mountain Water Highball" (Bulleit Bourbon and Lapsang Souchong Tea!).
Meanwhile, as film buffs checked out the Cinephile Trivia suite to flex their indie film trivia muscles, Variety film reporter Angelique Jackson and The Curvy Critic creator Carla Renata hosted conversations in the Backstage suite with nominees and guests alike. (Soon after the live ceremony ended, the evening's winner for Best International Film–director Jasmila Žbanić of Bosnia war drama Quo Vadis, Aida?–joined the duo for a chat about how she has been quarantining in Los Angeles ahead of this Sunday's, ahem, other awards ceremony.)
Waiting for the live event to begin, some guests visited the Blue Carpet photo booth, participated in the Caption Contest and submitted songs for the Karaoke After Party, hosted by Jan Sport of RuPaul's Drag Race. Guests also had time to pop into any of the conversation hubs at The Pier, The Bungalow, Carousel, The Quiet Cabana or The Beach.
And then finally, it was show time!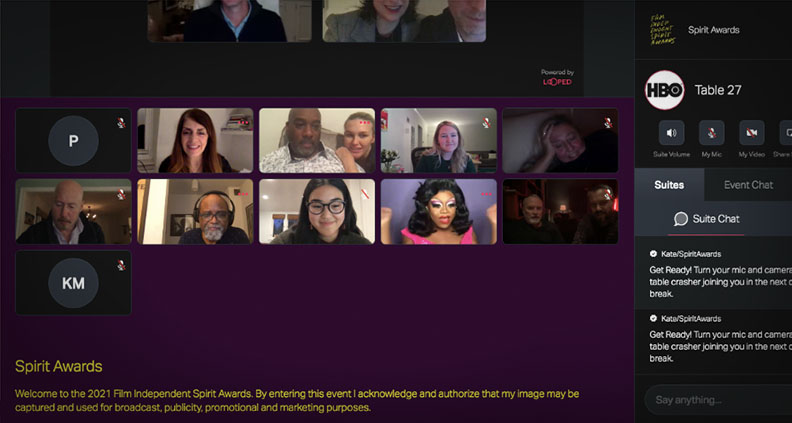 After a pre-taped opening sketch of host Melissa Villaseñor seeking "advice" from past Spirit Awards hosts John Mulaney, Sarah Silverman and Kate McKinnon–all portrayed by Villaseñor in various disguises—the SNL castmember kicked off the show by acknowledging the toll of the yearlong pandemic: "Who spends all day reading COVID statistics and then goes like 'Hmm … I could really go for a long slow film with an ambiguous ending right now.'"
With only the production crew making up her entire "audience" at the empty stage, Villaseñor joked that Regina King's feature directorial debut One Night in Miami–honored with this year's Robert Altman Award–is also winning the award for "best film that sounds like porn but isn't." Chloé Zhao's Nomadland–nominated for five prizes–changed the way she looks at people who drive alone in beat-up white vans, the comedienne added. "I used to think, 'Oh there goes a sex offender.' But now I think, 'There goes a nice lady navigating grief and economic uncertainty.'"
This awards season has seen an unprecedented surge in nominations for women and people of color. The Spirit Awards is no different, with two of its major competition categories–Best Male Lead and Best Director–devoid of any white male nominees. Villaseñor wrapped up her monologue by acknowledging the long list of bleak-yet-serious issues tackled by this year's nominees: "Tonight, we're showcasing films that expose racism, sexism, agism, rape culture, abortion, the immigrant experience, ableism, financial insecurity, the prison industrial complex and healthcare corruption. Now who's ready to have a good time? Let's do this!"
Leslie Odom, Jr. of One Night in Miami presented the evening's first award–Best Supporting Female–to veteran Korean actress Yuh-Jung Youn, for her role as the wrestling-loving and foul-mouthed grandmother in Minari. In her acceptance speech, she paid tribute to writer-director Chung: "Above all, I thank our captain, Isaac, it's all because of you."
A video clip highlighted the three recipients of this year's Emerging Filmmaker Awards series, each receiving $25,000 in unrestricted grants courtesy of Spirit Awards Premier Sponsor Genesis Motor North America. Gerry Kim won the 24th annual Producers Award; Elegance Bratton, director of Pier Kids, won the 26th annual Truer Than Fiction Award; and lastly, Ekwa Msangi, director of Farewell Amor, was honored with the 27th annual Someone to Watch Award.
Scoring the Best First Feature prize for Sound of Metal, writer-director Darius Marder gave special thanks to his producers Kathy and Bill Benz: "You financed this film when nobody in the world would do it." An alum of Film Independent's Artist Development Fellow and 2009 nominee in the Truer Than Fiction category, Marder was especially glad to be a part of the Film Independent family: "Film Independent, you guys have noticed me going way back, it's not lost on me."
Accepting her Best Screenplay award via Zoom from her "cold garage," Promising Young Woman's writer-director Emerald Fennell thanked lead actress Carey Mulligan–whose searing portrayal in the feminist revenge thriller has garnered rave reviews across the board – "for making me look good and making the script a thousand times better by virtue of her genius."
Spirit Awards alum Don Cheadle was on hand to introduce this year's Robert Altman Award recipient–the ensemble cast, director and casting director of the stage-to-screen adaptation One Night In Miami. In pre-recorded segments, both King and Odom praised screenwriter Kemp Powers for reflecting the reality of life in Black America, with Odom sharing: "We all recognized that what Kemp wanted to do with this script was to have a private conversation publicly, the conversation about black life and our humanity."
For the first time in its history, the Spirit Awards honors the best in independent television with the addition of five categories solely devoted to the medium. Impersonating fellow SNL cast member Kristen Wiig, Villaseñor explains what defines an indie TV show. "If something leaves you more sad than happy, that's indie, baby!" she quips.
The first-ever Best New Scripted Series prize went to the 12-episode HBO-BBC series I May Destroy You, a sexual assault drama that fictionalizes the personal experience of creator and executive producer Michaela Coel. She was especially grateful to her editing team, who pushed through post-production during a year unlike any other. "We worked tirelessly through lockdown to edit this show and through a very hard political climate last year–there was a global pandemic, racism, polarization and police brutality. It felt very nice to have a team that I could join on Zoom and express love, so thank you, I believe all of our DNA is in this show," she shared with genuine gratitude and emotion.
Pivoting back to feature nominees, Lulu Wang–who won Best Feature last year for her bi-cultural family drama The Farewell–brought along her beloved pup Chauncey Wang-Jenkins to present the next award. As expected, Nomadland's Zhao continued her awards season sweep by scoring the Best Director prize. Sporting a Quartzite Yacht Club baseball cap (Quartzite was one of the filming locations in the feature), Zhao touted how important it was to have support from the independent film community.
"We wouldn't be here without you. Thank you to the people who are behind all the mentorship programs, labs, film festivals; everyone worked so hard to support us filmmakers," Zhao remarked. "We get to do what we love and feel like we're part of a big family because of you, so I want to dedicate this award to you."
Finally, zooming in from London, Spirit Awards alum Cate Blanchett awarded the biggest prize of the evening–Best Feature–to Nomadland. Producer Peter Spears reflected on the film's serendipitous ties to the Spirit Awards: the last time actress Frances McDormand–who plays widow Fern in the film–was at these awards, she met Zhao for the first time and that was how the project got started. Echoing Marder's earlier shoutout to Film Independent, fellow producer Mollye Asher also applauded the supportive independent film tribe.
"In our film, Bob Wells says to Fern that you've come to the right place to connect with your tribe, your community. Film Independent–you are our community and we are so honored to be recognized by our tribe."
Signing off for the evening with a quote from Nomadland, Villaseñor bid everyone adios thusly: "I'll see you down the road."
Relive or catch up with our favorite #SpiritAwards moments on our YouTube channel and stay tuned to the blog for additional Spirit Awards recaps and exclusive content throughout the next week.
Only Members vote for the winners of the Spirit Awards—so join now and decide who'll be on this list in 2022. Make your voice heard!
The Film Independent Spirit Awards are sponsored by Premier Sponsors Genesis Motor North America and IFC. Bulleit Frontier Whiskey is the Official Spirit. FIJI Water is the Official Water. Looped is the Official Host of the Virtual Spirit Awards. Getty Images is the Official Photographer. We are also honored to be partnering with the Association of National Advertisers' (ANA) SeeHer, the leading global movement for gender equality in media, advertising, marketing and entertainment and AMC Networks to further celebrate and act as a catalyst for accurate and meaningful representation in storytelling.
More Film Independent…